Trump has prepared a bait for Putin. Will Russia bite on friendship?
Formally, the meeting of the Presidents Trump and Putin is a summit in neutral territory in Helsinki, but in fact it is Trump's visit to Putin. The initiative comes from trump, he agreed to the long-awaited Vladimir Vladimirovich proposal for a summit. Agreed to meet in Helsinki.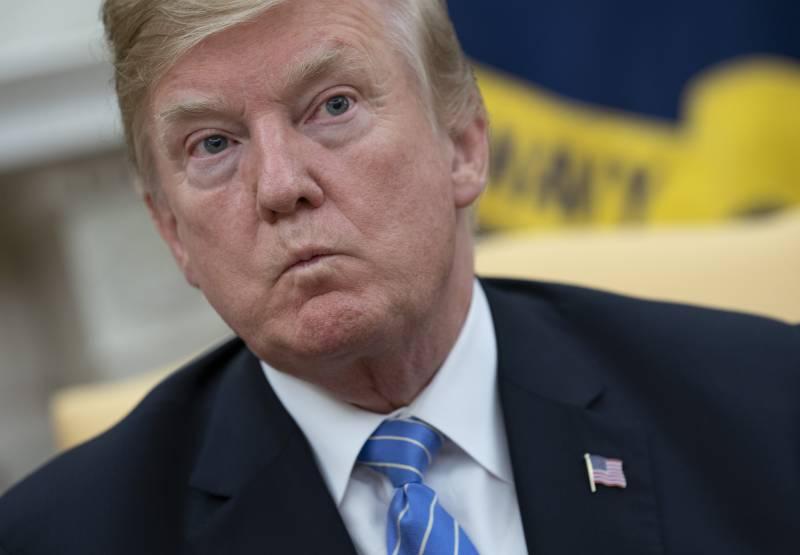 Political analysts say that this summit is Trump's personal initiative, although it is better to say that it is initiated by Trump, because the decision on this visit was made explicitly in the "holy of holies" of the White House, and not only by Trump. The fact is that the US and Russia need to discuss not only the situation in the "hot spots" of the world, of which at least four (this could be done at the level of the Foreign Ministry and the heads of the General Staff of the parties, which is done of necessity). The question is globally: how to live further when Russia has restored military parity with the United States, and also China and other world players are on the way?
Trump's visit to Putin is a reaction to Vladimir Vladimirovich's suggestion to "talk", expressed by 1 in March in his famous speech at the Manezh with a demonstration of the latest Russian strategic weapons: "We didn't want to listen before, listen now."
Somewhere in America, Putin's arguments were evaluated and agreed that Russia could not be held back either militarily or economically, since Russia had made a technological breakthrough in armaments under sanctions pressure. And Putin's proposal was made to "talk" about the problems of world security too. That is, it's not only Donald Trump's long-term desire to meet with Vladimir Putin - this meeting is necessary for both superpowers to discuss the global problems of their future coexistence, and not just the "hot spots" of the world, which will be more like a background to hide the main themes.
Here we need to remember that behind his trump are his advisers: the former US Secretary of State and one of the founders of the Bilderberg club, Henry Kissinger, the Nobel Prize in economics Joseph Stiglitz, and probably many more other advisers that we don't know. But Kissinger and Stiglitz we know and imagine their range of interests. Therefore, it can be assumed that the main theme of this summit will be global world problems, and possible changes in the policy of the parties in some areas will be discussed. The current political tasks at such meetings are not solved — they are solved, if at all, before that. There are two global problems between the USA and Russia: Europe, China and the US trade wars with them.
Therefore, by the way, the Helsinki summit is doomed to succeed in words and in surely signed declarations, although in reality it may not be: mutual understanding on the main problems may not be achieved. However, in the field of security, the new strategic armaments of Russia open up opportunities for the folding of US missile defense bases in Romania and Poland: they have lost their relevance for America. That is, the United States can remove these missile defense bases in exchange for any restrictions on the latest Russian strategic weapons.
It is well understood that the United States is looking for a way to influence relations between Russia and China. For this, the United States has one opportunity: to offer its friendship to either Russia or China. Or both countries at once, and wait, who will be the first to bite her.
What could be the US proposal on the friendship of Russia? It is appropriate to recall Kissinger. In 2014, he said the following about events in Ukraine: "Putin sees this as a dress rehearsal for what we would like to do in Moscow."
It seems that Kissinger's allegedly "pro-Russian" statements by Trump come from him, although in reality they are supported by political realities and the current global interests of the United States. The strategy of the United States since the time of Obama, about which he opened up in his book, failed: to establish American control over Russia and create from it a western outpost against China. The US is now looking for a new strategy.
And Russia may be interested, perhaps, in only one proposal, in Ukraine, namely: the unconditional cessation by the United States of its "special operation" (this is Putin's expression) in Ukraine. Behind the scenes, Moscow may even demand compensation for damage to its interests. And Trump can go for it, and without much loss of face: for this, it's enough to "see" the neo-Nazi manifestations of Bandera in Ukraine and be indignant. And to lay all the responsibility on Barack Obama, as he has already done in the Crimea.
However, Trump must make his "holy of holies" some concessions in return from Russia. Europe can be seen here in the light of the economic views of Joseph Stiglitz. Russia can please Stiglitz and revise its energy policy in Europe in favor of the United States and its shale LNG, to share with Europe the US energy market. Moscow can do this physically, can compensate for financial losses in the Asian energy markets, that is, it can go for this option. In other words, Putin can help Trump in a trade war with Europe.
Obvious gifts to CNN in the form of concessions, including in Ukraine, should not be expected from Trump, we are talking about changing political strategies. USA - in Ukraine, Russia - in Europe. And to protect against general political attacks, Trump is gaining hawks for himself that can peck any media if necessary. The hawk newly acquired by Trump, John Bolton, spoke out on this matter as follows: he and Trump know well who of them loves America more.
http://www.globallookpress.com/