The Syrian army repelled the attack of terrorists in Hama. In Daraa, militants handed over military equipment to government forces. Reports about it
FAN
with reference to local sources.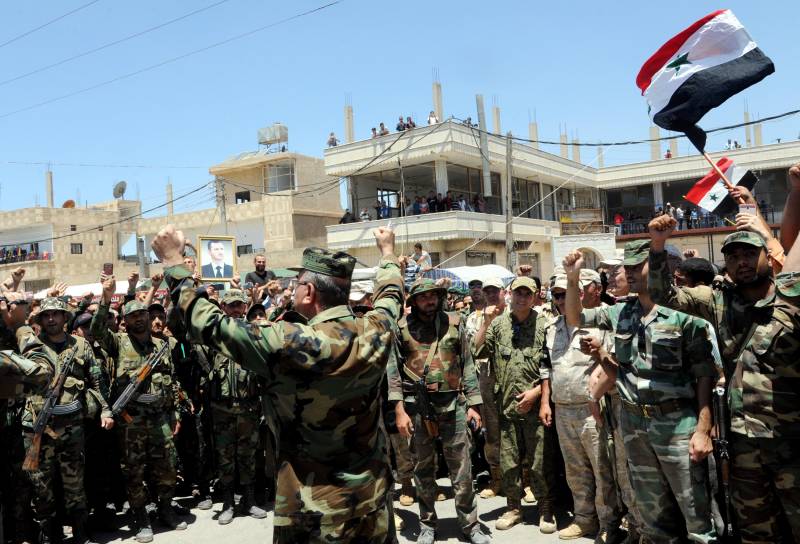 At the beginning of the day, the radicals opened fire on residential areas of the administrative center of the province of Aleppo. Later, the "free army" (SSA) tried to attack the location of government troops in the urban area of ​​Al-Zahra. The attack was repulsed. Additional forces of the Turkish army arrived in the settlements of Tel Rifat and Manbij.
Over the past day, several settlements in the province of Daraa have come under the control of the Syrian army (CAA). In one of the districts, the militants laid down
weapon
and handed over to government forces 12 pick-ups armed with machine guns, 15 infantry fighting vehicles and 10
tanks
. Fierce battles in the area of ​​Tafas did not stop all day. SAA also launched an assault on Maraba, where terrorists are hiding. According to sources, from the beginning of the operation in the region 82 Islamists were destroyed.
In Raqqah, mass arrests of civilians do not stop. For days for unknown reasons, 25 people were arrested. It is also reported that in the southern part of the region, SDF militants robbed several private houses.
In the northern part of the province of Hama, the operation of government forces against the terrorists "Dzhebhat al-Nusra" (banned in the Russian Federation) continued. The CAA conducted artillery shelling of the strongholds of the radicals in the area of ​​the settlements of Al-Latamin, Al-Arbain and Al-Casabiya and Al-Zakiyat. In turn, the Islamists attempted to assault the village of Tel Bazim. The attack was repelled, the enemy lost more than 40 people killed.