This is the flag of my homeland! Maidan activist for the USSR flag "moved" in Krivoy Rog
In the Ukrainian Kryvyi Rih, an "activist" suffered, who was indignant that the flag of the USSR was attached to the windshield of a car of one of the local drivers. The "activist" decided to report the "terrible crime" to the police, stating that the owner of the car "violates the law on decommunization."
The Krivoy Rog motorist, whose car was at the time in the parking lot, explained to the 24-year-old victim of the Maidan education that the flag of the USSR is the flag of his Homeland, the country in which he was born, and in the Armed Forces who served in the military, and therefore he rented it's not going to.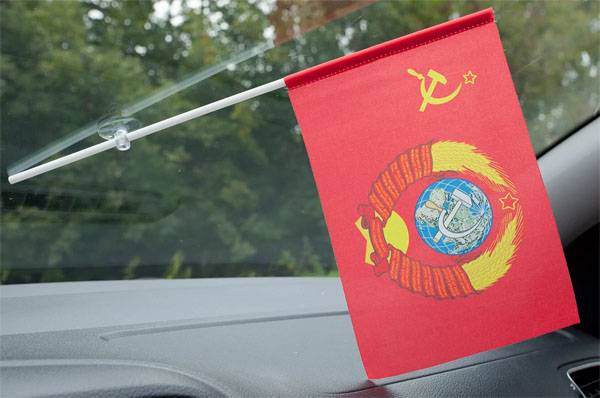 Motorist statement publishes
UNIAN
:
Leave me alone! The car is my private property.
When the "activist" became frankly annoying with his ridiculous claims, the owner of the car just got into the car and started the engine. Then a representative of "onizhedey" of Ukraine rushed to block his way with shouts of "we must wait for the police". The owner of the car did not wait and quietly left. Now the same "activist" claims that he "moved his leg."
In social networks in Ukraine - the usual division of public opinion. Some demand to find and punish the owner of the car with the Soviet flag behind the windshield. And others say something like: "Just a leg? It would be better if his empty head moved! "