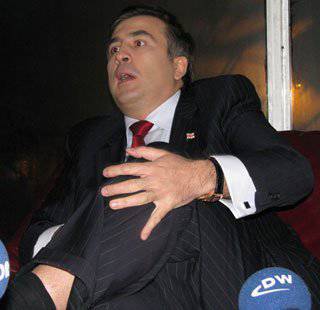 Due to certain circumstances, Russia is currently the main source of possible preservation of the power of the president in Georgia. As it is known, President Saakashvili's powers expire as early as January of next year, which means that Saakashvili's trust limit has expired. Georgia's people have already expressed left the country. According to the World Congress of the Nations of Georgia, about 2 million people left the country and the rest in 3,5 million looks quite eloquent.
Naturally, Saakashvili understands that his personal security depends on whether the power is in his hands or the hands of his protege ... If the opposition comes to power from him, they will naturally be asked for the Georgians who left, and for the spoiled relations with Russia, and for lost South Ossetia and Abkhazia, and for the shame of a lost war, and much more for that ... They will ask not at the international level, but specifically inside the country for landing political opponents and big businessmen. In short, the prospects are not bright and, naturally, the intention to peacefully leave January in the plane s Mishiko not included ..
What variants of succession of events are there to preserve power? And, alas, there is only one such option ... Declare a state of emergency in the country and give up elections for some time. And for this, it is enough to once again conduct a military provocation on Ossetian or Abkhazian land. Saakashvili understands perfectly well that the second provocation will not end as well, in general, painlessly as the first. Russia will already strike at the full program — destruction of military objects, bombardment of command and control centers in Tbilisi itself, destruction of infrastructure ktury gosudarstv.Ot this openly warned many high-ranking military in Russia and in Georgia itself.
What is the basis of my statement? Yes, on the simple logic of the events of recent months. Now Georgia ranks second in the world in military spending ... A small Transcaucasian country spends 8% of its GDP on armaments. And this money is spent purposefully on the army. For what such spending in a region where there are practically no claims on territorial and other issues between neighboring states.
Another interesting fact is that the Georgian army before 2008 made 32 thousands of professional servicemen. Now their 37 thousands and preparing them are an order of magnitude better than those who fought in August 2008-go. And add to this the desire for revenge ...
Well, the most interesting thing is probably the purchase of weapons. Just list the countries that are actively selling their Georgians
weapon
or Soviet weapons, which proved to be excellent even in that August-United Kingdom, Estonia, Lithuania, Bosnia, Herzegovina, France, Turkey, Greece, Israel, Ukraine, Czech Republic, Bulgaria, and of course the main supplier-USA. Is the list of friends impressive? Western and Soviet equipment is being actively supplied from these countries, which is being successfully modernized.
At present, the American anti-tank systems (which is interesting against whose
tanks
?) Javelin and
aviation
Hellfire-2, Patriot-3 air defense systems, and Stinger, the Bulgarian multiple-launch rocket systems RM-70,40 Hermes-450 drones, Soviet D-20 howitzers, Turkish Ejder-70pcs. and Cobra-100pcs., French multi-purpose helicopters AS-332 ...
Our former allied republics-Ukraine and Moldova are not far behind the western suppliers ...
Ukraine independently supplied Georgia according to the vice-premier of Georgia Georgy Bramidze, voiced as early as February of this year 10 tanks T-72,3 BTR-80,25 BTR-70,20 MANPADS Igla, 40 units of MANPADS Strela and several ATGM Kombat..Add to this (according to the former director state-owned companies Ukrspetsexport Anatoly Gritsenko) supply of air defense systems Osa, Beech, MI-8 and MI-24 helicopters ... But this is not all ..
Ukrainian weapons, previously sold to other countries of the Black Sea region, are being actively bought up and resold through Moldovan firms, again to Georgia ... Previously, this process had a different focus - Chechnya and Tajikistan ..
Well, it remains a simple analysis, where and when? Again, we take open Georgian sources ... There is no need to be a rocket scientist to understand the logic of the Georgians, already practiced in 2008-we conduct exercises and concentrate on this pretext troops, and then the active phase. ..And according to the Georgian Minister of Defense, Georgia will conduct the next large-scale exercises in early September at the borders with Samocablo and the Aphazet ...
Well, if we add to this the last
news
from Abkhazia where special services covered several large warehouses with weapons and ammunition, including air defense systems, it becomes clear what, where and when ... It remains to develop and implement countermeasures against such plans ...