ISL defeated again defeated in the desert area of ​​Homs and Deir ez-Zor
The Syrian military command today reports that the CAA has managed to completely free from ISIS terrorists (* forbidden in Russia) the vast desert territory of the eastern part of the province of Homs and the province of Deir ez-Zor. The total area of ​​the liberated territory is about 5,7 thousand square meters. km This region in Syria is known as Badia al-Sham. It was noted that during the operation dozens of militants of the so-called "Islamic State" were liquidated.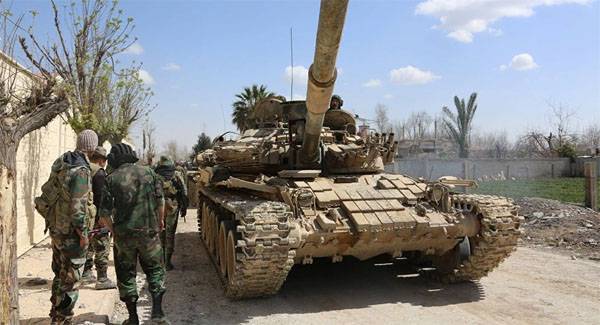 After the liberation of this desert area under the full control of the Syrian government troops crossed the highway connecting Palmyra with the city of Deir ez-Zor. In order to finally gain a foothold in Badiya al-Sham, the CAA equips roadblocks along the said highway.
After taking control over the impressive territories in Deir-ez-Zor and Homs, the CAA unleashes forces in the form of several units of the 3 and 5 battalions, which, as reported, can now be transferred to another front.
As it is known, Syria's most hot spot is now the southern province of Daraa, where Syrian government forces are attacking the positions of terrorists. The CAA used rocket launchers against the militants of the so-called "southern front", destroying the command post and communications of the terrorists. In addition, the most important supply line, which was actively used by militants in southern Syria, was cut. It is reported that part of the group of terrorists trying to find salvation in Jordanian territory.
The Syrian army continues the offensive, trying to advance directly to the border and take control of the Nassib checkpoint. The road for the onset of CAA is paved, including actions
aviation
striking at the forefront of the militants.
http://www.globallookpress.com