As Vladimir Putin refers to a sharp downgrade. Sands answered
A spokesman for the Russian president was asked about how Vladimir Putin responds to a significant drop in the rating after being re-elected as president. Recall that VTsIOM announced that the level of trust in the president is about 42%. In the "Military Review" survey conducted among our readers, the level of trust in the current head of state was 19,5%, with more than 3,6 thousand votes. Link -
here
. This is more than a significant drop since March of this year.
Experts believe that the reason for the fall in the presidential rating is the statements by the authorities about the inevitability of raising the retirement age and the harsh plan for this increase, submitted by the government. In addition, the Russians were alarmed by the news of plans to raise VAT to 20%.
Dmitry Peskov, whose statement leads
Kommersant
, once again declared that the president of Russia "is not engaged in matters of pension reform." At the same time, Peskov added that now there is an expert study of the issue related to pensions in the country.
According to the Public Opinion Foundation (FOM), if the elections were held this weekend, 54% of Russians would vote for Putin. Recall that the March election results amounted to 76,7%.
Responding to a question about the reaction of Vladimir Putin to the fall in the presidential rating, Peskov said that the president "is very pragmatic about this."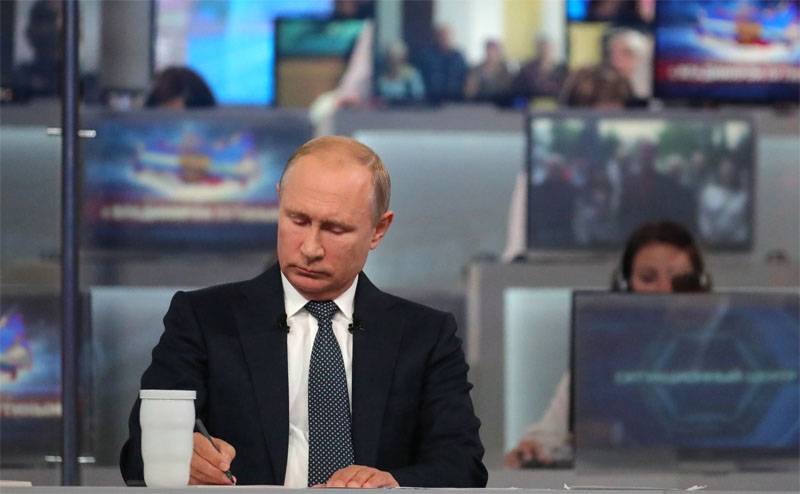 According to the press secretary of the head of state, for Vladimir Putin "the main thing is to continue the work and fulfill the duties of the head of state".
Sands:
He never looks back at his rating, knowing that the interests of people are always above all for him.
Does this mean that the continuation of work in the post for the next six years in any case will be more important than the opinion of the overwhelming majority of the population on a particular issue?