Black Sea border guards received another boat project 12150 "Mongoose"
The Vimpel shipbuilding plant located in the Rybinsk of the Yaroslavl region, 22, handed over to the Border Guard Service of the Federal Security Service of the Russian Federation a speed patrol boat of the 12150 "Mongoose" project, the press service of the company reported. AO GCC "Vympel" is part of the concern "Kalashnikov."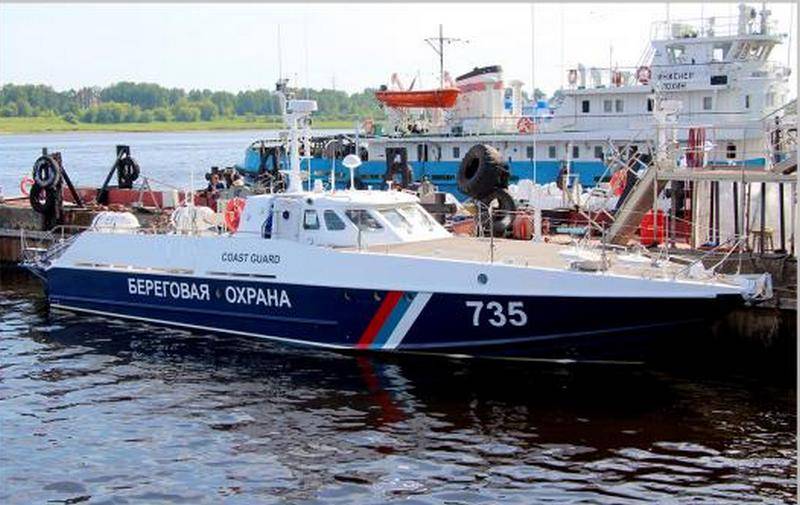 The boat passed all the required tests and confirmed its full combat readiness. After acceptance, the boat will be delivered to the place of service on the Black Sea, where it will continue to serve on the state border.
This boat is 75 in the series and 50 in the interests of the Coast Guard of the Border Guard Service of the Federal Security Service of Russia.
The boats of the 12150 "Mangust" project are designed to monitor the compliance of ships with the established navigation regime in the outer and inner roads of ports and harbors, as well as in the adjacent coastal areas of the sea. The boat is capable of performing tasks that are part of the duties of the maritime police, customs services, fish protection inspections.
The hull of the border boat is made of aluminum alloys with magnesium impurities. The outer contours of the ship give it the shape of a deep "V", which provides the boat the ability to set high speed to 50 nodes.
The hull of the boat is divided into 6 compartments, and when one of them is flooded, it will be able to continue moving and perform the assigned tasks.
Displacement, t - 27,2; Overall length, m - 19,45; Width is greatest, m - 4,40; Side height midship, m - 2,2; Draft at full displacement, m - 1,16; Maximum speed, knots - up to 50; Economic speed, knots - 36; Cruising range at economic speed, miles - 410; Autonomy, days - 2; Crew, pers. - 3 − 6. The armament of the boat depends on the tasks it performs.
In the standard version, the Mongoose is equipped with:
- 14.5 mm thumb stationary machine gun installation;
- one or two machine guns caliber 7.62 mm;
- "Igla" MANPADS;
- anti-sabotage grenade launcher type "DP-64";
- AGS-17 grenade launcher.
In addition to machine guns, it is possible to install the Whirlwind missile system.