CAA rocket attacks tore militant defense in the area of ​​Dara. The offensive began
From Syria, there are reports that this night the Syrian army launched a large-scale offensive against the positions of terrorists in the south of the country. Around 2: 00 25 June The 4-I mechanized division of the CAA launched an attack towards the administrative center of the province of Daraa - the city of the same name. The attack began with a massive strike using Golan-1000 rocket launchers. The front positions of the militants of the so-called "southern front" were crushed with a missile strike, which included the remnants of the ISIL terrorist group (* banned in Russia), who had previously fled from Damascus suburb Yarmuk.
In total, the positions of the militants were released about fifty missiles.
After that, the advancement of armored vehicles towards the capital of Dara, which has been under terrorist occupation for a long time, began.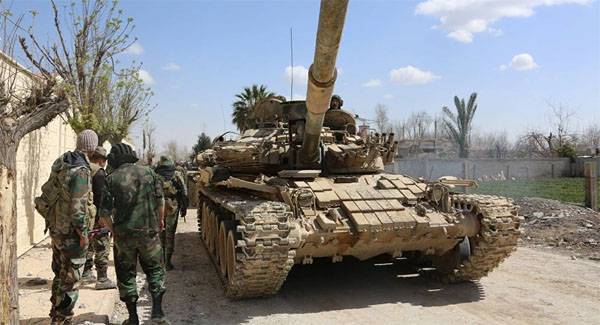 At the same time, as reported by the Lebanese media
AMN
, the Syrian special forces Tiger Force, launched an attack on the position of terrorists in the north-east of the province.
Recall that on the eve came the reports of the air strikes of the Russian Federation Air Force and the Syrian Air Force against militant positions in the Golan Heights area. Bombardment and rocket strikes from the air have been the accumulation of equipment of terrorists, with the use of which they fired on the territories, recently occupied by soldiers of the Syrian army. During the air strikes, several armored vehicles and rocket launchers of terrorists were destroyed in the province of Daraa.
The militants did not fulfill the requirements previously voiced in the Damascus ultimatum and stated that they were not going to refuse to conduct combat operations.
http://www.globallookpress.com