The Turkish Election Commission reports on the results of the early presidential and parliamentary elections. Recall that the elections were held earlier than originally scheduled due to changes in the constitution of Turkey, expanding the powers of the head of state and abolishing the post of prime minister of the government.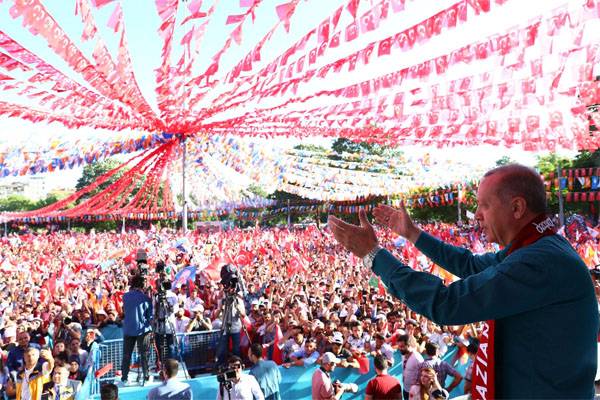 According to the Turkish electoral commission, Recep Tayyip Erdogan won the presidential election. After processing the 98% of ballots, Erdogan's separation from the closest pursuers of Muharrem Ince is such that even mathematically it can not cause a change in the leading politician by the election results. However, Inge currently refused to acknowledge Erdogan's victory, stating that the electoral commission needs to process all the ballots to begin with. According to the oppositionist, "the second round is still possible, since there is no complete data package on the results in the largest cities of Turkey".
Erdogan has about 52% of votes, his nearest pursuer has 30%.
If we talk about the parliamentary elections, at the moment the results are such that five parties pass to the Turkish legislature. We are talking about the Justice and Development Party (the current ruling platform is the Erdogan Party), the Nationalist movement, the RPF (Republican People's Party), as well as the "Good Party" and PDN (Party of the Democracy of Nations). According to Turkish law, to enter the parliament, the party must overcome the 10% barrier.
At a rally in front of his supporters, Erdogan actually called the West at the head of the United States a force that intends to change the power in the country. However, he referred to the attempted coup d'état with the participation of military personnel.
Residents of the largest cities of Turkey took to the streets, as reported
Anadolu
, to celebrate the victory of Recep Erdogan. Erdogan himself said that "democracy has won in Turkey".