Ukrainian journalists and volunteers continue to publish notes about serious problems with personnel in the Armed Forces of Ukraine in the area of ​​the so-called combined forces operation. This is primarily about more than a substantial understaffing of subunits and units of personnel.
So, on the pages of the Ukrainian edition Zn.ua appeared
material
Yury Butusov, well-known in Ukraine, in which he reflects on the topic "Why do warriors leave?" It was under such a headline that an article appeared in the media.
According to Butusov, today the Ukrainian brigades are staffed by less than half. From the material:
By the end of the rotation of the unit on the front, it is quite often possible to see a company in 40 people, or a battalion in which 200 people hold a front in 10 – 11 kilometers.
It is noted that in the reports of the command of the situation are different - it is stated about the staffing of units, which indicates the manipulation of the command data.
From the material in the Ukrainian edition:
The same people can actually serve on paper in two divisions. The number of seconded infantry on the first line can reach up to 50% of the unit.
Attention is drawn to the statement that the Ukrainian military is increasingly leaving the service, including the one that was associated with "expensive training of personnel." It is noted that after training by American and Canadian instructors at the Yavoriv training ground in the Lviv region and after a single rotation of military personnel, up to 80% of this personnel filed a report on dismissal from the ranks of the Armed Forces of Ukraine.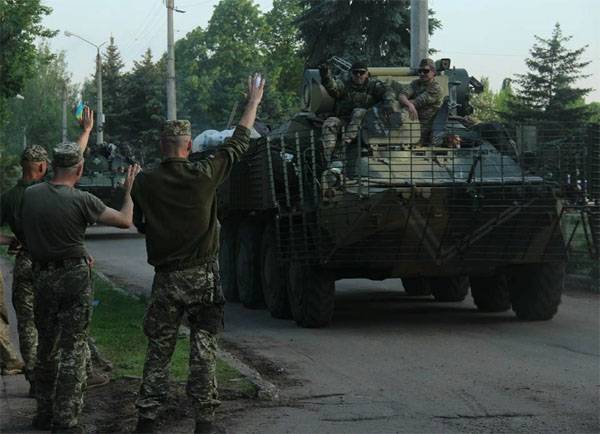 Data on the basis of the training of special operations forces in Berdichev (Zhytomyr region): out of 437, the servicemen who applied for courses at the time of the course completion left only 63 people left. Of these, about 40% have already left military service.
Since the beginning of 2018, about 10% of officers have left the ranks of the Armed Forces of Ukraine. This leads the Ukrainian command to intensify work with reservists, who are also clearly not eager to climb into the inferno of war ignited by the Maidan authorities.
According to Butusov, one of the reasons for the abandonment of military service by the Ukrainian military is the "Soviet" principle of command and control "we have no irreplaceable" among the command forces. In general, and here the Soviet Union is to blame ...