The main defense department of Russia presented a set of evidence that the so-called "chemical attack" in the Syrian Khan-Sheikhun was a previously prepared provocation. According to the head of the RCBZ troops, Igor Kirillov, interested persons deliberately allowed sarin to be included in the samples. This was done for the sole purpose of accusing the Syrian government forces of supposedly himatak and so to legitimize attacks on CAA objects.
It is noted that experts found in a number of samples decomposition products of such a poisonous substance as sarin. In this case, it is reported on the analysis of samples and from the funnel, which, by definition, could not be the result of dropping the bombs or any capacity from the aircraft.
The submission says that the militants themselves carried out an explosion of a small-capacity explosive device on the ground. This is exactly how a funnel could appear at no great depth.
From the statement of Igor Kirillov, which is published on the pages
RIA News
:
I draw your attention that until the completion of the "investigation" the funnel was hastily cemented
It is noted that the footage, allegedly after the hiatus of the CAA in Khan-Sheikhun, shows how people walk in its "epicenter" without any really capable of protecting against sarin funds.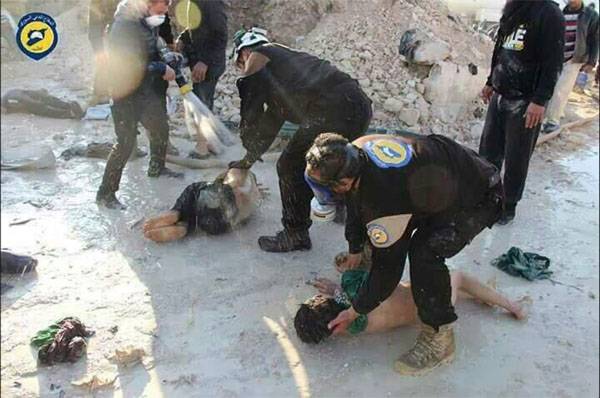 From the report:
This indicates the absence of sarin in the funnel, since when a chemical munition is broken inside and near the crater, lethal concentration is created and nearby people could not avoid an instantaneous defeat, as well as those who assisted the injured.
Russian experts add that a provocation was carried out along approximately the same patterns and subsequently in the eastern Guta suburb of Damascus.