The Syrian government army is preparing a decisive offensive in the south of the country - in the province of Daraa. It is noted that the forces of the CAA are concentrated in the direction of the city of Busra al-Harir. Lebanese sources claim that the units of the Syrian special forces ("Desert Tigers") carried out several rocket attacks on the positions of the militants who landed in the fire pocket the day before. It is noted that the militants, cut off from the main group in Daraa and Quneitra, suffered significant losses. The exact number of casualties among terrorists is not reported.
Also formed a shock fist to attack the positions of terrorists in the province of Quneitra. Allies from the ATS National Defense Forces joined the Syrian army. Recall that earlier in the State Department the United States warned Damascus from the start of a full-scale military operation in the south of the country - in the Golan Heights area.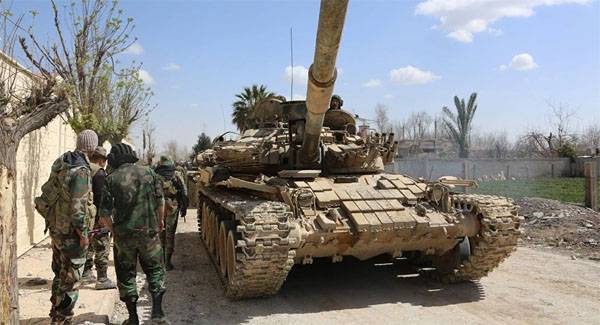 Against this background, it is becoming known that the Jordanian army is pulling forces and means, including armored vehicles, to the border with Syria. Photos appeared on social networks that show the transfer
tanks
and other weapons to the Jordanian-Syrian border. Photo -
here to register:
.
In this regard, the question arises: is the Jordanian army ready to use this technique against terrorists if they decide to arrange a provocation at the border? Or is the technique intended to support the militants of the so-called "southern front", warmed up on the southern borders of the Syrian Arab Republic?
Meanwhile, the American coalition-supported militants attacked the CAA near the city of Al-Allianen in the southeast of Homs province and attacked the positions of the Syrian army from Al-Tanf region, where, as is known, the American military base is located.