Boss displeased with the people
Right off the bat: it's not about Putin. It will be a question of one of the real owners of our long-suffering country. About his moral experiences. But Putin has nothing to touch (perhaps): he doesn't decide anything here (as it were).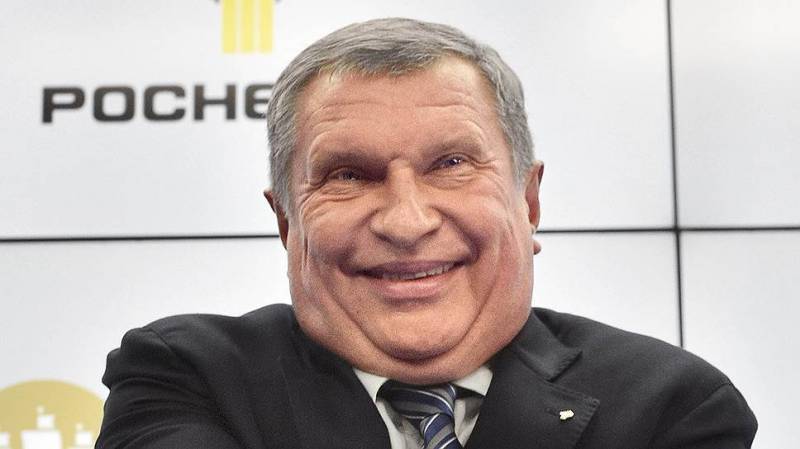 So, one of the real owners today is Mr. Sechin. Yes, that same Igor Ivanovich, the "gray cardinal," "the second (?) After Putin," and so on. Whose son Ivan (1989 year of birth) is the first deputy director of the department of joint projects on the shelf. It is he 20 January 2015 of the year, at the age of 25 years, was awarded the medal of the Order of Merit for the Fatherland II degree "for his great contribution to the development of the fuel and energy complex and many years of conscientious work."
And I do not mean that the toad stifles me because of the medals. No, no, I just want to emphasize the talent and education of the Sechin as a whole. And the fact that I am absolutely not surprised by the presence of such people at the mercy. "Long-term" work is also not surprising. "Two" as a numeral is already more than one, that is, a lot.
It is surprising more.
Somewhat discouraging even. That is why in the breaks between the courts with journalists, who for some reason do not like him, Mr. Sechin Sr. makes remarks, after which you begin to understand that they do not like him correctly?
So, the shareholders of the Rosneft company gathered in Krasnoyarsk the other day. And Igor Ivanovich performed there. He explained to the shareholders (apparently, not everyone is up to date) and to journalists why gasoline is rising in price.
I quote Sechin by RBC, RIA "
News
"And" Kommersant. "
"The reasons for the increase in gasoline prices in Russia were the devaluation of the ruble, the rise in world oil prices and the increase in the cost of refining it."
"If you used to have a dollar worth 30 rubles. Now it's 64. Thus, the purchasing power of the ruble has devalued ... The company cannot do anything so that this factor does not exist: it already exists. "
That is, Mr. Sechin openly said that he had seen this ruble in his grave. I wonder if to dabble at the words, and how much does Sechin have a dollar? If we have it 64, then how many?
It's funny, but Russian oil, processed at the Russian plant, by Russians, is sold to Russians in dollar terms ... Very peculiar. Okay, go ahead.
"Russian companies supply oil, which has risen in price by 25%, both for export and for Russian refineries. Add to this the increase in transportation costs, energy, and you will see that the cost of processing has increased significantly. "
Oil refining, he said, is becoming unattractive because it has to bear the cost of keeping prices at gas stations. "
I correctly understood that oil is such an evil thing, it goes up by itself? Without human intervention? It falls from space, and all in spite of the price. And nothing can be done about it. Not the entire board of directors of Rosneft, neither the government nor the president of Russia.
Oil is stronger. Got it.
"I, too, as a motorist, she (the price) is upsetting, but if the state increases excise taxes on gasoline, what does the company have to do with it?" Said the head of Rosneft, answering a question from one of the shareholders.
Can I be so upset too? For 1% of Sechin's salary? Yes, I'm not that upset, I will cry with grief! So that my rydator tore to pieces from universal sorrow!
But alas, the sniper will remain whole, and therefore we begin to think.
We will not repeat the expression already disfigured from beatings about our gasoline prices. They really all the world market on the drum, they only know how upward.
And this time everything was exactly according to the canons. The prices rushed up, there was nothing to stop them, the dollar did not increase much there, as did the oil. Just needed money.
Apparently, the masters of the masters podderzhdalis. Bridges, stadiums, roads, competitions, championships ... Everything costs money. So, apparently, there is so little money that Sechin and the others are just in a panic. On the salary barely scraped. And then there's Mundyukal, or whatever it is ...
By the way, figures from the Independent Fuel Union (NTS) 9 June warned that before the end of the year the cost of a liter of gasoline could reach 100 rubles. I do not know what this vangovanie is based on, but it's not possible to guess that it will not fall to 30 rubles, no matter how much oil falls.
Deputy Prime Minister Dmitry Kozak, in response, called the NTS forecast "apocalyptic". "It's impossible. This is ruled out, the government has enough tools to resolve this situation and prevent a sharp rise in prices for motor fuel, "he said.
Aha ha ... I wonder what? The white flag of surrender has already been thrown out. New Year's gift from the government (increased excise tax on the road) has already been given over to oil tycoons. Everything, roads will improve there is nothing.
Growth will be - that is what Kozak said. Sharp will not allow, and not sharp - here you are, dear Russians.
The government has nothing but puffy cheeks. Because Matvienko hysteria so on the fact that the pension reform should be urgently implemented! And there can be no trades!
It's simple. Hosts need more money. And the guardsmen just have to kick the money out of their lackeys at any cost.
In this case, the owners are not obliged to bother and prove something there. You can even carry the fierce nonsense, as here Mr. Sechin does. It's okay, he doesn't give a "Forbes" interview, right?
When for every second the people of Russia pay in gold to Sechin, what difference does it take to occupy that second? Money is dripping ... Brook ... Angar ... Yenisei.
Our whole problem: Russians have too much money. And they plow too little.
We have one reader on our site, Maxim. So, he is also an adherent of this hypothesis: they say, we all work too little. Need more! We must have at least two jobs, and then we'll all be in chocolate! And we will not care about the rise in prices and everything else.
Yes, the opinion is somewhat similar to the ideal for the Sechin and Matvienko. Crowds of slaves plowing 10-12 hours a day for soldering. Having nothing, because they don't need to have anything. They need to work. For the good.
Perhaps the owners should upset the current state of affairs. Well, do not need the Russians to live like a human! As in Europe. Superfluous it! It is better then to spend a couple of billions of money (taken away from the Russians) to create an image of these Europe as places where it's better not to go and where it's better not to look.
There, they all want to seize Russia, pump our oil and crack our caviar. With vodka. And this is wrong. Pumping oil, cracking caviar with vodka should Sechin. But he basically does it, so in this respect everything is fine.
European prices for gasoline, European prices for housing and communal services and food, Ukrainian salaries and health care with education.
Why not? Does Ukraine survive somehow? How are we better?