British police and FIFA launched an investigation on the "ziguyuschih" English fans in Volgograd
FIFA begins investigating an incident with English football fans in Volgograd. English fans before the match with Tunisia and after the game, very peculiarly visited the main attraction of the city - Mamaev Kurgan and walked through the streets of the city. Clearly realizing that they are in a sacred place for the whole of Russia, some guests from Foggy Albion began chanting openly Nazi chants and demonstrate the Nazi salute.
The situation looked like a blatant provocation of several people who actually "expose" all the English fans who arrived at the World Cup in Russia.
British newspaper
The Telegraph
writes that English fans sang an anti-Semitic song in addition. The same publication notes that all fans of the England national team were warned in the information plan that Volgograd was the former Stalingrad, where the crucial battle of the Second World War was taking place, and that in this city "more than a million Soviet soldiers were killed to prevent Hitler's blitzkrieg" (direct quotation of the publication).
In the British press, they note that at the moment three English fans have been identified who have "distinguished themselves" in Volgograd by playing anti-Semitic songs and "zigovaniem" on the streets and in the cafe of the city. It is added that such representatives of the English landing of the fans themselves are driven to "spoil the friendly atmosphere that develops at the World Championships".
British police made a request about who took part in the "unsuitable action."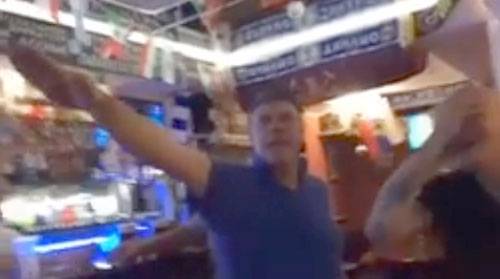 Press Office of the Football Federation of England:
We strongly condemn the actions of people in this video (for ethical reasons, the "IN" video does not publish). We are working with relevant authorities, including the UK Police Service, which are conducting an investigation to identify those involved and take appropriate action.