Andreevsky flag raised at Ivan Gren BDK
Today, i.e. On June 20, 2018, the epic of the construction of the large Ivan Gren landing craft was finally completed. At the Baltic shipyard "Yantar" in Kaliningrad, a ceremony was held for the acceptance of the BDK into the combat structure of the Naval
fleet
RF.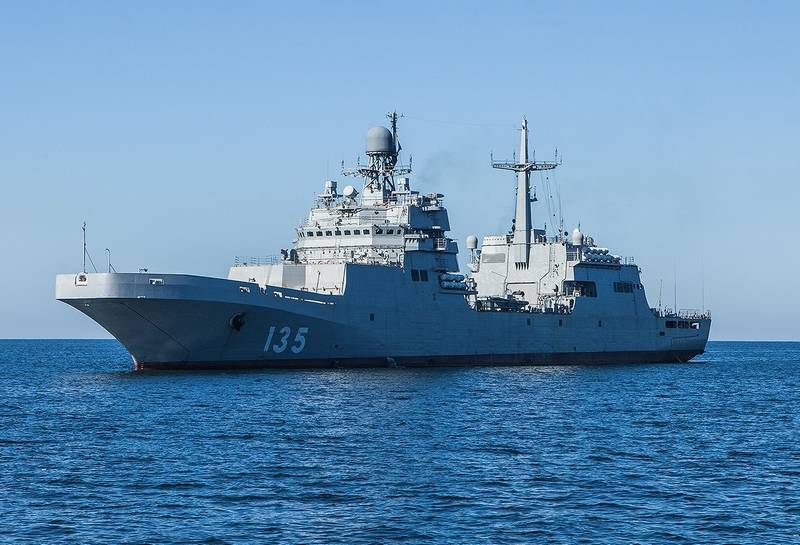 Before raising the flag of St. Andrew's flag, the order of the Russian Navy commander on the admission of the Ivan Gren BDK to the 121 Brigade of the Kola Flotilla of the fleet's heterogeneous forces was announced.
BDK "Ivan Gren" - the lead ship of the 11711 project, the modern development of the 1171 project, according to which, in 1960-1970, Yantar PSZ built a series of 14 ships. The ship was laid at the Yantar Baltic Shipbuilding Plant in Kaliningrad in 2004, and the launch took place through 8 years in May 2012. The ship was put to the test in the 2016 year. The acceptance certificate of state tests was signed on 2 on June 2018 of the year, after which the ship was sent for a final revision and painting.
The displacement of the BDK is about 6 thousand tons. The ship can accommodate 13
tanks
or more than 30 armored personnel carriers and infantry fighting vehicles. The BDK provides for the deployment of a reinforced battalion of the Marine Corps, as well as the temporary deployment of various types of ship helicopters. The ship has a cruising range of 4 thousand nautical miles, which allows you to perform tasks in the far sea zone.
Currently, the Yantar shipyard is completing the first serial and second ship of the 11711 project "Pyotr Morgunov", launched on May 25 on the 2018 of the year.
Ministry of Defense of the Russian Federation