To be or not to be a tank "Nota": reflections of the Ukrainian expert
The actual fiasco of the Ukrainian
tank
the teams on the T-84U Oplot during the recent Strong Europe Tank Challenge 2018 competitions raised the issue of modernizing tank forces with renewed vigor
Dsnews.ua
article by Ukrainian expert Mikhail Zhirokhov.
The expert notes that the declared "Oplot" for the competitions is only a deep modernization of the T-64, T-72 and T-80y of the Soviet T-80 UD. And all the other Ukrainian tanks - one or another modification.
Nevertheless, Ukraine has at least one real domestic project - it is "conditionally Soviet" "477 Object", also known as "Boxer" or "Hammer," the author writes. Work on it began in the 1980-ies in Kharkov. The program received state funding, but great results were not achieved due to poorly developed Soviet industry: the tank was planned to be "stuffed" with electronics, the creation of which was only at an early stage.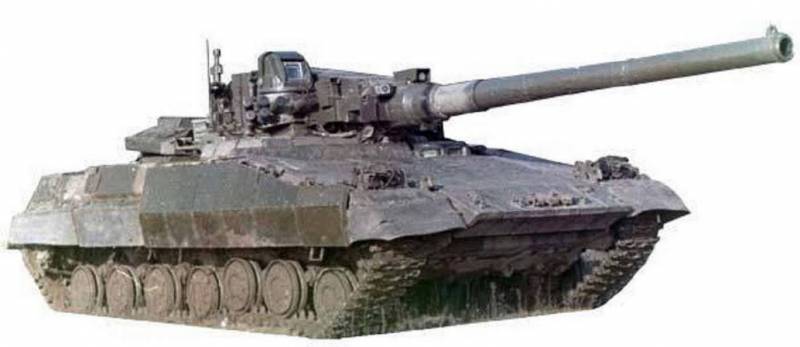 As a result, the sample turned out raw - without the sighting system and automatic loader. Next - the collapse of the USSR, put an end to this program.
A new surge of interest in the project belongs to the mid-90-x. At that time, according to the expert, Kharkov designers were offered to work in the interests of the Russian Defense Ministry. It was supposed to modify the "Object 477A" using the updated systems. So the project 477А1 with the name "Note" was born.
"A special feature of the car was the original half-deployed cannon. Instead of the usual tower on the chase of the hull, a dome of reduced size was placed with a large central unit, inside of which there was a gun breech and automatic loaders, "the article says. In this case, 152-mm gun decided not to put.
In addition, Zhirokhov writes, Kharkov engineers laid the advanced weapon control complex for the project, which included sights with optical and thermal channels, as well as a developed on-board computer, satellite navigation system, target identification tools, and so on.
Work continued until the beginning of the 2000-s. Then Moscow abandoned the project and stopped funding. Search for another foreign investor did not give any results. The work stopped and the project was frozen.
In 2015, Kharkiv again began to actively promote the theme of bringing to mind the "Notes" in order to organize the serial production of the tank. They even wanted to demonstrate the layout at the parade in 2016. But something went wrong, and the show was postponed for this year, for the Independence Day of Ukraine.
According to the author, there will be no problems with the organization of mass production. But who will take up the creation of an armament control system is not yet clear: after all, it is obvious that it will have to be created from scratch on a new component base.
Although, in the presence of such "magnificent sources" and the political will of the leadership, the issue of finalizing the tank can be solved in 5-7 years, the expert concludes.