The company BAE Systems won the tender for the supply of the United States Marine Corps promising floating armored personnel carrier with the wheel formula 8х8. According to the contract, the company will supply the United States KMP to the end of 2019 of the year 60 pre-production machines, and first 2020 of the year will start their mass production, according to American media.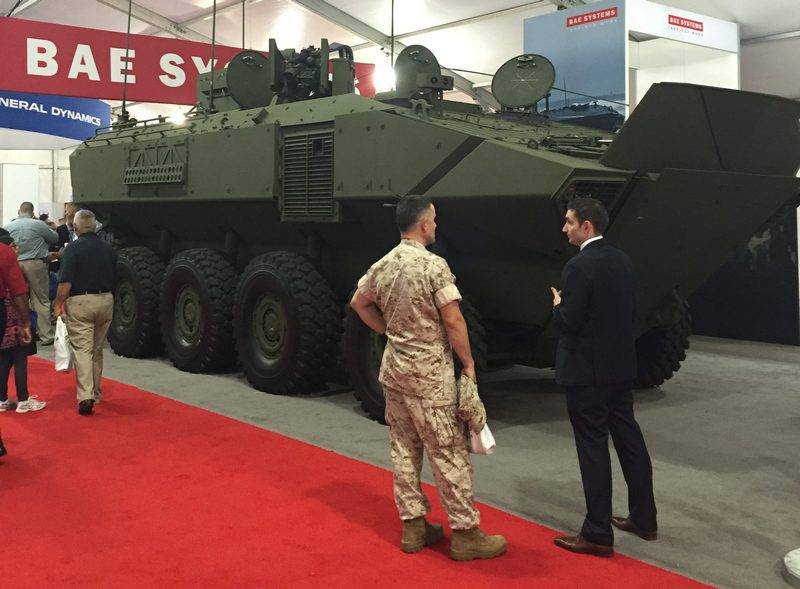 This model of an armored personnel carrier is a joint development of BAE Systems with the Italian group Iveco based on the Iveco created VBA armored personnel carrier (modification of the SUPERAV armored personnel carrier).
The body of the armored personnel carrier welded from armored steel sheets, provides protection against small arms
weapons
and shell fragments. Laid the possibility of enhancing body armor by installing hinged armor. In the forward part of the car, on the left is the control compartment with the driver's seat, to the right of it is the engine compartment (MTO) with a multi-fuel diesel engine with turbocharging power 500-560 hp (368-412 kW). The troop compartment is located in the hull aft and accommodates 12 fully equipped infantrymen. The landing and landing of troops is carried out through the stern doors or hatches in the roof of the hull. The BTR is equipped with a new remotely controlled Oto Melara HITFIST Overhead Weapon Station, equipped with an 30-mm ATK Mk 44 automatic cannon, an 7,62-mm machine gun paired with it and a Rafael Spike ATGM container launcher.
Although the weight of the BTR is 24 tons, the machine is waterfowl. Speed ​​in 10 km / h on the water is achieved with the help of two propellers, while the armored personnel carrier maintains seaworthiness when the waves are up to three points.