"I will dig up a machine gun, I will tear everyone away!" How to perceive Putin
Well, I wrote a critical article. About the president and his government. I have every right to make my opinion under rotten eggs and rotten tomatoes.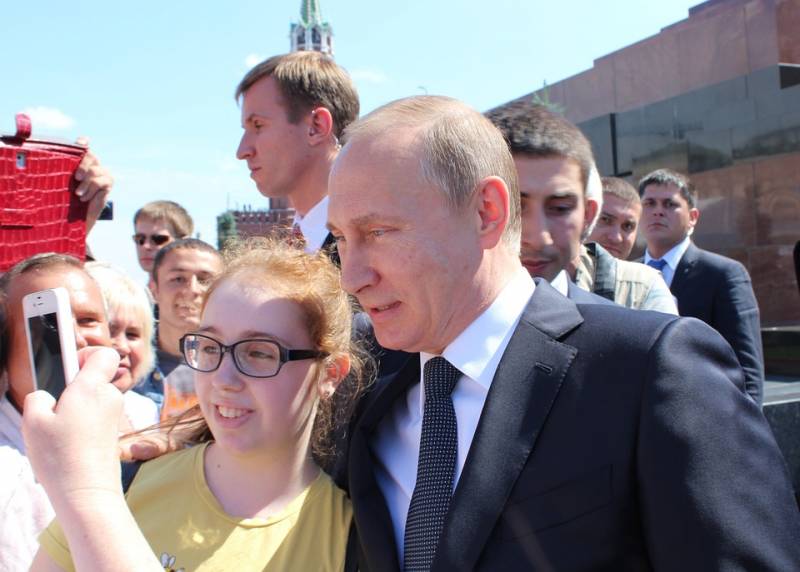 Yes, with comments we have full of seams lately, it is better not to read at all. Enough that arrives in the letters. This is more interesting, the letters are written by people, mostly mostly intelligent, not trying to nashibat "asterisks".
And yet.
Naturally, from two camps arrives.
And that is why I really want to say "in addition" just a couple of words. Such an opinion about opinions.
Gentlemen shouting that Putin is evil, and comrades screaming that Putin is the light at the end of the tunnel. Well, you can not live like that. Peace, he, contagion, not black and white. If you do not have color blindness, this can be seen. Eyes. If there is, ask loved ones and believe them. I do not call to believe.
Often our visitors are perceived as children. I didn't write what was expected - everything, tears, stomping with knifes, knocking with cams and all that. Full obidki and puddles of tears.
Dear children and adults who are not far from the children gone.
We here recently voted for the president. Friendly and tastefully discussing it. And suddenly something went wrong. More precisely, everything went wrong.
No, someone is fine, someone, having made himself an idol (contrary to the precepts of his church) and cultivating a person, believes that everything is normal. Someone howled. Someone is silent.
There are those who are satisfied with the game in retirement. Matvienko, Miller, Sechin, Gref - they normally and not dripping. Well, the top managers in top teams too.
But for some reason the workers are not in a rush. And okay, white-haired type of me, but at the plants for some reason, mat-peremat. And in clinics too. And in schools.
And the nationwide robbery that began? Fine?
Dear ones, while the majority of them have come down to the TV screens, enjoying the spectacles of real football (I don't watch myself, if anything, there is more important business), gentlemen's deputies stamp the laws at the speed of an electrocaster. Everyday. Here's a fresh one:
"The State Duma adopted a law on increasing the state duty for issuing a new generation passport with an electronic storage medium from 3,5 thousand to 5 thousand rubles. At the same time, the state duty for issuing a new generation passport to a child under the age of 14 is increased from 1,5 thousand to 2,5 thousand rubles.
The law also establishes a state duty for the state registration of vehicles and other registration actions related to the issuance of a new generation certificate made of plastic-based materials in the amount of 1,5 thousand rubles. The state duty for issuing a national driver's license of a new generation in plastic is set at 3 thousand rubles. "
While everyone is watching the championship, periodically indignant at the growth of the retirement age, gentlemen's deputies will draw so many taxes to us that the prospect of being without pants, in some cowards, will not be the worst prospect in a year or two.
So what's up with Putin?
No way.
He is not bad and not good. Not black and white. And he has moves that I personally really like. Crimea, Ust-Luga, floating nuclear power plant in the North and everything connected with the North, in a complex. If we talk about foreign policy, then the turn from Europe to China is also quite.
But Syria and Donbass did. Just because the fault of Donbass is that there are no interests of Miller and Sechin. As well as categorically do not like the organized rampant internal corruption, licking the oligarchs at the expense of us, well, the last robberies also somehow "do not go."
Here I am against such a total robbery. Especially when robbing the entire population in favor of a handful of oligarchs. In every way supporting and exalting them. Well, like a medal of the disgraceful order "For merits before the Fatherland," son of Sechin. In 24 of the year. Without specifying what he managed to earn there. No matter, these medals are awarded to everyone.
But to the cries of "It was necessary to vote not for Putin !!!", "Bulk!" And so on, I also treat this way ... Yes, I did not vote for Putin, a fact. But who said that Zyuganov (sorry, Grudinin) or Sobchak - real alternatives?
"Upstairs" all are smeared with one world. Capitalist. And the alleged opponent of Putin is Sobchak (laughter, of course), who directly dreams of a godfather to the dump
stories
send and all the rest.
Capitalist elite of capitalist Russia. And for whom neither vote, the result will be the same. Plus / minus bad / very bad.
There is no alternative and can not be. No one rushes to wave a magic wand in order to submit to the next election a clone of Stalin. And even if the alternative is drawn as a semi-capitalist semi-collective farmer Grudinin, then the very same capitalists will flood it with crap, and the plebs crowd (forgive the electorate) will howl happily admiring this show.
Now, for sure, another questioner will come out of this crowd with the question: "What, author, are we all going to die, is everything gone?"
Yes, we all die. It is a fact. The only question is how and when. About the fact that everything was lost and the polymers were taken apart - this is for everyone as far as their stupidity is concerned.
Partially drawn ratings (this is for Europe and the USA and narcissism) and partially corresponding to reality - a double-edged sword.
A signal to the potential that all efforts to disintegrate Russia from the inside were in vain. But there is a minus. What does it matter how the end of this stick of us will knock out money? On the fight with the machinations of the United States or to restore the country destroyed by Yeltsin?
In general, that the first nonsense, that the second. But while it works.
And in the end - permission to complete chaos for the elites. This was not particularly visible, but it is. Do you want to retire at 65? Go to Rosguards, retire you go to 45 and thrash out those who don't want to retire at 65.
My dear, take off the pink glasses. Stop wearing them.
It is time to determine who you really are: a flock of sheep that lead to cut, or a flock that lead to cut? Or is it people who are not capable of thinking with the like / dizlick buttons?
Comments write, perhaps even from the heart. Authors indicate how to write, and politicians - how to do things. Meanwhile, the majority still really thinks Medvedev is bad, and Putin is good.
I'll tell you a secret. Terrible. Putin and Medvedev are one team. One unit. Long.
Just as Chubais, Kiriyenko, Deripaska, Gref, Miller, Sechin, Rothenberg and others. One family. Not Putin. Boris Nikolayevich.
Yes, yes, yes, that same, the first president, whom 90% curse and curse on this site and to whom Putin has built such a monument.
It is all one.
It is difficult to understand, of course, but once, probably, it is necessary. Generally - it would be time.
I'll give you an example. Freshest.
We are unhappy with pension reform. Unhappy? Dissatisfied. It is a pity, it is impossible to attend rallies because of the World Cup. It is a pity, would go, who would look what he says, you see, there would be new names.
And the answer is already "on the ointment," as they say. The response of the presidential administration.
From some garbage heap dug up ... right, Leshen Navalny!
And, hamsters, I immediately say, do not even try to squeal here on the topic "where the protest is, there Navalny". Everything, my dear, conditional for him with a shaft, so either sit quietly at all and wait for a pension, or work off the money.
Judging by how all the federal media screamed in unison and in the same key, it is clear who ordered the concert.
The guys from the AP in general, well done, just hit two birds with one stone:
1. Discredit protest in general.
Elections were recent. Yes, the ones after which Navalny seemed to be dumped on the dustbin of history. He piled on him so much that KamAZ could not be taken out.
Navalny liberal, traitor and seducer of children. He lives on the dirty money of the US State Department / CIA. So, everyone who went after Leshenka, a priori, in shit, because they went out for whom. Develop the idea for hamsters? That's right, they are all traitors and provocateurs too.
No one cares that teachers and doctors will be completely there. No less than any of the hamster biomass will not worry that no one will lead a protest at all.
2. Controlled protest leader - a pledge of control of the protest itself.
Yes, quite so I do not even hint, but I speak openly. The receiver is old, but oh, what an effective and inexpensive.
Why do so many people scream about the fact that Navalny is being kept by the States, and so few ask themselves the question, why, despite such a number of conditional terms (find another one in Russia), it's not just being imprisoned, so also the border is regularly released.
Ostensibly for treatment. Or maybe to meet with the curators from the State Department. It does not matter, the main thing - is released. And the fact that Navalny could have laid a passport to him in the AP was the way he was lying.
The main thing is that if you look closely, there is almost no difference between Alexei Navalny and George Gapon.
So all these faces are from the same deck. Everything. And Navalny is very necessary to Putin. And we all need Putin. At our expense you can do a lot of things. And we need Putin. We voted for him, it means we need it. And in general, without a sovereign country is bad. And without a president is bad. And when the oligarchs rule, there is nowhere worse. Like the type in Ukraine.
Dear readers, we need to get wiser. And getting smarter urgently. To learn to look around and see people. Those you can rely on and assign responsibilities to.
Finish with idiotic cries like "I will dig up a machine gun, I will tear everyone away." Or "you are all sold."
Yes, we are all sold here. And sold a long time. Sold to the capitalist system, which deeply spit on all our experiences. But you have to do something. While there is a choice, like that of a flock of sheep: either under the knife, or under the scissors.
All the same, both the knife and the scissors are still in Putin's hands. As will be further - we will see. I would like to see.