Another class destroyer Arleigh Burke transferred to the US Navy.
The US Navy received another Arleigh Burke class destroyer. Shipbuilding company Bath Iron Works 15 June 2018 of the year solemnly handed over to the US Navy a new missile destroyer USS "Thomas Hudner" (DDG-116), the press service of the US Department of Defense said.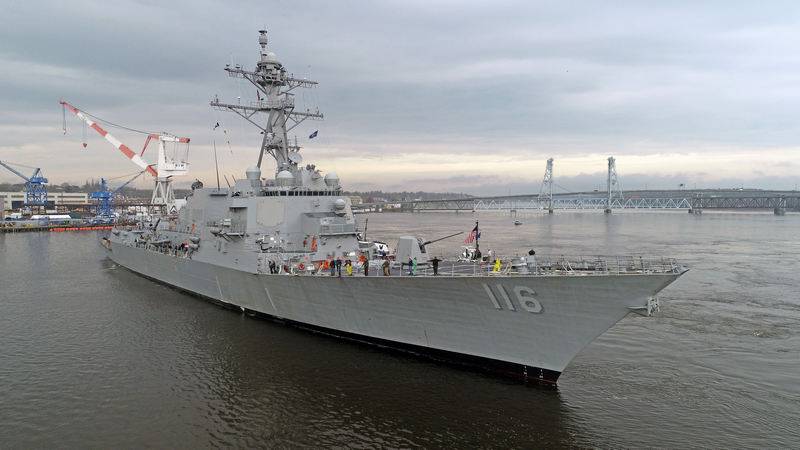 According to the report, this destroyer "Thomas Hudner" (DDG-116) is the 66-m destroyer of the Arleigh Burke class, as well as the fourth type of Flight IIA, which were transferred to the US Navy. The ship was laid in 2013 year, launched in May 2017 year, and in early May of this year completed acceptance tests.
Key Features: Displacement at full load 9217 tons. The length of 156 meters, width 20 meters, draft 10 meters. The speed of the 31 node. Four General Electric LM2500-30 gas turbines with a total power of 75000 kW (100000 hp) have been installed. The total crew will be 380 people.
The ship is able to perform various missions and tasks of a defensive and offensive nature thanks to the unified Aegis system.
Armament:
Tomahawk cruise missiles, RIM-66 SM-2 "Standard-2" SAM, anti-submarine guided missile (PLUR) RUM-139 ASROC
Artillery 1 * 1 127 mm. AU Mark 45. Mod. 3 / 54 cal., 680 shells
Missile armament up to 74 of SM-2 or SM-3 missiles at the Aegis Mark 41, 24 RIM-7 Sea Sparrow missiles
Anti-submarine armament PLUR RUM-139 ASROC
Mine-torpedo armament 2 × 3 324-mm torpedo tubes Mark 32 (6 torpedoes Mark 46 or Mark 50)
Aviation
group 2 helicopters SH-60 LAMPS