Miraculous affairs: Poroshenko in the Constitutional Court challenges the deprivation of Yanukovych's presidential status
It becomes known that the current president of Ukraine decided to challenge in court the decision to deny the presidential status of his predecessor. Oleg Lyashko, the leader of the Ukrainian Radical Party, told about this on his page. Recall that earlier it was Lyashko who initiated the deprivation of Viktor Yanukovich's status as president of Ukraine. The treatment is "for treason". The court of Ukraine the presence of treason Viktor Yanukovych can not prove so far. Even greater difficulties arose after the testimony of witnesses that Yanukovych canceled the Party of Regions congress in 2014 in Kharkov, as he was planning an assassination right in the meeting room.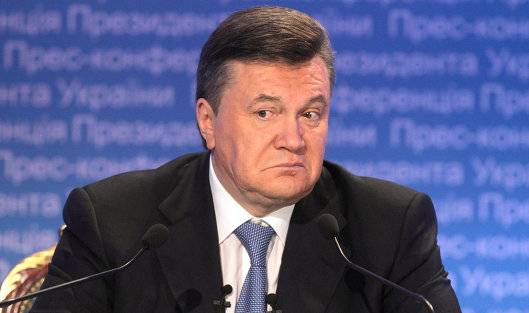 Lyashko:
President Poroshenko contests in the Constitutional Court my law on depriving Yanukovych of presidential status. Why does he do it ?! Is that trying on the fate of Yanukovych!
The Constitutional Court of Ukraine confirms the appeal of Petro Poroshenko to study the legality of the deprivation of Yanukovych's presidential status. The document is posted on the official website.
Constitutional Court of Ukraine
. In particular, it is noted that during the adoption of the decision on depriving Yanukovych of the status of president, the key point was not taken into account: the Ukrainian constitution implies the deprivation of the status of president only as a result of impeachment procedure. This procedure was not carried out for Yanukovych.
In Ukraine, not only Lyashko is surprised at Poroshenko's unexpected appeal to the Constitutional Court on the situation with Yanukovych. In social networks they are joking about the fact that Poroshenko is preparing to "look after a house in the Rostov region, next to the predecessor".
Recall that the presidential election in Ukraine will be held in 2019 year.