In Malmo, Sweden, an unknown man shot football fans
In the Swedish city of Malmo, an unknown person made an automatic shooting
weapons
. At this moment it is known that at least two people became victims of shooting. This is a 18 year old boy and a young man aged 29 years. There are several wounded.
All the wounded, and their four, are also men of different ages.
It is known that the victims of the tragedy died in one of the local clinics, where they were taken after receiving gunshot wounds. Doctors could not help them.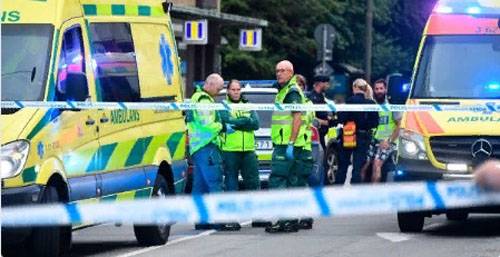 Swedish police report that an unknown shooter escaped from the scene with a weapon.
Local residents in an interview with the Swedish media reported that they had heard about twenty shots.
It is noteworthy that the shooting occurred in the immediate vicinity of the police station. Whether the victims of the shelling were somehow involved in the work in the police is not reported. But it is known that all the men, who were shot at by an unknown person, marked the victory of the Swedish football team over the South Korean team. Recall that the meeting took place on the eve of the World Cup and ended with the 1: 0 account in favor of the Swedes.
For the search and capture of the shooter, police units not only Malmo, but also other Swedish cities were raised. While the search was not crowned with success. The reasons that prompted the unknown to open fire, not reported. Not excluded the version of the attack.