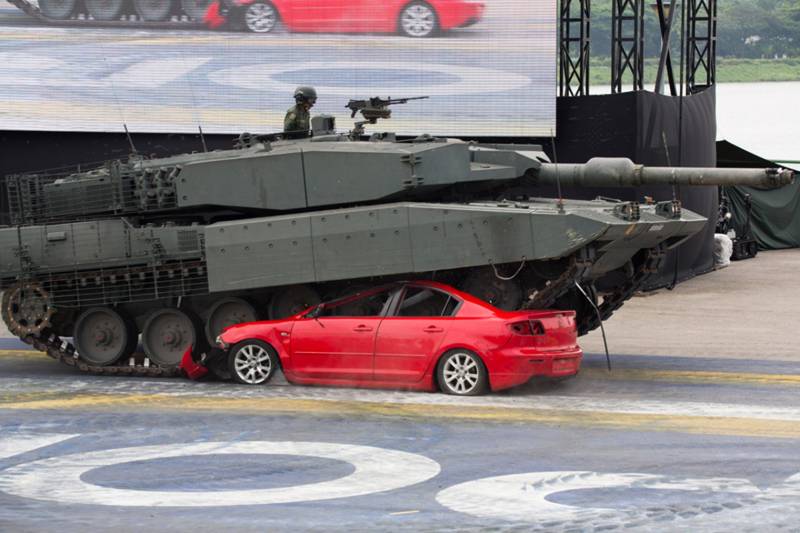 According to the latest trade database
weapons
Stockholm International Peace Research Institute (SIPRI), Singaporean army could secretly buy 2016 in 2017 or 12
tanks
Leopard 2A7 manufactured by Krauss-Maffei Wegmann (KMW).
A senior representative of the SIPRI Institute reported that this information was obtained from the UN Register of Conventional Arms 2016 (UN Register of Conventional Arms), in which Germany recorded the transfer of seven Leopard 2 tanks.
News
The alleged sale of Leopard 2A7 tanks was reinforced by two different German press visits to the KMW plant in January 2016 and in February 2017. In the first story, the semi-finished A7 towers for Qatar and Singapore were shown. In the second story, the 2-7 tanks of these two countries were shown on the assembly line.
The German government disclosed the sale of surplus Leopard 2A4 tanks to Singapore in 2013 and reported on an export license issued in 2014 for the cost of 329 million euros. The representative of the Institute believes that with high probability under this license for the Singapore army, 2А4 tanks should be upgraded to the 2А7 configuration.
At the SIPRI Institute, based on the pace of production, they believe that in the year 2017 five more A7 tanks were manufactured, although the UN Register for 2017 will not be released a year before the end of this year. The representative of the institute added that Germany voluntarily reports data each year to the UN, as well as to the secretariat of the Arms Trade Treaty Organization (ATT). "Singapore is not a member of ATT and therefore is not obliged to inform it about its purchases."
However, the Singapore Ministry of Defense strongly denies any new purchases of German tanks: "In 2006, the Singaporean armed forces announced the acquisition of Leopard 2A4 tanks from Germany to replace SM1 tanks. Since then, the updated Leopard tanks entered the army and Singapore did not buy other Leopard variants. "
According to SIPRI, Singapore received the 182 tank Leopard 2A4 from the presence of the German army in 2007-2012, some of which were intended for spare parts. They were upgraded with the assistance of the Office of Defense Technologies and ST Engineering, after which they received the new designation Leopard 2SG (in the photo).
These tanks were seriously refined, receiving IBD Deisenroth Engineering armor sets, a fire control system, an auxiliary power unit, an on-board information and control system and a commanding sight of the STELOP commander.
It is in the nature of things for the Singapore army to buy second-hand military equipment to study its conformity with the Singapore theory of combat use before purchasing new or deeply modernized equipment and weapons.
Materials used:
www.shephardmedia.com
www.mindef.gov.sg
eyeni.info
en.wikipedia.org