VKS Russia transferred another batch of Yak-130
Next Yak-130 combat training trainers flew four times from Irkutsk with an intermediate landing in Novosibirsk to the place of service, reports
bmpd
.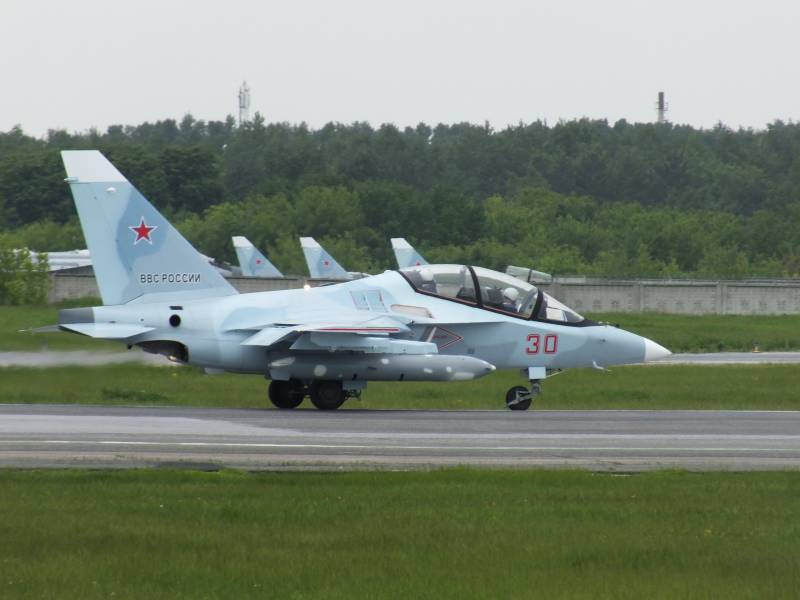 New Yak-130 during an intermediate landing in Tolmachevo (Novosibirsk), 16.06.2018
.
The aircraft were flown at the Irkutsk Aviation Plant (IAP) last fall, but they were transferred to the military just now.
The resource reminds that the delivery of the Yak-130 from IAP was suspended at the end of July 2017 of the year and was resumed only in March of the current year (then the VCs also received 4 of the 2017 aircraft of the year).
It is assumed that the suspension of the transfer of "Jacob" is associated with the refinement of training and combat vehicles after two flight incidents that occurred on the same day - 21 June 2017 of the year.
All eight aircraft were built last year as part of the supply agreement for 30 units before the end of 2018. Currently, the Yak-24 aircraft has been transferred to the Aerospace Forces under this contract. Most of them serve in Armavir, providing training for students of the Krasnodar Aviation School (KVVAUL).
In total, the Russian military department to date received 103 Yak-130 aircraft. Of these, 12 were built by Nizhny Novgorod
aviation
factory "Falcon", the remaining 91 - in Irkutsk.
Thus, the current supply of four Yak-130 has overcome the symbolic milestone in 100 aircraft.
Alexander Grigoriev / vk.com