Behind football passion and the drama with odious pension reform unfolded on their background, the 90 anniversary of a man who has become one of the symbols of the twentieth century, and indeed the present century, Ernesto Che Guevara, was almost missed. However, some media have managed, remembering about a round date, pour mud over the legendary Comandante ...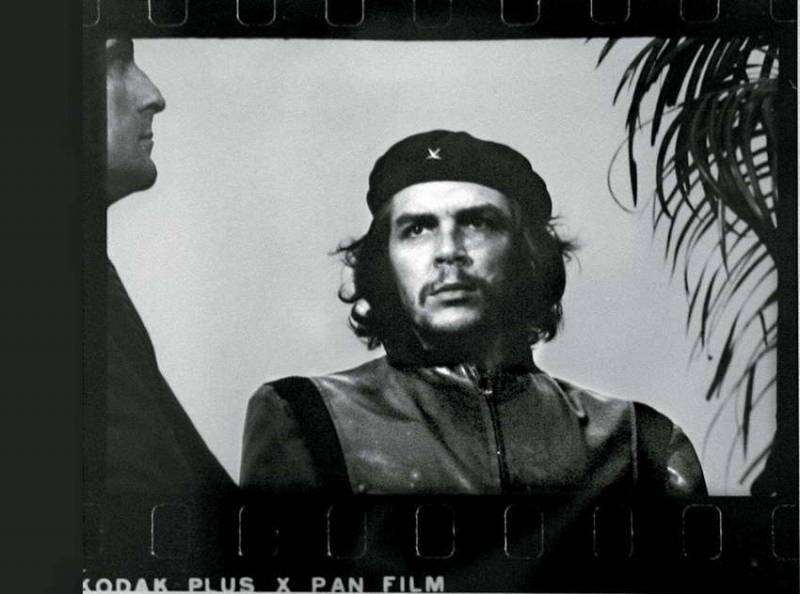 Ernesto Guevara de la Serna was born on June 14 of the year 1928 in Argentina, in the city of Rosario. He lived a short life - just 39 years, but his biography contained a lot of travel, events, sufferings, struggles and victories.
It must be said that Ernesto's parents were very progressive people. The father is an architect, the mother is the heiress of a plantation mate in the province of Misiones. But from this province, the family (before Ernesto was born) had to flee to Rosario, because other planters were opposed to the spouses. And the reason for this is the fact that the future father Che Guevara paid the workers wages in cash, while other planters calculated with products. However, soon after the birth of Ernesto, the family returned, but not for long, because the boy had to be transported to an area with a more healing climate, Cordoba, because of asthma.
In the family, in addition to him, there were two more girls and two boys. Parents were able to ensure that all received higher education. And the family came into conflict with the Argentine government. The reason is the war in Spain. The parents of the future Comandante helped the Relief Committee of Republican Spain, were friends with one of the prominent Spanish Republicans, who after the defeat went to Argentina. And President Juan Peron was on good terms with the fascists. Ernesto's mother was even arrested for participating in demonstrations against Peron.
All this could not but influence the views of the boy. And when he was 11 years old, he first became interested in Cuba. This happened on the basis of Ernesto's fascination with chess, when Cuban chess player Capablanca arrived in Argentina.
Ernesto read a lot - first adventure literature, then the works of Marx, Engels, Lenin, Kropotkin, Bakunin. He loved poetry - read Baudelaire and Verlaine in French. A lot of sports, despite his serious illness. He chose one of the most humane professions - a doctor.
In his youth, he fell in love with the daughter of one of the wealthiest planters, but ... At the same time, he was obsessed with the idea of ​​treating people with leprosy. For this, he left his dreams of a beloved and, after passing the exams, along with his friend, Dr. Alberto Granado, who was also worried about the treatment of lepers, went on a journey through Latin America. The journey began on December 29 on 1951, when young people went to Chile on a motorcycle. Their goal was to visit leprosariums. Often they had to earn money on all sorts of hard work in order to have the means to continue the journey, and sometimes they went "hares". In Colombia, friends went to jail for a "suspicious look," but the police chief was a football fan, and when he found out that they were from Argentina, he released them, in return asking to train the local football team. When the team won one of the competitions, fans bought Ernesto and Alberto Bogota tickets. In Colombia, where there was a civil war, they were again imprisoned. Freed them with the condition that they leave the country. The journey was full of adventures. In the end, Alberto remained in Venezuela, and Ernesto returned to his homeland, in Buenos Aires.
After graduation, he again went to Latin America. I met a lot with peasants and workers, saw their poverty, their work, their burden. All this reinforced his left-wing convictions. In Guatemala, he met with Cubans - supporters of Fidel Castro. And when forces from Honduras invaded Guatemala, he was asked to join the militia and made the list of "dangerous communists". The Ambassador of Argentina warned him that he was in danger of liquidation, and offered asylum in the embassy building, and then helped to get to Mexico City.
Ernesto later worked in Mexico City as a doctor when two Cubans came to him. He was acquainted with one of them in Guatemala. They told him about Fidel Castro's attack on the Moncada barracks. After that, Che first met Raoul and then Fidel Castro. This meeting turned out to be fateful. They were preparing an expedition to Cuba.
In June 1956, Mexican policemen arrested Fidel and Che, as well as several other comrades. It turned out that a provocateur had penetrated their ranks. However, a month later Fidel was released, but he had to postpone his campaign to Cuba until Che Guevara was released (who stayed in prison for 57 days). And then there was the famous expedition on the Granma, in which Che and Fidel survived by a miracle, the guerrilla struggle, the Cuban revolution and its victory. Moreover, it should be noted that Che had more difficulty on the roads of this struggle than others: asthma prevented.
1 January 1959, the Cuban dictator Batista was overthrown and fled the country. Fidel Castro came to power, and Che was one of his closest associates. However, it was then that he took this name for himself: Major Che Guevara.
But it was difficult for him to conduct his activities in offices, as director of the National Bank of Cuba - he was not created for a quiet and peaceful life.
In 1960, Che Guevara visited other socialist countries, including the Soviet Union. He was one of those who welcomed the 7 demonstration in November of the same year, standing on the podium of the Mausoleum.
Here is another trait to the portrait: when in Cuba food ration cards had to be entered, he insisted that he be given the same amount of products as ordinary people. He personally cut cane, worked at construction sites, unloaded steamships, and then spoke at the UN General Assembly with an anti-American speech.
In the spring of 1965, Che Guevara unexpectedly took off all his authority and left Cuba. The reason for this was the fact that he did not work in the ministerial offices. He said goodbye to the children, leaving them a letter: "Your father was a man who acted according to his views and, undoubtedly, lived according to his convictions." And Fidel Castro said that his help is required in other countries of the world.
At first he tried to support the uprising in the Congo. But there the struggle did not work out. He then wrote that it was impossible to win with such allies who were not distinguished by discipline and dedication.
After that, Che secretly returned to Cuba to prepare for a revolution in Latin America. And in November, 1966 of the year ended up in Bolivia, where the guerrilla struggle of the Bolivian communists was fought. The guerrillas were so dangerous for the leadership of this country that it appealed to the CIA for help. As CIA agent Philip Agee later claimed, there was no man who was more afraid at that time than Che Guevara. A reward of 4200 dollars was awarded for his head.
His last fight took place on 8 on October 1967 of the year in Quebrada del Juro. Comandante was injured and his bullet was damaged.
weapon
. So he was captured wounded and unarmed. But even in this state, he saw the wounded Bolivian soldiers and offered to give them medical aid. The officer did not allow it.
They tried to interrogate him, but he refused to answer officers' questions. Even being tied up, hit one of them for trying to humiliate. Before his death, October 9, a local girl, Julia Cortes, a schoolteacher, snuck up to him. In the last hours of his life, he said that the school was in poor condition, while officials drove expensive cars. "That's why we are fighting against this," he told a young woman. On the same day he was executed, although at first it was planned that he would be tried. The executioners, however, were afraid that the whole world would follow the process, and this would draw attention to Cuba and to the ideas for which Comandante had fought.
Then local peasants said that after the execution he looked like Jesus Christ. Che became a legend far beyond Cuba. His image is still found on numerous T-shirts, signs, souvenirs. Is it good or bad? On the one hand, a person who fought against capitalism was made a "well-selling" image. On the other hand, people do not care, remembering him, cannot fail to recall his ideas.
And someone is still afraid of this image. Unfortunately, for the 90 anniversary of Che, the Lenta.ru publication published a vile "Red Beast" opus, in which the commander was accused of cruelty and even that he had "smelled bad" (that is how much they had come down!). But slander cannot do its dirty deed - most commentators have expressed their disagreement with the opus. And this is significant. Years will pass, and very few people will remember Lentu.ru. And the image of the legendary Latin American revolutionary will remain immortal.