The US Treasury Department has published data on the volume of investments of foreign countries in US debt. The site contains
table
which draws special attention to itself in connection with the dynamics of Russia's investments in the US aggregate debt. If you believe the report of the American department, then in only one of April of this year, Russia "threw off" about half of the securities of the American treasury.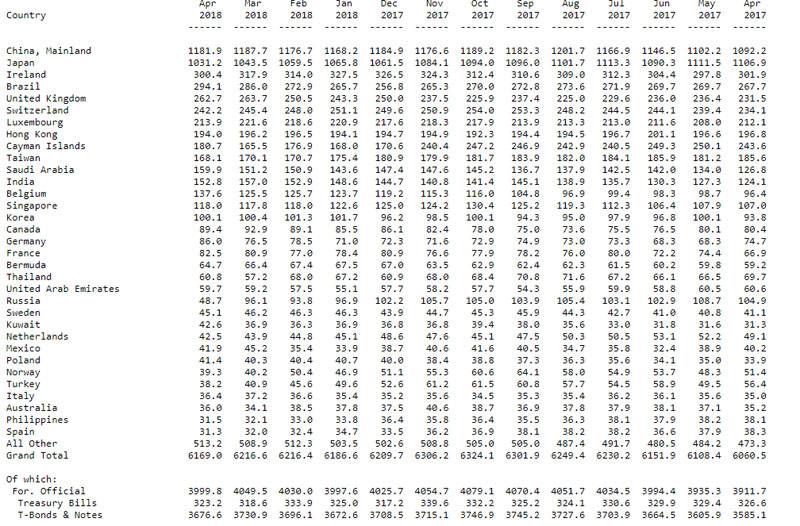 Statistics on Russian investments in US debts is as follows: in March 2018, the volume of investments amounted to 96,1 billion dollars, and in April decreased to 48,7 billion.
This is the largest one-time waiver of US debt in the world.
If you pay attention to the indicators of other countries-holders of the US debt, the top three remained unchanged, although they also totally refused large amounts of investments in American debt. Three "leaders": China - 1,181 trillion dollars, Japan - 1,031 trillion dollars, Ireland - 300,4 billion. In April, these three countries refused to invest in US debts in the amount of 35,6 billion dollars.
However, this changed little of the general situation, since others decided to invest more substantially in American debt. So, Saudi Arabia invested an additional about 8,7 billion, Germany - almost 10 billion, Brazil - about 8 billion (by the way, this country is the fourth holder of US debt - 294,1 billion), Belgium - more than 12 billion, Cayman Islands - 15 billion dollars.
Recall that last year the level of Russian investments in US debt securities amounted to more than 100 billion dollars.