Assad: We will not hesitate to approve the creation of Iranian military bases in Syria
Excerpts from an interview that Syrian President Bashar Asad gave to one of the Iranian media, Al-Alam, are appearing online. During the interview, Assad was asked if Damascus would approve the possible appearance of an Iranian military base on the Syrian territory. Statement by Bashar al-Assad leads the Lebanese portal
AMN
:
We will not hesitate to approve the creation of Iranian military bases in our country, if we consider it necessary for our security. Iran fought to protect the people of Syria, shedding the blood of its citizens. At the same time, I note that in Syria there is no regular Iranian army.
According to Assad, the current format of Iranian support for Syria is good and effective.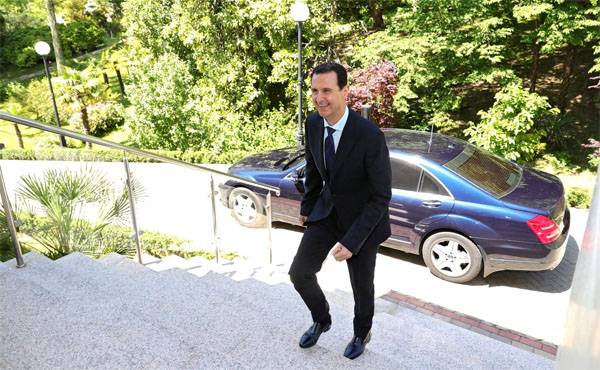 Bashar Assad in Sochi
Bashar Assad:
The relations of Syria and Iran are strategic. This relationship is connected not only with the present, but also with the future of the entire region.
According to the President of Syria, the main goal of official Damascus today is the complete liberation of all Syrian territories.
Assad:
I want to note that if the political process does not lead to a result, we will have nothing left but to liberate our land by force.
According to Bashar Assad, today the struggle of the "axes" is going on in Syria, one of which is the American coalition and Israel.
Assad:
The members of this axis support terrorism, and the other axis of countries supports the restoration of Syrian sovereignty.
Recall that today in 0: 00 the CAA ultimatum has expired against terrorists in southern Syria. However, at the moment active hostilities in Daraa and Quneitra is not conducted.
http://www.globallookpress.com