Turkish army will get a new light tank
Turkish gunsmiths at the international arms exhibition Eurosatory 2018, taking place these days in Paris, presented a new model of light
tank
. According to Warspot, citing defense-blog.com, Otokar presented the Tulpar Light Tank.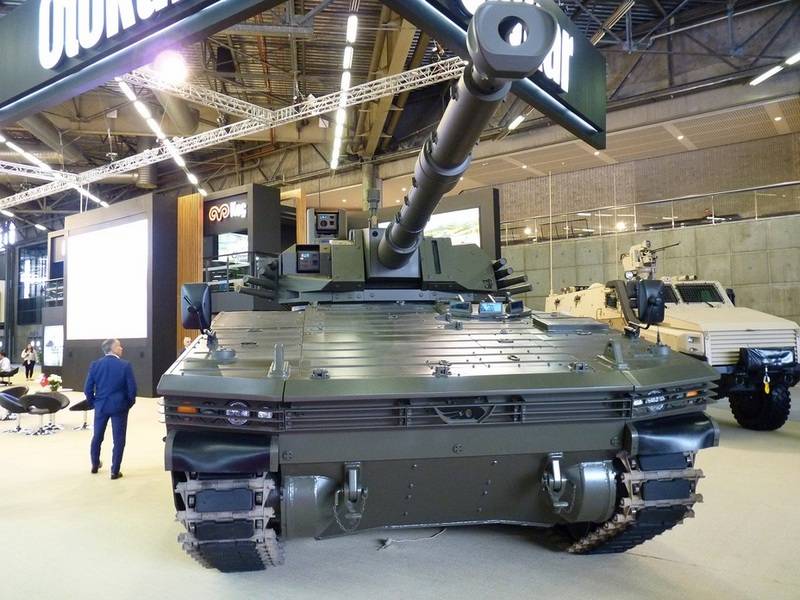 Tulpar Light Tank
According to the developers, the Tulpar Light Tank is an effective combat unit created on the basis of the BMP Tulpar, from which the tank got the hull and chassis. The 3105 CMI Cockerill combat module with an 105-mm cannon, adapted for firing with all NATO 105-mm NATO missiles and Falarick Gun guided missiles, is installed on the tank as a weapon. The new fire control system allows you to effectively hit different targets in any light and regardless of weather conditions. On the tank, anti-bullet armor is used; if necessary, it is possible to reinforce it with mounted security modules.
BMP Tulpar Mass 32 tons, HP 810 engine Armament: 30-mm gun, 7,62-mm machine gun, PU ATGM. Crew 3 man + 9 troops
The developers do not disclose all the characteristics of the new tank, but it can be assumed that its driving performance is not very different from the prototype BMP Tulpar, which entered service with the Turkish army in 2013 year.
In Turkey, they say that the car is suitable for buyers who value good equipment for little money and with low maintenance costs.