Against raising the retirement age the vast majority of citizens
Research Center "Romir", as reported by the information service
RIA News
, conducted a sociological survey on the subject of studying the attitude of Russians to the possibility of raising the retirement age. The data is published today - when the Russian government gathered to discuss the specific parameters of a possible pension reform.
As a result, it turned out that the initiative to raise the retirement age was the most unpopular initiative of the authorities in recent years. According to
"Romira"
, the initiative to raise the retirement age does not approve of 92% of Russians. We are talking about the previously announced parameters of pension reform, when men were asked to raise the age to 65 years, to women - to 63's.
Accordingly, only 8% of respondents supported the initiative.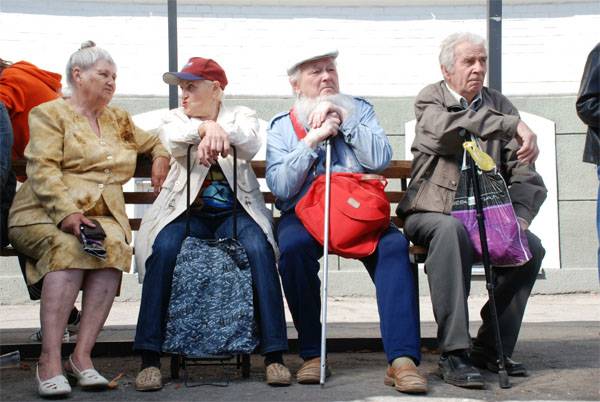 Attention is drawn to the fact that the largest number of "those who understand the need to raise the retirement age" is among young people under the age of 24. However, even in this age group there are frankly not many: about 12 percent.
According to Romira, about a third of Russians surveyed believe that the government should think about lowering the retirement age for the male population of Russia. Average sentence - 57-58 years. Only 5 percent of respondents agree with the proposal to raise the retirement age for men.
58% and 61% of respondents respectively spoke for maintaining the current levels of retirement age for men and women in Russia.
http://www.globallookpress.com