Turkey Upgrades T-155 Self-Propelled Aircraft Based on Syrian Experience
Turkish gunsmiths upgraded self-propelled artillery T-155 with the experience of conducting combat operations on the territory of Syria. The updated car received the designation Firtin-2.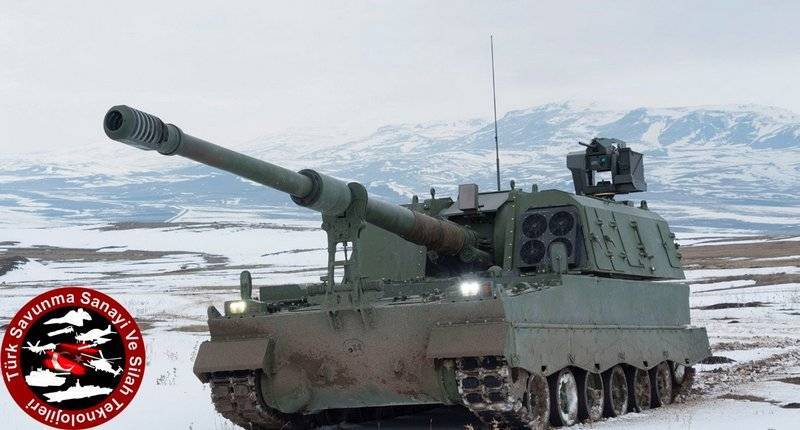 In its new modification, ACS is not much different from the original sample. At the self-propelled gun tower, instead of the 12,7-mm "Browning M2" machine gun, used manually, a remotely controlled combat module is installed, which significantly reduces the risk of being hit by a random bullet or splinter of a crew member firing from a machine gun. In addition to the self-propelled gun installed air conditioning for use in hot climates, but the poor location of the system in front of the tower, according to experts, increases its vulnerability. The picture shows the location of the air conditioner on the front of the tower.
It should be recalled that the T-155 ACS data was actively used by the Turkish army during operations against the Kurds in Syria. During combat operations, the army lost three self-propelled guns.
The Turkish 155-mm self-propelled howitzer T-155 "Firtina" ("Storm") was created on the basis of the South Korean self-propelled howitzer K9 "Thunder". The howitzer differs from the basic version by modernized turret and chassis, as well as advanced fire control, communication and navigation systems of Turkish production. An 155-mm howitzer with a barrel length 52 caliber is used as a tool on the machine. It is capable of firing at targets both from closed firing positions and direct fire. The howitzer has a maximum fire rate of 6 shots / minute for 3 minutes, and in the "flurry of fire" mode - 3 shots for 15 seconds. Long shooting is limited to 2 shots per minute for 30 minutes. Ammunition 48 shots. The maximum range of high-explosive fragmentation projectiles is 30 km, and the active-high-explosive fragmentation projectiles - 40 km. The transfer time of the self-propelled howitzer from the traveling to the combat position does not exceed 60 with. The ACS weighs more than 46 tons. Engine power - 1000 HP Maximum speed on the highway - 65 km / h. Power reserve - 360 km. Crew - 5 man. The FAARV transport-loading machine is also included in the delivery set of the self-propelled howitzer.
https://twitter.com/SavunmaSanayiST