The general director of the Russia-2018 organizing committee, Alexei Sorokin, told the media that no less than 20 foreign leaders will be present at the opening of the World Championships in Moscow. In addition, as previously reported, UN Secretary General António Guterres will arrive at the opening match. Recall that earlier in the Russian Foreign Ministry announced the strange statements of individual political figures in the world about the "need to boycott the football championship of the planet in Russia." According to the head of department, Sergey Lavrov, this is a dead end for such politicians.
Today, FIFA President Gianni Infantino spoke out about the tournament starting in Thursday in Russia. According to him, no one could conquer Russia yet, but football will definitely succeed. Infantino noted that Russia is a magnificent country, and she will take the tournament at the highest level.
The words of Gianni Infantino, expressed at the FIFA congress in Moscow, lead edition
R-Sport
:
Starting from the Luzhniki stadium, here football will conquer the whole world for a long time.
Infantino expressed his gratitude for preparing for the organization of the tournament addressed to the President of Russia Vladimir Putin, 50-ty thousands of volunteers.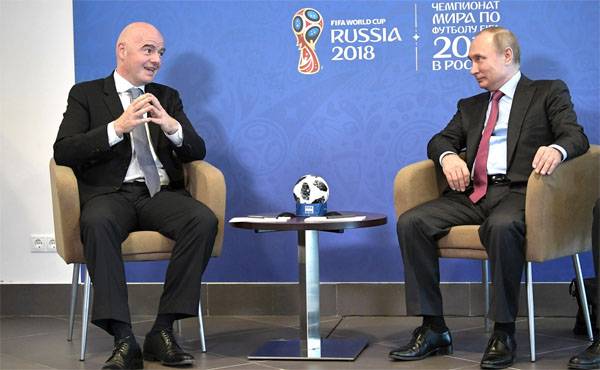 FIFA Head:
I also express my gratitude to 150 million Russians, who will happily celebrate this football holiday, this is the most beautiful event that has ever been held on the planet.
Recall that the tournament starts tomorrow with the match between Russia and Saudi Arabia. The meeting, as well as the opening ceremony of the tournament, will be held at the Luzhniki stadium, which, after a long reconstruction, will be able to accommodate around 81 thousand spectators.