Syrian
aviation
attacked the infrastructure of terrorist groups in the north of the province of Hama. One of the main targets for the aircraft of the Syrian Air Force was the command post of the militants in the area of ​​\uXNUMXb\uXNUMXbthe settlement of Al-Latamin. Middle Eastern sources stated that the coordinates of the SAR Air Force targets were obtained after monitoring the area by Russian
drones
, as well as several reconnaissance groups on the ground. The terrorists' command post, which consisted of several structures on the territory near the important highway to Hama, was completely destroyed.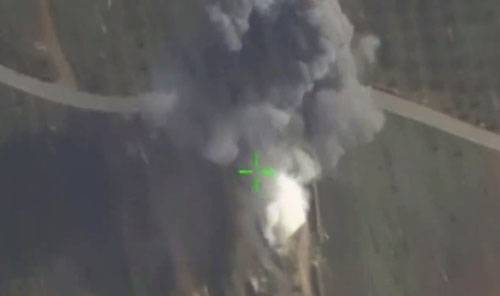 Against this background, from the north of Syria come
news
that Syrian troops actually blocked the advance of the American military convoy in the northern part of the province of Aleppo. The American convoy attempted to make a detour to the checkpoint south of Manbij, but the Syrian armed forces did not allow it to carry out a maneuver, blocking the way to the exit back to the highway. The advance of the American military convoy was stopped without use
weapons
.
The US military was forced to turn back to Manbija. It is stated that several dozen special forces soldiers of the US Army were in the convoy.
Earlier, Ankara and Washington announced that Kurdish YPG troops had left Manbij, and the city was coming under joint Turkish-American control.
It became aware of the actions of the American coalition in the province of Hasaka. According to a FAN correspondent, at least 12 civilians were killed by coalitions led by the US in Hasaka, under air strikes.