Ukrainian general: Russia pulled nuclear weapons to our borders
Former deputy head of the Ukrainian General Staff, Lieutenant-General Igor Romanenko, in his column on the Apostrof, writes that Russia has increased the number of troops and military equipment near the borders of Ukraine over the past few years. At the same time, the special-purpose tactical complexes Iskander received special attention from the Ukrainian general.
At the same time, Mr. Romanenko is confident that the Iskanders in the Crimea are equipped with tactical nuclear warheads.
From the material of General Romanenko:
They only focused on our border 4 Iskander missile brigades with nuclear warheads. And Putin, after the annexation of the Crimea, said that they were ready to use tactical nuclear
weapon
.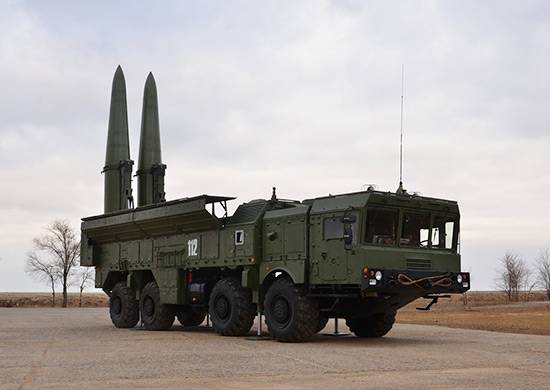 Recall that earlier another Ukrainian general (his name Geletei) even stated that Russia "has already used nuclear weapons". We are talking about the sensational statement of the then head of the Ministry of Defense of Ukraine about the "nuclear bombardment of the Lugansk airport". Such a statement speaks of the level of competence of those who recently stand at the military and political helm of Ukraine.
For your information:
OTRK "Iskander-M" is designed to defeat small-sized and areal targets. Such targets include other missile systems, MLRS, artillery weapons, airfields with military equipment, enemy command posts, communications centers. The stated range of destruction of targets by the complex is within the limits of the INF range - up to 500 km.
Ministry of Defense of the Russian Federation