Newest American
Drones
MQ-4C Triton began flying from the military base "Point Mag" in California, thereby officially taking up combat duty, reports "Warspot" with reference to the portal defensenews.com. The first sample of the serial UAV MQ-4C Triton, designed to replace the
navy
manned reconnaissance aircraft, entered the US Navy last November. Prior to this, the US Navy used only manned long-range reconnaissance.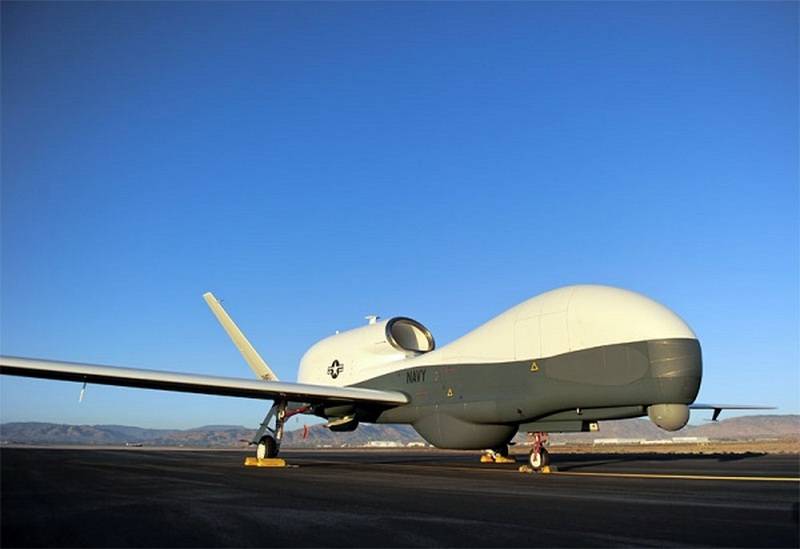 The MQ-4C Triton is a high-altitude long-range unmanned aerial vehicle developed by Northrop Grumman based on
drone
RQ-4 Global Hawk and is designed to collect information, surveillance and reconnaissance in the coastal zone. Able to rise to a height of over 17 km, fly at a speed of 575 km / h and stay in the air for up to 24 hours. The reconnaissance equipment of the new drone includes a multifunctional radar, video camera, electro-optical / infrared sensors, radio intelligence, automatic identification system (AIS) and relay equipment.
Work on the creation of a drone for the US Navy started back in 2008, in 2012, the company provided the first prototype of the drone MQ-4C Triton, but customers changed the technical requirements for the drone and the UAV made its first flight only two years later - in October 2014, and two years later, the US Navy ordered the first batch of these machines. In May 2017, it became known that the US military command paid for the production of three more machines, as well as ground equipment for them. The first "Triton" went to the military point "Point Mag" (California). The second serial copy of the MQ-4C Triton should go there, and two more Tritons should be deployed on the island of Guam. In total, the US Navy plans in the long run to order 68 drone MQ-4C Triton.