American tanker aircraft KS-135 Stratotanker, designed to refuel US strategic bombers, yesterday, i.e. 8 June were placed at the airport of the Ukrainian Lviv. According to some sources, four tankers have been deployed in Lviv, other sources report five aircraft.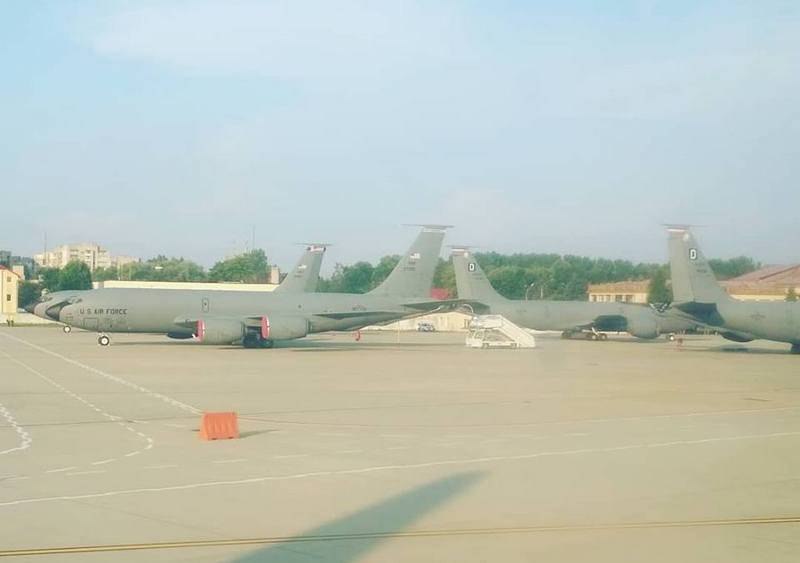 According to Ukrainian media, these planes came from various places: from the British RAF Mildenhall airbase, the American McConnell AFB and Beale Air Force Base bases (California, USA), as well as from the US National Guard base in Illinois. Also, attendants arrived at the airfield, the total number of 150 people including crew members of tankers.
According to the press service of the US Air Force in Europe and Africa, the main goal of deploying the KS-135 tankers in Ukraine is part of the American strategy to increase the security of US allies in Eastern Europe and the level of interaction between NATO members and alliance partners.
The tankers will fly as part of training missions to increase the range of flights of strategic bombers.
Earlier, the United States transferred four long-range B-1B Lancer strategic bomber to the British base of Fanford, which regularly fly along the Russian border in the Baltic.
The Boeing KC-135 Stratotanker is a four-engine jet specialized multi-purpose military transport aircraft that was designed at the beginning of the 1950's. On the KC-135R aircraft, fuel is placed in wing tanks and two compartments located under the floor of the main cabin with a total capacity of 118 240 liters. At the rear of the fuselage there is a small reserve tank for 3800 liters of fuel. Aircraft refueling in the air is performed by the operator using a telescopic rod located in the rear fuselage of the aircraft. With the help of this boom one aircraft can refuel, the transfer speed of fuel 3400 l / min. You can use the intra-fuselage fueling unit with a flexible hose. In flight, the refueling bar is pressed down to the fuselage.