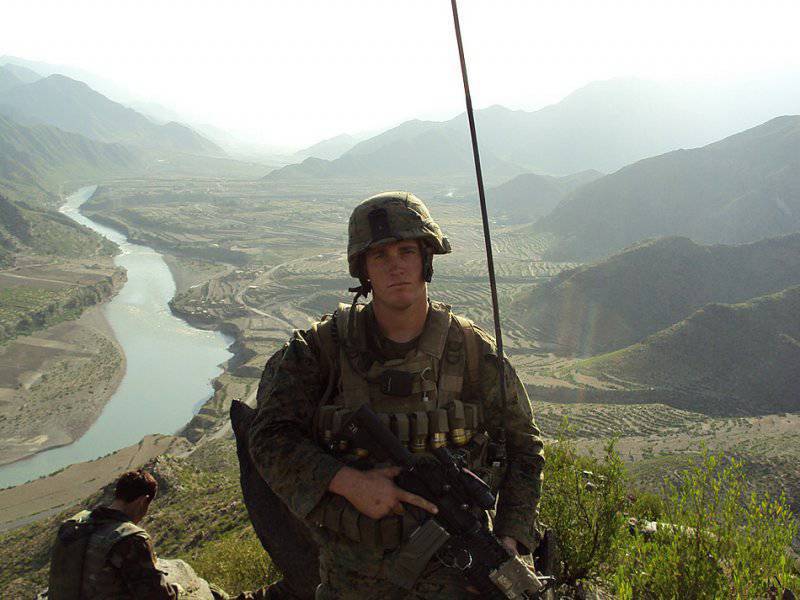 Sergeant (then corporal) Dakota Meyer during Operation Enduring Freedom in the village of Ganjgal, Kunar Province, Afghanistan. 15 September Meyer will receive from the hands of President Barack Obama in Washington the Order of Honor, the highest honor of the United States for courage, what will make him the first living marine? honored with this award since the Vietnam War. Meyer was assigned to the 2-8 Training Group engaged in advising the Afghan National Army in the eastern provinces of Afghanistan on the border with Pakistan. He will be awarded for his heroism on September 8, 2009, in Ganjgal, Afghanistan.
The story of the corporal. Rice Lodder (Reece Lodder) Hawaii Marine Corps Base
Removing a platoon of marines and soldiers in the remote Afghan village of 8 on September 2009 from an ambush and fighting off the onslaught of militants, the corporal Dakota Mayer simply reacted as best he could - as he put it - by making a decision "in extraordinary circumstances", "doing what necessary ... whatever it takes. "
Almost two years later, 12 August 2011 The White House announced that the 23 summer sniper of the Marine Corps reconnaissance unit from Columbia, Kentucky, who has since left the marines, will be the first living Marines awarded the Order of Honor in 38 years. Retired Major General Alan Kellogg, Jr. (Allan Kellogg, Jr.) received an order in 1973 for his bravery in Vietnam.
Mayer is the second Marines to receive orders for actions in Iraq or Afghanistan. Corporal Jason Dunham was awarded a posthumous order for covering the grenade with his body to save two marines in Iraq in 2004. On September 15, at the White House, US President Barack Obama will present an award to Meyer.
"This award belongs to those who gave their lives on this day and to those who were with me in that battle," said Meyer. "I did the same thing that any other marine would have done in my place. I got into extraordinary circumstances and just did my job."
Despite bleeding from a wounded shrapnel with his right hand, Meyer, with the help of colleagues from the Marine Corps Training Group, despite the heavy fire of enemy machine guns and rocket launchers, in the village of Ganjgal provided rescue and evacuation of more than 15 and wounded Afghan soldiers and the bodies of four dead soldiers: Lieutenant Michael Johnson, Sergeants Aaron Kenefick and Edwin Johnson Jr. (Edwin Johnson Jr) and Sergeants 3-s of the Navy article of James Layton (James Layton).
October 7 2009 from injuries received in battle, in the hospital Walter Reed Army Medical Center, Washington DC, died Sergeant 1-grade class Kenneth Westbrook.
Risking his life, despite the fact that the medical evacuation helicopter could not land because of heavy fire, Meyer returned to the combat zone five times to evacuate the bodies of dead marines and wounded Afghan soldiers.
"Not a day goes by without me thinking what happened that day," said Meyer. "I didn't just lose four marines that day, I lost four brothers."
Bing West, a former Marine officer and combat veteran of Vietnam, described in detail Meier's actions in his book "The Wrong War" and praised Meyer for taking command of the battle, being only a corporal, the youngest commander in this fight.
West writes that Meyer was to die, but he dominated the battlefield without fear, exposing himself to danger and destroying the enemy with a rifle and machine gun.
"When you leave the perimeter, you have no idea what will happen, no matter what war you fight," says Kellogg, who lives in Kailua, Hawaii. "As soon as you reach the point of making a decision like:" I'll probably die so let's have some fun "- as soon as you tell yourself you don't leave, you will fight harder and harder".
Starting his career with the same regiment from which Kellogg retired in 1990, Meyer served in the 3 battalion of the 3 regiment of the Marine Corps in Fallujah in Iraq in 2007, and at the end of 2008, the bull was honored title corporal.
Before leaving for Iraq, Meyer completed the 10 week-long basic course of sniper marines. He took part in rescue training courses for navy orderlies, where he honed his skills with a variety of weapon systems, such as light machine guns. Meyer also spent some time in the liaison office of his battalion, learning how to cause mortar and artillery fire.
"I have devoted all my life to training the best snipers in the marines," said Meyer. They are a direct reflection of your leadership. If you screwed up in their training, they will be killed on the battlefield. "
In February 2009, Meyer filed a report on sending him to the dangerous province of Kunar in Afghanistan as a mentor for soldiers of the Afghan army as part of the 2-8 Training Group, as a rule, the US special forces are doing this.
"A marine wishing to become a sniper of a reconnaissance platoon should have a lot of self-motivation and determination," said Colonel Nathan Nastase, commander of the 3 regiment of the marine corps and former commander of the Mayer battalion. "Appointment as an instructor in the Training Group attests to the tremendous confidence in the capabilities of the fighter."
Meyer was sent to Afghanistan in July 2009.
"Our task was to train the Afghans so that they could protect their country and ensure their own security," said Meyer. "Training groups have a huge impact on the outcome of the war."
In the province of Kunar, Meyer and another instructor from the Training Group took detachments from 15 Afghan soldiers to patrol. Since he could speak the local language Pashto, Meyer was often separated from the whole group with his Afghan students.
When his patrol fought for the rescue of another 8 September 2009 ambush patrol, Meyer focused on commanding his students, not on his own salvation and on what he had to do to keep himself and his people alive.
"I lost a lot of Afghans that day," Meyer said. And I'll tell you that they were as close to me as the Marines. After all, I don't care if they were Afghans, Iraqis, Marines and soldiers "It didn't matter. They were in the same shit that I and they just wanted to go home and see their families as much as I did."
Caught in unimaginable conditions, Meyer said that the Afghan soldiers and his sniper training "saved my life" during the battle.
Jacody Downey, a close friend of Meyer from Kentucky, saw his friend turning from a cheerful "booby" ​​in high school to a highly professional marines deeply respecting both commanders and subordinates.
"Dakota has always cared about others more than about itself," said Downey. "Despite the fact that he is not currently with his marines, he still constantly thinks about them, worries about them and checks how things are with them. He still considers them brothers."
Corporal David Hawkins (David Hawkins) became a marine under the leadership of Mayer.
"Meyer was the perfect leader," says Hawkins of Parker, Colorado. "He knew everything about his marines - how they respond to any situation, not only at the level of the marines, but also on a personal level."
Hawkins said he was deeply impressed with Meyer's friend's care, especially after being injured in Afghanistan last year. Hawkins was seriously injured in a bomb attack on an improvised explosive device in Afghanistan 24 September 2010. Four days later, he lay in a completely motionless in a hospital ward, stuffed with shrapnel. After he had not completely withdrew from the anesthesia, the telephone rang. The first to call him was merry Mayer.
"In the Marine Corps, you constantly hear that if something breaks, you have to work to fix it, but you will never see the Marines who would do it," said Hawkins. "Maier is not such a marine. If he needs to say something, he will say without fear for the consequences. If you need to change something, he will change it."
Hearing his friend will receive the Order of Honor Hawkins was not surprised. In the light of the "characteristic" "country boy," Hawkins knows that Meyer's actions were just a manifestation of how he lived and how he behaved.
"Meyer was introduced to the Order of Honor," Hawkins said. "If you have to work with him, you will know why."
Meier completed his active military service last June. He returned home to Kentucky, where he works in the family business.
"Pouring concrete is a bit of a service in the marines," says Meyer. "You wake up in the morning, go to work ... as a task. There are no established standards for how to do this or that work. You just have to go there, make decisions and implement them, and this is like a challenge to the marines. it gets better until you are satisfied with what you have already achieved. "
Meyer is the 86 th living holder of the Order of Honor and he joins a small, elite group of heroes.
"I'm not a hero for anyone — I'm a marine. That's all I am," he said. "Heroes are still serving men and women and guys who gave their lives for their country. In the end, I went there to do the right things ... and it all boils down to doing the right things ... whatever the cost. That's the way the Marine is. "
When Meyer receives the Order of Honor for what he did in Ganjgal, he assures that he will wear a five-pointed medallion with a blue silk ribbon in memory of his fallen brothers, their families and their marines comrades.
"The Marine is a way of life," said Meyer. These are not just words and this is not only a form - this is fraternity. Brotherhood means that wherever you are, they will come to your aid through fire and water. If you cannot take care of your brothers, what can you do in life "?
According to www.strategypage.com