Previous article (
"Fifty missiles to defeat Russia"
) caused not only great interest of the public, but also a lot of comments that can not be ignored. In these comments, which sometimes took on a hysterical character, the thesis was repeated with a refrain that the missile attack on the Russian gas transportation infrastructure was impossible, because we have an otvetka. This means, of course, a reciprocal nuclear strike against the enemy, so to speak, encroaching on the holy.
This repeatedly mentioned "otvetka" will be the subject of a separate analysis. Especially since I believe that such a widespread hope for a reciprocal nuclear strike is far from a harmless cause, since the belief in "otvetku" actually blocks a number of important defense measures.
With regard to the gas issue, the article proposed several measures to improve the stability of the gas transportation system to missile strikes: the dispersal of gas pipelines (at least, the Yamal "cross" just needs to build at least three to four detours), cover important points with air defense systems, create an auxiliary gas generating system near consumers. The implementation of this program is possible for 2-3 of the year, and its results will make it possible to survive a rocket attack on gas pipelines incomparably easier than in the current situation. Commentators have paid no attention to this: there is an otvetka!
A retaliatory nuclear strike seems to be something particularly scary and all-overwhelming, which is why we know that the enemy knows that we have an "otvetka", and therefore, they say, they will be afraid. In fact, this is precisely how miscalculations are born, leading to major military defeats.
If we examine the essence of the matter thoroughly, it will turn out that a retaliatory nuclear strike is not at all so terrible and devastating. He will not destroy the probable adversary or even undermine his military-economic power, and besides, for political reasons he may even be very beneficial to the probable adversary.
Since the very symbol of faith in otvetku consists of many points, a detailed examination of which would have resulted in a separate small book, we will have to restrict ourselves to brief and most significant comments. But then devote attention to all sides of the case.
City strikes
The opinion that the essence of nuclear war plans is a blow to cities has been born a long time ago and takes roots in Soviet propaganda, which diligently intimidated its citizens. In fact, all known nuclear war plans (the main content of about a dozen American plans are known, including the early versions of SIOP, the Single Integrated Operation Plan; the first of them was approved in 1961 by John Kennedy; now another plan works - OPLAN 8010-12, approved in 2012 year) are built around goals. For the earlier version of SIOP, a list of targets was compiled, which included 80 thousands of items in the USSR, China and the socialist countries. Some targets were located in cities, for example, in Moscow the plan envisaged the destruction of 6 complexes of 23 targets with nuclear bombs.
The defeat of targets, and not a strike at cities at all, was a priority during the bombing of Japanese cities. Hiroshima propaganda was portrayed as a peaceful city, but in fact it was a major military transport hub through which Japanese troops were supplied in Korea, Manchuria and China, a major military-industrial center, and the headquarters of Japan's 2 Defense Command was located in Hiroshima. to which the 15 and 16 fronts obeyed. A nuclear strike covered this headquarters, destroyed about 20 thousands of soldiers and officers, as well as a significant part of military stocks.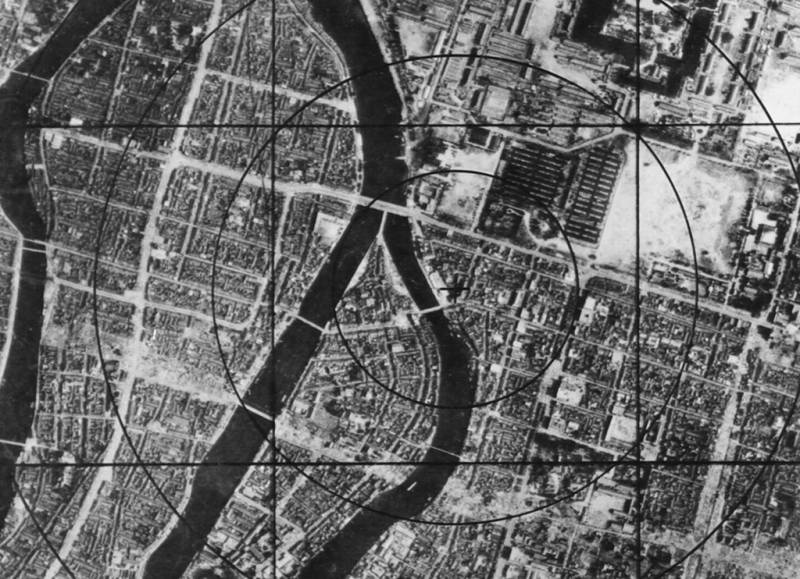 Famous American aerial photograph of Hiroshima until the moment of a nuclear strike, indicating ground zero. Above the aiming point in the photo is clearly visible the headquarters of the 2 th Japanese Defense Command. The blow, as we see, was struck at an important command center.
So, in planning a nuclear war, targets were chosen whose destruction led to a significant weakening of the enemy's military or military-economic power. Whether these goals were located in or outside the cities did not play a significant role. Moreover, after the Second World War, during which the cities were a concentration of important objects and therefore were subjected to strong air strikes, important objects were tried to be carried out to a sparsely populated area. This was done in order to disperse and minimize possible damage. For this reason, most important objects, such as missile positions, naval and
aviation
bases, command posts, communication centers, warehouses, hub stations, many energy facilities, located outside cities.
So, strikes specifically on cities with the aim of exterminating the population, about which adherents of "otvetka" broadcast with rounded eyes of fear, were not only not planned, but also constitute nonsense from a military point of view. Destroying cities, but leaving troops, aircraft, fleets, missiles, as well as military and military-industrial infrastructure intact, means that the enemy can be immediately able to go to combat.
A little bit of planning a nuclear war.
Devoutly believers in otvetku also forget that from 1,1 million US military personnel, 199,5 thousand are deployed abroad, including 39,3 thousand in Japan, 34,8 thousand in Germany, 23,5 thousand in South Korea, as well as in Afghanistan, Italy, and the UK , Iraq, Kuwait, Bahrain and other countries. American special forces are located in 70 countries of the world, including Finland, the Baltic countries, Ukraine, Turkey, Georgia, Azerbaijan, Kazakhstan, Mongolia (all data from 2016 of the year).
US forces are stationed at more than 730 foreign military bases, with a significant portion of them being air bases, which can always be used to deploy air forces or ground forces. The fleet command, for example, the headquarters of the 5th
fleet
The USA is located in Bahrain, the 6th US fleet in Italy, the 7th US fleet in Japan.
US Navy 7 Base at Yokosuka, Japan
It is also worth recalling that the US allies in NATO have quite significant troops, and the total number of NATO troops in 2016 a year is 3,1 million.
Now, in accordance with the START-3 agreement, Russia and the United States have the following nuclear arsenal: US - 741 deployed carrier with 1481 warheads, Russia - 521 deployed carrier with 1735 warheads. Moreover, Russia has carriers with separable warheads, while the United States does not, according to published data.
According to the Stockholm International Peace Research Institute (SIPRI), nuclear weapons statistics are:
Russia: 1,95 thousand deployed, 2,35 thousand in storage, 2,7 thousand removed from service.
USA: 1,8 thousand deployed, 2,2 thousand in storage and 2,8 thousand removed from service.
France: 280 deployed, 10 in storage and 10 removed from service.
UK: 120 deployed, 95 in storage.
Moreover, according to SIPRI, the United States has 2,05 stored thousands of strategic nuclear charges, while Russia has only 500, the rest is a tactical nuclear
weapon
.
From this it follows, firstly, that the probable enemy will have a larger arsenal: 2,2 thousand deployed by NATO against 1,95 thousand from Russia. In the second wave of strikes using nuclear weapons, now in storage, NATO has a more pronounced advantage - about 2 thousands of strategic charges against 500 Russian. Already from this, it completely follows that NATO as a whole is not particularly afraid of "otvetki" on the part of Russia, since it is capable of inflicting significantly greater damage on it. Secondly, the Strategic Missile Forces and the Navy of Russia are faced with a non-trivial task, as with cash to inflict maximum damage to the enemy. The question is formulated as follows: what to choose for retaliation - military bases and facilities in the United States, NATO countries and abroad, or to target warheads at military-industrial potential?
Even with the first and not very detailed look, it becomes clear that the nuclear arsenal is barely enough to suppress the vast military infrastructure of the opposing military bloc, which has about 5 thousands of bases and facilities in the US (including the largest: about 180 - US Army, 59 - large naval bases, 71 large air base) and 730 overseas US military bases. It seems that other NATO member countries will have a total of about a thousand military bases and facilities.
The layout of the main military bases in the United States
Of course, you can choose approximately 1500 targets, the destruction of which is very significant (but, of course, not completely) will undermine the military power of NATO. At the same time, the city will also hook up the city (some objects are located near populated areas; for example, the American Air Base Foottam on Okinawa is surrounded on all sides by Japanese residential quarters) and will cause civilian casualties. But in this case there is absolutely nothing left for the "terrible revenge", the "otvetku", on which so many people hope so.
Moreover, in order to undermine the military power of NATO, it will be necessary to beat with nuclear strikes not only the United States, but also a whole list of countries, including those who are not formally members of NATO and generally have relatively friendly relations with Russia. For example, then it will be necessary to bomb Bahrain and Kuwait by nuclear weapons. The consequences of this, I think, are absolutely clear - the affected countries will passionately urge the entire Arab and Muslim world to come out against Russia with all their forces and means.
If you choose another option - and hit the entire cash arsenal on American cities, then in this case almost all the troops and military infrastructure of the NATO bloc will remain intact, which will allow the Americans not only to respond, but also immediately proceed to normal military operations, having This necessary forces and means. NATO in the conduct of the war can rely not only on the US military industry, but also on the European. When the combined army of NATO, which was relatively little affected by nuclear strikes, falls on the strongly weakened by the US nuclear retaliation, the outcome of the war in this case, it seems, is clear.
So, both options "otvetku" frankly bad. A strike on the military infrastructure may take some time, for several months, to bring the NATO armed forces out of operation, but then the Americans will mobilize the whole world, since there will be many injured people. The attack on American cities, as demanded by otvetka's adherents, will also allow Americans to mobilize the whole world, only in this case NATO will have enough forces at its disposal to immediately proceed to a ground operation.
Will there be enough cash for the destruction of American cities?
Believers in otvetku ingenuously believe that nuclear weapons are so powerful that they will simply wipe away all American cities from the ground, and we know that the Americans know this ...
Meanwhile, even such a powerful weapon as a nuclear one has its limits of destructive power, which can be easily calculated using the high-explosive formula, that is, the shock wave. In my book, "Nuclear War. All the Doomsday Scenarios," I already did similar calculations and described the damage radii for various types of nuclear warheads. Since the followers of otvetka are reading little books, they will have to be repeated, at the same time as the clarification of nuclear accounting. Calculations are given on the affected area, in which the shock wave causes fatal injuries to a person.
According to open data in our arsenal are:
- 460 warheads P-36М2, power 1 Mt, radius of destruction 2800 meters, area of ​​destruction 24,6 square. km;
- 114 warheads RT-2PM, 550 CT, 2200 meters, 15,2 square. km;
- 440 warheads PC-24, 500 CT, 2200 meters, 15,2 square. km;
- 656 warheads P-29 and P-30, 200 CT, 1600 meters, 8 square. km
Total total affected area:
- P-36М2 - 11316 square. km,
- RT-2PM - 1732 sq. km,
- PC-24 - 6688 Sq. km,
- P-29 and P-30 - 5248 square. km
In total, this nuclear arsenal has a total affected area in 24984 square. km, and in this territory nuclear explosions will destroy most of the buildings and structures, as well as destroy most of the people.
Well, what is the area of ​​cities in the USA and how many people live there? The 2010 census of the year shows the following data: 106 thousand square meters. Miles (274,5 thousand sq. km) with the average population of 905 per sq. km. km The comparison shows that Russia's nuclear arsenal is enough to destroy 9% of the urban area in the United States, where 22,6 has a population of millions. If from 24,9 thousand square meters. km nuclear strikes will be destroyed 8,4 thousand square meters. km of area 41 largest city in the US, the estimates can be adjusted - 25,5 million.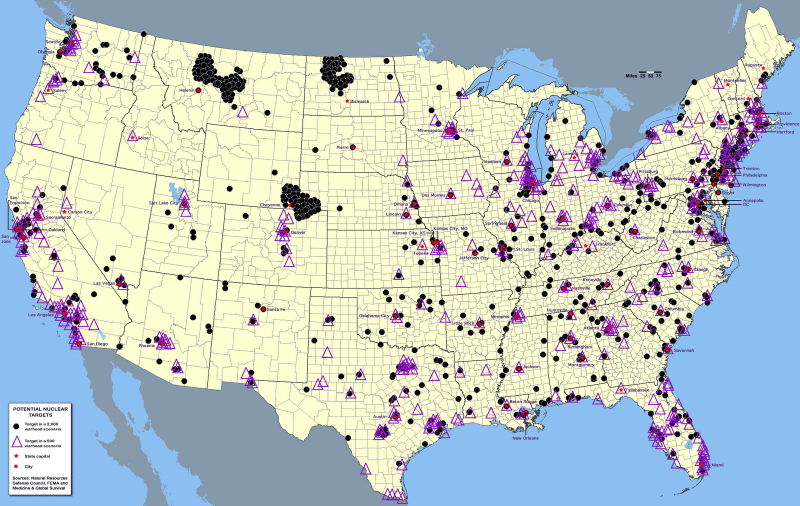 A very good prediction in the event of a nuclear attack on the territory of the United States, compiled by FEMA. The map shows two options: the purple triangles - the scenario of delivering nuclear strikes 500, the black dots - the scenario of applying nuclear strikes 2000. This map clearly shows that large agglomerations will suffer mainly.
The total population of the United States in 2010 year - 308,7 million. In this case, the victims of "otvetki" will 8,2% of the population. Surprisingly modest result.
It should also be pointed out that, according to the experience of Hiroshima, a city that did not have an excess of capital buildings, and came under a sudden nuclear attack, far from everyone who was in the zone of destruction of a nuclear bomb died. According to the Japanese Committee for the collection of materials about the destruction caused by the atomic bombing of Hiroshima and Nagasaki, which are obviously the most accurate, 320 thousand people were hit by Hiroshima, 118,6 thousand died (37%), 30,5 thousand were seriously injured (9,5% ), 48,6 thousands were slightly injured (15,1%), and 118,6 thousands were not injured (37%). Total, even in the reference conditions of a sudden nuclear attack on unprotected cities, 60% of the population suffered. If we accept this correction factor, then in the USA 15,3 million people, including 10,2 million people, will suffer from "otvetka".
The result of the calculations turns out to be discouraging for adherents of "otvetka". Losses killed in 3,3% of the US population - it is not at all "wipe off the face of the earth", "turn into glass fields", etc., etc. This does not overwhelm the United States either in the military or in the economic sense. But this blow will very much anger the Americans and their resources will be quite enough for retribution.
Now a little political cynicism. In the US, there are now many problems, the "American dream" has faded dramatically. According to the UN, in the US 40 million beggars, including 5 million living at the level of the poorest countries in the world (that is, less than 2 dollars a day), 51 million people earn not enough to make ends meet, 41,2 million people are undernourished. If the Russian otvetka removes 10 million of mouths from contentment, it will only make it easier for America.
And in general, a nuclear strike is simply manna from heaven for the American leadership, a gift from God that solves many complex and complicated problems for them.
"They attacked us"
Now it is necessary to invite the adepts of "otvetki" to imagine how the Russian nuclear attack on American cities will look like in the world mass media. There can be only one answer: "They attacked us," "This is a terrorist act of unprecedented proportions," "Democracy is in danger," etc.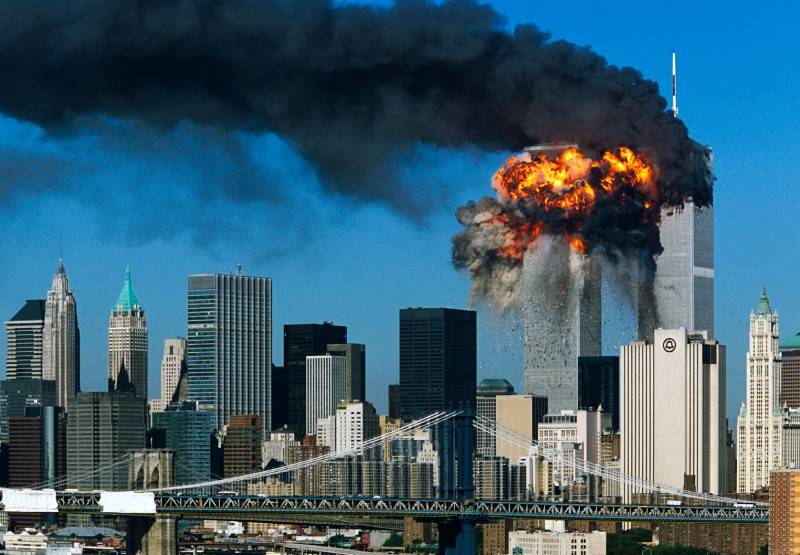 It is worth recalling what happened after these two small explosions. Now imagine the political consequences of a full-scale nuclear attack on the US
The American leadership will harvest a rich political harvest. Yes, it will, because it will create a situation that is provoking Russia to a nuclear strike (for example, if you continue the topic of strikes on the gas transportation system, American ships enter the Barents Sea and launch cruise missiles). The leadership itself, along with the American establishment, will hide in advance.
First, huge American debts, both external and internal, will be canceled or frozen indefinitely. Indeed, what debts, when there is such a thing and "democracy in danger"!
Secondly, as we already know from the epic 9 / 11, an emergency of this magnitude will give the American president unlimited powers and an equally unlimited credibility. After the "otvetki" Americans gently love even Donald Trump and will raise him on a pedestal as a national hero, if only he would get revenge. In general, otvetka can have no other consequences than the unprecedented consolidation of American society in the face of danger. A man-made apocalypse will only revive the American political ideology, which is basically religious, and based on the idea of ​​an irreconcilable fight against Evil. Evil is here, it flew even into the shining "Hail on the Hill", because the time to gird and arm.
Thirdly, since war is the time to trade, and in general the belligerent army is the best consumer, after the Russian otvetka, the military business in the United States will twist with a factor of ten. People in need will quickly get work in military factories, both old and new, the "American dream" will be revived (hopes for success). The new situation is resolved by many intricate social and economic problems, and the special services or patriotic American citizens themselves will immediately deal with the disgruntled ones.
Fourth, the United States will gather support around the world, including economic and military. For example, Latin American countries will easily provide the US with 10-20 million people, moreover, healthy young men, for work and service in the army. Even it is not necessary to invite, and already the US Army is recruited by immigrants serving for the promise of American citizenship. For a big war to recruit millions of fighters, promising them the coveted passport is not so difficult at all.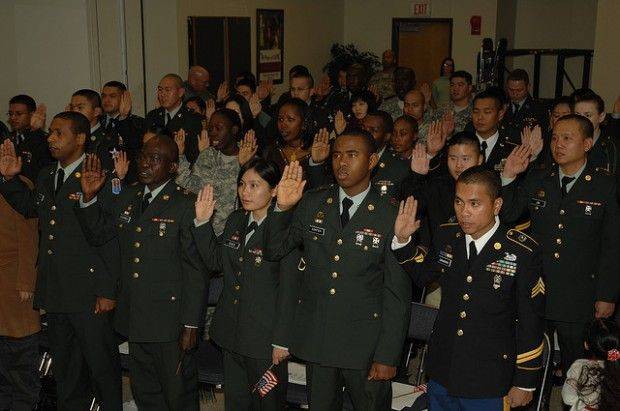 A happy Internationale enters American citizenship at a military naturalization ceremony. US military base in South Korea, December 2008 of the year
All this, of course, political cynicism. But, looking at how things were in the United States after Pearl Harbor, one can make quite a reasonable assumption that under such conditions the American leadership will take another trodden path. The final balance of income and expenses will be at the expense of the losing side, that is, Russia. We must still take into account that the American army can theoretically enter Moscow, but the Russian army cannot enter Washington even theoretically, because there is nothing to swim across the natural anti-tank ditch, called the Atlantic Ocean.
Thus, before offering a response in American cities, you must first calculate the consequences of this step. And the calculated consequences are such that it is better for an otvetku and not taken.
When "otvetka" does not work ...
From here my conclusions. They are very simple.
First, nuclear weapons alone do not guarantee absolute protection. Nuclear weapons as "otvetki" simply does not work. It is very useful, but as an operational-tactical means, and should be used on military sites, communications nodes, air bases, etc. the objectives to create an advantage during ground combat operations, and to be used economically, since the stock of nuclear weapons is limited and new is not produced.
Secondly, to feel safe, really, and not in dreams, we need to prepare for a long war with a numerically and economically superior enemy, and in conditions of significant destruction of our own economy, that is, with all military-economic measures, such as dispersal military industries (primarily to Siberia), the creation of specially protected underground military factories, the development and commissioning of various replacement and auxiliary industries, technologies and production units its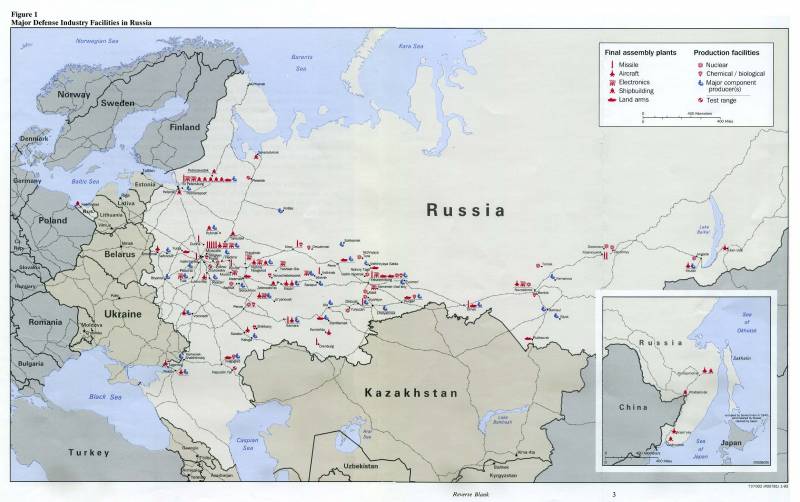 At the same time, a curious scheme for the deployment of the military industry in Russia was sought. As we see, in the safest place in the country where cruise missiles do not reach and enemy troops do not reach, there is almost nothing
If Russia clashes with NATO, the war promises to be long, protracted and very difficult, and this fact should be treated with understanding, so that you do not tear the hair on your head.
Thirdly, we also need new military ideas that would provide real, and not empty, superiority over a potential adversary. In my opinion, it can only be a fully automated combat army
robots
, based on automated factories for the production of combat robots. Then yes, we have very interesting opportunities.