The Libyan army showed the MiG-23 with powerful bombs
The army of Libyan Field Marshal Khalifa Haftar, leading the fight against the Islamists, continues to return to service combat aircraft purchased by Gadhafi from the Soviet Union, writes
Rossiyskaya Gazeta
.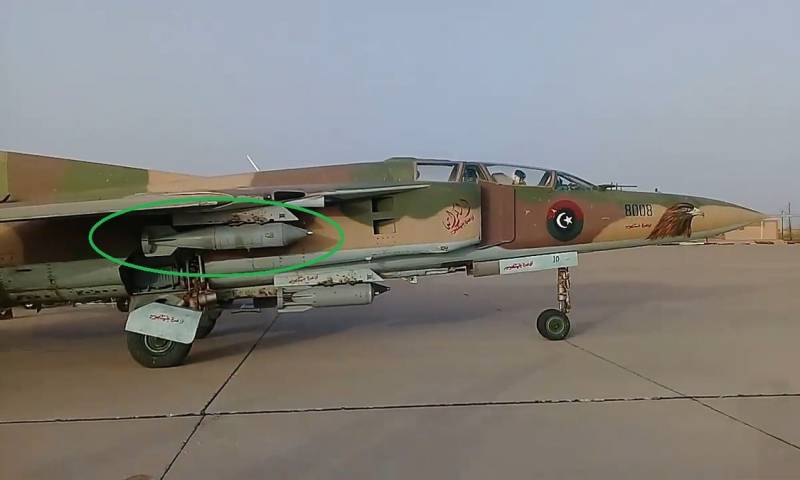 Recently, the Libyan military showed 2-local training and combat fighter MiG-23UB with bombs hanging. The interest of specialists was caused by 273-kilogram bomb cassette RBC-250-275, equipped with 150 fragmentation bombs AO-1ch. The weight of each deadly "gift" is only 1,2 kg, while its flying fragments leave no chance for the enemy to survive in the diameter of 12,5 meters. Such cassettes can be used already from a height of 400 meters.
The combat load of the MiG-23UB is up to 1,6 tons. In addition to free-falling bombs, a fighter can use unguided missiles and an 23-mm GSH-23L cannon with an 200 rounds ammunition.
Previously, the Libyans were also guided missiles, but it is unlikely that they are now in working condition.
According to military experts, the use of combat training aircraft as a strike aircraft is a forced measure. Affects the lack of serviceable combat vehicles.
In early May, a parade of Haftar troops took place at the Benin airbase near Benghazi. In addition to the aircraft depicted in the photo, the military showed one MiG-23BN fighter-bomber, a couple of MiG-21МФ, Su-22, Mirage F1, and Mi-8 and Mi-25 helicopters.
https://twitter.com/Arn_Del