"Save your face, aim at the heart!"
"Midnight ... An unexpected evolution ...
ALIVE!!!"
(Mr. Edward Hyde, first words after "birth").
A man is born and makes the first cry. He lies in the cradle, asks for food, sleeps, and cries if he managed it. Before him, all life, its endless horizons. Who will this baby become in the future? What will he be, what will he achieve? There is no definite answer - too many factors in life will influence this. Body structure and features of health, individual qualities of nervous activity embedded in the body, drunkenness or sober conception, family, wealth, upbringing, education, social circle, religion - you can't enumerate everything. Well, and various circumstances and situations will also affect, even curiosities. For all this is EXPERIENCE, which, in one way or another, is reflected in the personality of a person, in his actions. On the pages of "Military Review" the issue of personal development has been raised many times already. And always aroused great interest. Well, let's continue this topic.
The well-known question is, will a child born in a talented family become a genius? And the famous answer is not at all. There must be a certain balance between training, education and experience, which must be perceived adequately and draw conclusions. For example, the world is full of rich and arrogant mediocrities and drunken "heirs", absolutely unproductive. Moreover, we must admit that now the education of the "new nobility" is in full swing, whose children receive a good education and a "start in life" on the part of their parents, or even their direct support. Therefore, it is not surprising that these very children will take the places of directors of corporations, large banks, become politicians and state administrators at various levels, at worst - television stars, or fashionable "bloggers". Well, let's see what happens!
Naturally, such a "green light" in later life opens from childhood is not for everyone, but only for a small part. And the saying "talents must be helped, mediocrity will break through themselves" is always relevant. Some of the "numbed miserabbles" will give a huge head start on the mind, talent, culture and coefficient of activity to scientists, mediocrity, or so-called. "Effective managers" -hamsters. But often a person, even if not from the best family, opens up various creative makings in himself. So let's talk about "His Majesty the case" (in other words, about people and circumstances!), Which gave the development of human creativity. At the same time, in brief, we also mention the mechanism for the birth of a specific creative act, which temporarily changes its consciousness and state of mind. Let the topic of the article be such a "ticket" to a new, creative, life!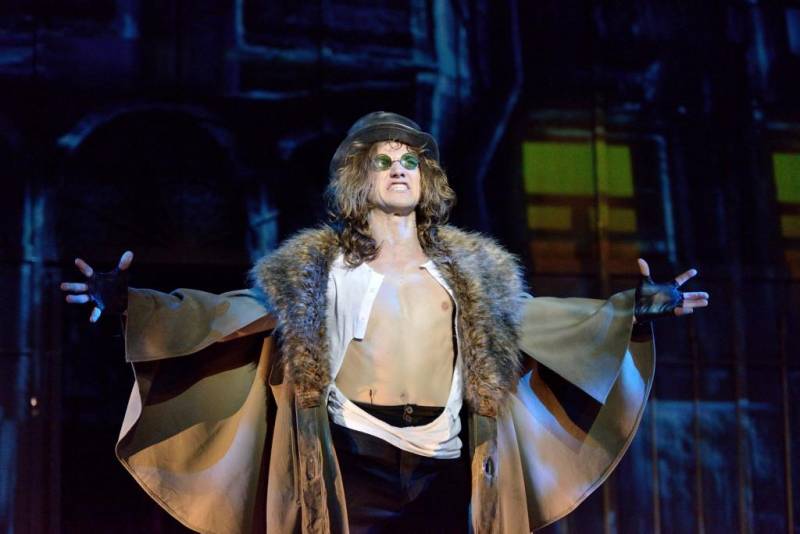 Photo 1 - Mr. Edward Hyde.
"Sorry, Dr. Jekyll, but I forgot to turn off the lights!" (Photo - http://jekyllandhyde.ru) The role of Mr. Edward Hyde performed by Rostislav Kolpakov in the musical "Jekyll and Hyde" is partly perceived as cult among Petersburg theatergoers. "The feeling of an unknown force is such - I became different, I became LIVE!" Despite the fact that Edward discovers a dubious "venture" only during murder and all bad dirty tricks, the character himself infects with his zest for life. This is an anti-example, naturally. But he was one - he was different, a kind of rebirth. Maybe the development of a person's creative potential sometimes happens by the will of chance, and the participation of people, and a coincidence that will help him develop his talent? Yes, and a new life will begin, unknown until now!
The author will not mention in the article "The Republic of ShKID" V.N. Soroki-Rosinsky or the "Gorky Colony" by A.S. Makarenko. Many former street children and juvenile offenders received precisely from these great teachers a "start in a new life". Some of them later became a writer, someone - a scientist, someone - a Hero of the Soviet Union. But this topic should be approached with extreme care, amateurs in the "researchers" is not the place. Therefore, we restrict ourselves to a few particular examples.
Perhaps the most vivid example of the "nugget of the people," who was clearly cramped in the established conditions, is Mikhail Lomonosov. The man threw everything and went to study in Moscow! He was a diligent student, showed success, the teachers noticed him, then - various educational institutions, among the most capable were sent to Germany ... Well, what came of it, we present in general terms - turned out to be one of the most brilliant scientists in the world. It can be said that "the cards came together" - Lomonosov was lucky both in his personal genius, in his aspirations, in the character warehouse, and with the teachers. Anyway - lucky! Here is such a "ticket"!
And here is another example of how a person was helped to develop his talent. Theodosius, 1820-ies. An ancient seaside city with a multinational population, the Black Sea with sailing ships running through it, the sun and the wind. An Armenian boy, living in this atmosphere, suddenly begins to draw ... He draws well, beyond his years - the sea, the ships, the soldiers, the fortresses! Draws on sheets of paper, and when they end - on the walls of houses. Architect Yakov Khristianovich Koch is one of the first to notice his talent, and, as he can, helps his development - he gives pencils, paints, and teaches the first few drawing lessons. And the mayor of Feodosia, Alexander Ivanovich Kaznacheyev, having heard stories about a little genius, personally comes to see his paintings. Together with Koch, they decide to take part in the future of the future Master - Kaznacheev helps to arrange him in a gymnasium, and then the young man will go to study in St. Petersburg, later becoming the most famous Russian marine painter. We know him by the name of Ivan Aivazovsky.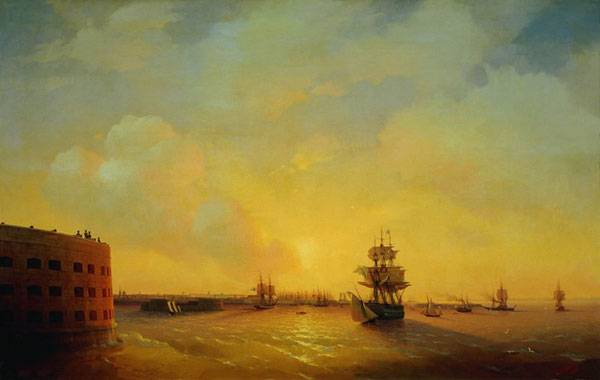 Photo 2 - fort Alexander I
As a resident of St. Petersburg, I can not fail to pay tribute to the picture I.K. Aivazovsky "Kronstadt. Fort Emperor Alexander I ", which was written in 1844-th year. The fort at that time was the newest, most powerful in the Southern fairway of Kronstadt. Now it is also called "Plague", and "experts" - "Russian Fort Bayar"; motorists, or rather, their companions (for it is a sin to be distracted from the helm!) can calmly examine it on the way from Lomonosov to Kronstadt along the Petersburg ring road.
Already after, being in Italy, Ivan Konstantinovich wrote a picture for Kaznacheyev depicting their first meeting, when the future master from the one who gave him a "start in life" received "the best in life and a memorable gift - a box of water-based paints and a whole foot of drawing paper "... What moved Aivazovsky at the time of writing this picture? It was a feeling of deep gratitude, and a noble impulse brought inspiration. However, about inspiration - a little later.
War is always terrible. In the 1819 year, soldiers found a three-year-old child near the Chechen aul Dadi-Yurt, taken by Russian troops, near the body of a murdered mother. The boy is not abandoned, he is called Peter. Perhaps the first tutor of his was the Cossack Zakhar Nedonosov, I think, from him he also received the name and patronymic - Peter Zakharovich Zakharov (after which he began to add "Zakharov-Chechenets"). In any case, in the 1825 year, he is given up for training to Major General Pyotr Nikolayevich Yermolov (cousin of the hero of the war 1812 year). The boy is prone to drawing, and Yermolov identifies him to the Imperial Academy of Arts, which his pupil finishes with a silver medal. Peter turned out to be a beautiful portrait painter, the only artist in the XIX century - a Chechen by nationality! Unfortunately, he lived a talented, but short life, and died only thirty years of consumption. But so much could still do ...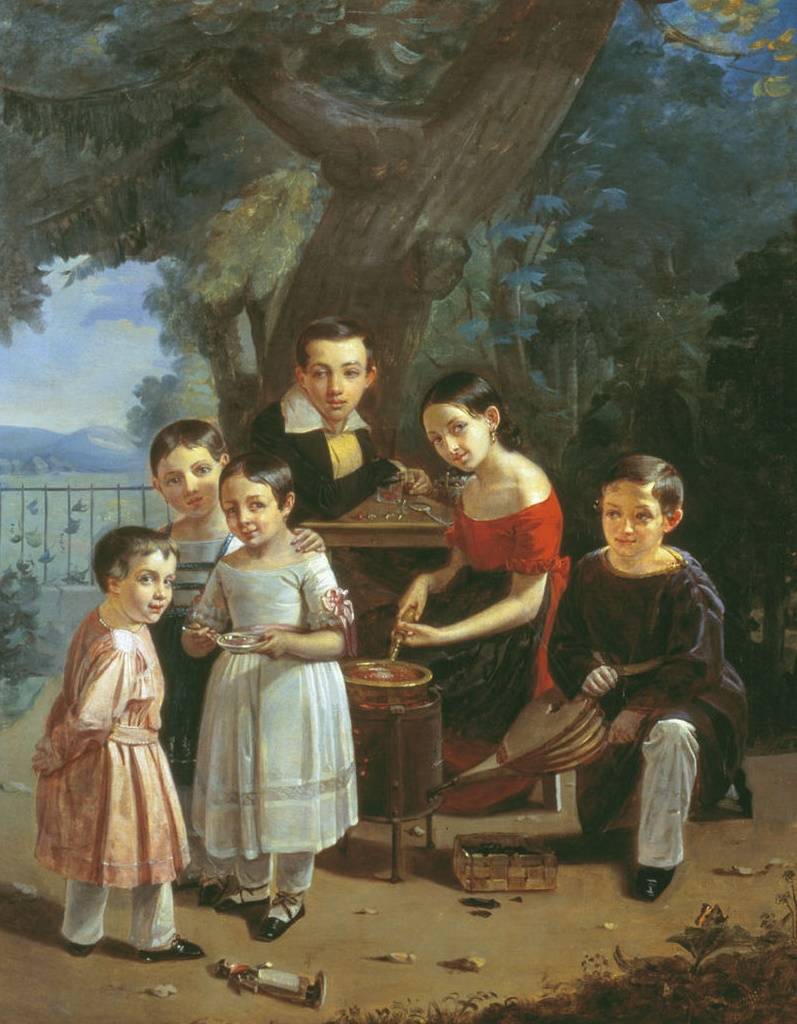 Photo 3 - portrait of children Yermolov
Pyotr Zakharovich Zakharov-Chechen wrote letters of appreciation to his benefactor Peter Ermolov, for example, this, written in 1842 in January, listing the family: "I pray God for the extension of your days and the whole family of you, Katerina Petrovna, Nikolai Petrovich, Alexey Petrovich, Varvara Petrovna, Nina Petrovna, Grigory Petrovich! ". And even earlier, in 1839, he painted a portrait of Yermolov's children.
Oh, zigzags of fate! Sometimes they instruct someone on the path that he has to go, sometimes they turn away from everything else that is unnecessary. In any case, it is
story
! And we ... go to the very end of the eighties of the XVIII century, in the sunny city of Livorno, in Italy.
... Russian General Ivan Andreevich Zaborovsky signed another letter, asked the secretary to seal the envelope and hand it to the courier. He reached out, grunted, flexing his limbs, unbuckled his uniform, and shouted to the servant:
- Kuzma! Put a samovar!
The hiring of Christian volunteers to the Russian Army during the next war with Turkey was not shaky. Only about seventy people were recorded. Bad, very bad! And then there is also this heat ... Unusually Russian, there is nothing to breathe!
Knocking on the door, the adjutant entered.
- Your Excellency, to you - an officer of some kind! French, it seems ...
Zaborovsky yawned, waved his hand, said lazily:
- Aah ... Invite ...
A short, dark-haired young officer in a shabby uniform entered. A quick movement gave a greeting.
"Thin what ... Pale ... Yes, and the Frenchman is not very similar. The boy, truly, boy! ", Thought Ivan Andreevich.
- What do you want, my dear?
"Monsignor, I filed a report on admission to the Russian service," the young man excitedly spoke in French with a strong accent. - But I received a message that they only accepted your service with a decrease in rank, and I decided to personally come to the reception!
- Go on, I'm listening to you.
- Monsignor, why so, why not make a small exception? I am an artillery officer, I am well prepared, trained in science, I know how to command weapons! Is not a competent artillery commander - the guarantee of victory? Accept me in my own rank, and I will bring Russia only benefit! - The officer's voice began to produce steel notes, his shoulders straightened, his posture became more prideful, and his right hand involuntarily lifted itself and lay overboard uniform on his chest.
- Sir, here I can not do anything! - getting up from the table, Zaborovsky spread his hands. - Decree of our Empress! Here you would have come two months earlier, when there was no decree yet - you would have taken in the same rank that you are now. Not my will! Well ... what is there ... - added Ivan Andreevich more peacefully. - It seems that your rank is not so big, tea, not a general! Yes, and you lose something, it seems, especially nothing. - The General gave an expressive look from head to toe a slim figure of a visitor. - Nothing young still make up! Hmmm ... So go or not? Salary is good! - General smiled.
In the eyes of the visitor flashed embers of hatred, and his lips twisted into an evil smile.
- Oh, you do not want in the same rank? Said the young man with a nervous laugh. "Well, okay ... Then I will go to the Prussian army, and their king will immediately give me the rank of captain!" My guiding star leads me! You will hear EVERYTHING about me! - he seemed to spit out the last words, turning to a scream, and hurriedly left, almost ran out of the office, straightening his three-cornered hat on the head as he went.
- Fuuu ... And on what only in a day you do not see enough ... - sitting down, Ivan Andreevich exhaled lingeringly. - All, relax! I do not accept more today. Kuzma! Kuzma, my dear! What is there with a samovar? Is it ripe?
Having been refused his aspirations in the Russian army, the young Corsican later made a too successful career on the wave of the French Revolution. He became the first emperor of France, entered Moscow in 1812, and became the author of the saying "From great to funny - one step". Agree - commander Bonaparte was brilliant. But I would give a report a couple of months earlier - you see, even during the assault of Ishmael, along with Kutuzov, I would have managed to distinguish myself! Russia would appreciate his talents, and the future officer, Napoleon Bonaparte, should have been just guessing. But the story has no subjunctive mood! As it was, so it was. Fate!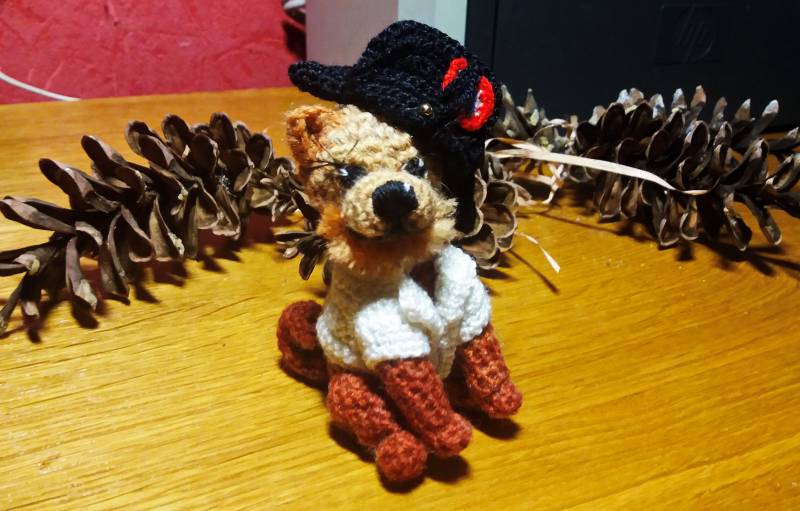 Photo 4 - Amigurumi-Napoleon.
Napoleons are different. There is a name, there is an emperor (and not one!), There is a boar from the anti-utopia of George Orwell, there is a cake, there is cognac. And there is ... a guard dog! Moreover, the most relevant to creativity. Nothing to do at your leisure? There is a desire - master the knitting technique, and this amigurumi dog will be your amulet! Look - even the cocked hat is there. True Napoleon! You can earn money on such works if you are savvy. And to give such a dog as a gift is a wonderful expression of friendship, my friends ... That's it!
The theme of Napoleon is the clearest example of how real commanders grow from ordinary soldiers. How many marshals did he bring with him? Not necessarily brought himself, they simply "brought" up during the Revolutionary, and then the Napoleonic wars. We will not count. But all of them were outstanding personalities, talented commanders, and such a person must be a "creative person" in his work. Others, until the commanders deserved and loved by the troops, do not grow during the war! The brilliant cavalryman, fancifully dressed fanfare and baobab Joachim Murat managed to show uncommon behavior even during his execution, shouting to the firing squad: "Save your face, aim in your heart!"
That is, the ideal test for the talent of the commander - the war! The old school generals often fail quickly, and then go to other positions, away from the front line (well, those who did not die and were not captured!), And those commanders who showed themselves well, initiative, get promoted! It always has been. The little-known Zhukov defeated the Japanese at Khalkhin-Gol, unfairly partially forgotten Semyon Tymoshenko did everything to break through the "Mannerheim Line", Colonel Ivan Chernyakhovsky during the Great Patriotic War rose to general army thanks to his leadership talent. Just grew, albeit gradually, and deservedly, at the expense of his gift, and not at the expense of the "social elevator", in the ranks and positions of the modest genius Alexander Mikhailovich Vasilevsky, who broke all the plans of the previously unbeatable Wehrmacht! There were a lot of them. They were talented! They are the commanders of the Victory!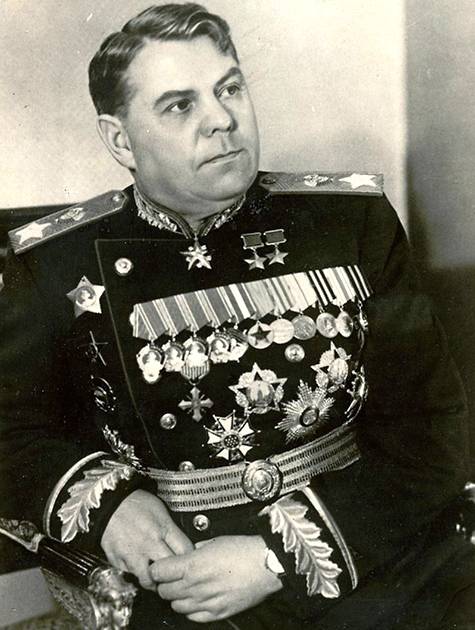 Photo 5 - Marshal Vasilevsky.
Alexander Vasilevsky was a brilliant strategist. It is impossible not to mention; although he is not directly related to the topic of the article, he was one of the most brilliant commanders. It was he who, in many ways, confused all the plans to the damned Nazis. He, as commander, took the "impregnable fortress of Koenigsberg." He gave a "blitzkrieg" to Mikado fans in 1945. ... And he was just a modest man who decided to enter a military school on the wave of patriotism at the beginning of the First World War. And could become a teacher or surveyor! But changed the same fate under the influence of the senses? Or is it destiny sent him? In any case, a student of Boris Shaposhnikov, he managed to show all his talents. Bow to him!
And here is an example of "life change", a little-known Russian-speaking connoisseur. The great war was fought not only in the territory of our Motherland and not only with the Germans. Southeast Asia, a region with a multi-million population, also became its victim due to the aggression of all the same fans of strong sake, geisha with siseido and Mikado personally. Very quickly, the Japanese conquered huge spaces. The "peacetime generals" of England, Holland, and the United States gave up their positions, or even surrendered to the enemy themselves, despite the fact that the Japanese almost never had numerical superiority! The war entered Burma ...
English General William Slim only recently received his rank of general. He has already got used to the idea that his fate passes him by his attention. He is fifty years old, serving in India, working as a military magazine as he can, and also writing stories from exotic Indian life under the pseudonym "Anthony Mills" ("Slim - Mills", anagram). The war has made its own adjustments. Slim received a new appointment, withdrew troops from Burma under the blows of the Japanese almost to the border with India. The commander of the English army, General Irwin, the "old school martinet", was to meet the units retreating through the mountains, deploy them, and equip them. But with exhausted, sick soldiers and officers in tattered form, carrying with them the most important thing -
weapon
, Irwin appealed with immense contempt! Slim lost his temper: "I demand - stop offending PEOPLE !!", Irvine with a cold air immediately parried, as a matter of fact for him: "I am your boss! And that is why I can not offend anyone! And your requirements ... "A typical example, isn't it? The army did not forgive Irvin for such an attitude. His place was soon taken by Slim. He ordered to equip fortified positions, to create a network of airfields, which in the conditions of the mountains and the jungle was the main source of supply.
In winter and spring of 1944, troops subordinated to Slim withstood the Japanese offensive at Imphal and Kohima. Even though some of the troops were surrounded, the British and Indian soldiers fought bravely, because their supply was carried out by air
aviation
! The war became different, the units were trained, and no longer fled at the sight of the Japanese, and were not afraid of the environment. Japanese general Rena Mutaguchi threw his soldiers at the enemy's fire with the stubbornness of a maniac, the bodies of the dead Japanese established approaches to English positions, but no results were achieved - the enemy did not panic, did not retreat and did not give up. Mutaguchi's colleague, General Sato, who planned a retreat after a clear failure of the operation, angrily radiated the leadership: "The operational capabilities of the army headquarters are lower than those of the cadets!" There was a turning point, a kind of "Burmese Stalingrad." After the retreat of the Japanese, British troops under the command of Slim immediately went on the counterattack, and at the very least, they liberated Burma in 1944-45!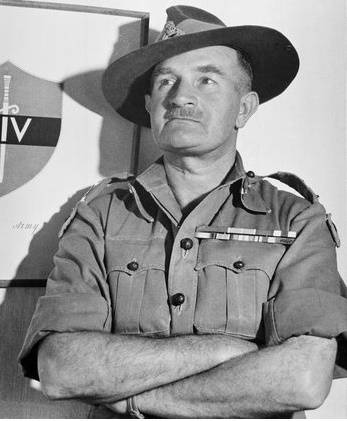 Photo 6 - William Slim.
William Slim later received the title of Field Marshal. He was worth it. Despite the fact that with England we often did not have friendly relations, but then we were allies. Every Japanese killed by Sliema's soldiers was not transferred to the Kwantung Army, therefore, he could not shoot at the Red Army soldiers. After all, the Allies helped save the lives of our soldiers during the decisive blow, planned by Vasilevsky in 1945!
War is war. But it is precisely revolutions and civil wars that endure on their waves numerous "orators" and so-called. "Field commanders". He lived a man, he worked, and then suddenly against the background of great social upheavals he felt in himself a talent to pronounce slogans or lead regiments to battle! There are many examples of "commanders from the people". From the times of the Great French Revolution, such were the numerous commanders of the Vandeysk insurrection, the son of the miller Georges Cadudal, who became a rebel general (by the way, an interesting topic for other authors!). Numerous commanders of our Civil War: "Red commanders, Bulak-Balakhovich, Ataman Semenov, Shkuro (too telling last name, remembering his subsequent merits from the Nazis!), Loving bearded man Dybenko - all and not list. The question is that in ordinary life, when it is necessary to engage in a calm and painstaking strengthening of the army and industry, such people not only do not always become necessary, but are often even harmful because of the lack of necessary knowledge and outlook, but with great merits before extermination own people! And now - everything is the same, I will not give examples, I will only mention that now they often carry out PR of such "commanders" themselves in social networks.
And here we are with the theme of the role of the "new life", how a person receives growth for his creativity, we came directly to the topic of how he performs specific creations. After all, creativity takes us partly to another world of creation within ourselves. This is also a "separate life", only inside a person. What moves them in this? I have been interested in this question for a long time. If the key to the discovery of one or another talent of any person is ever found, then it is only then that a person will be able to bring the greatest benefit, both to society and to himself!
So, from the point of view of a concrete message, to create something, I fully agree with the opinion of one acquaintance. I will quote: "Creativity is born through inspiration. We receive inspiration thanks to the strongest feelings and emotions in us - feelings of inspiration, creation, and for someone - insults, pain, for each they are their own! And the desire to perpetuate, capture these feelings, emotions and beauty, in the end, on paper, in a cast, and maybe on canvas, drives the creative work. Or it's a desire to share it with other people in order to wake up the same emotions and feelings in them. "
Probably it is. And there should also be a "voucher to a new life," not only from the point of view of a dramatic change in the life of a particular person, but in relation to a change in his consciousness at the "creative moment". He went for bread, went to himself, thought about it - and suddenly he began to write a book in his mind! And someone had an apple on his head, and he rushed to write down the law of the world wide, good, paper with a pen turned out to be at hand!
For example, Aivazovsky, fascinated all his life by sea, painted pictures. It seems that when he saw the beautiful scene, he tried to capture it. Pushkin saw Anna Kern after separation, and maybe not only saw ... but also heard, and even kissed a pen, and what did he do? That's right, I wrote "I remember a wonderful moment"! Inspiration? Yes! Like under the influence of what Vladimir Semenovich Vysotsky wrote his poems - I don't even dare to think. But the poems are ingenious! It seems that in his head there were too vivid images, and he fully got used to the role of the person about whom he writes. After all, he wrote about all - sailors, parachutists, climbers, dead hero pilots, and even about alcoholics ("I ruined it - hear, Sergey, let us drink alcohol!"), And listening to his words, you watch the film as if! And engineer Shukhov probably was extremely interested in making his designs, Leonardo, in general, generated his favorite ideas for five thousand years ahead! Do not forget, all the achievements of mankind are made precisely by creative people who were pushing the limits of the usual!
An interesting anti-example (you can't do that!) To accomplish a particular act under the influence of emotions is the film Telekinesis, or Kerry (that's more correct), 2013. This is not the first adaptation of the same novel by Stephen King. There lives a girl, uncommunicative, intimidated, goes to school; her mother is a crazy deep-believing person who almost considers her daughter God's punishment. At school they tease, they offend more arrogant peers - the poor child has nowhere to go, there is a wedge everywhere! After another portion of "my mother's love", on strong emotions, Kerry discovers the gift of telekinesis - to move things with the power of thought. Slowly she masters this skill! And here, the culmination of the film - graduation school ball. Carrie declared the queen of the ball, next to her is a young man, whom she could only dream of! All attention is transferred to the stage of the hall. And at this very moment, the moment of her absolute happiness, her enemies pour her in such a gorgeous dress, from under the ceiling, with a bucket of blood from the slaughterhouse! The guy, however, was even less fortunate - he got it on the head with this very bucket falling. Pause. The initial shock of those gathered around peers gives way to laughter, the herd laughs. Oh, it would be better if they did not do it ... Because, thanks to telekinesis, now all those present will answer her for all the humiliation! Those who are guilty, and those standing next to them, and those who just passed by, will answer. Once again, you can not do that! This is not creativity, it is an act in a fit of rage and bitterness, accumulated resentment, received release. And the gift of man, I think, should never be sent to evil. But an example of emotion is evident. The film, of course, ends badly. And the girl ... sorry, in general!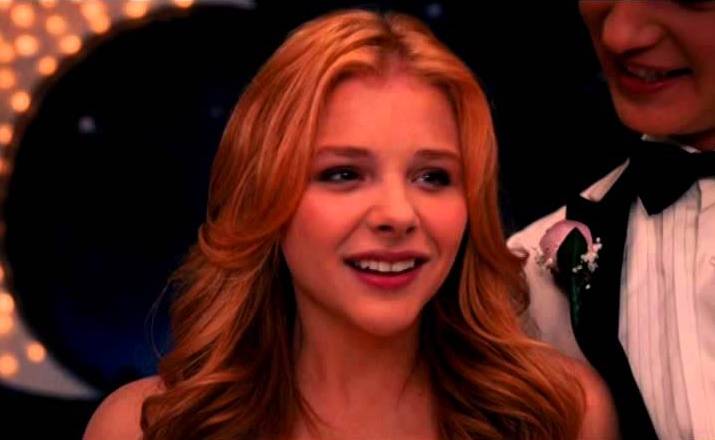 Photo 7 - Carrie.
The main character, Carrie, just before the collapse of all hopes. The personification of youth, just a pure angel with a warped fate ... The actress played the role brilliantly - such feelings, sincere happiness, are not easy to reflect on her face!
From the point of view of inspiration, I would like to cite one not quite typical example. Iona Emmanuilovich Yakir received his "second birth" on the wave of the Revolution and the Civil War. The man, in general, was by no means a military man, he quickly became a prominent commander of the Red Army, and in the following years he rose to the rank of commander 1, and, as we all know, was shot in 1937. One day before the trial, and two days before the execution, or rather, 10 of June 1937, he writes a long letter:
"People's Commissar of Internal Affairs N. I. Ezhov.
If you consider it possible and necessary, please transfer to the Central Committee and NGOs.
I said everything. It seems to me that I am again with my beloved country, with my own Red Army. It seems to me that I am again that honest, devoted to the party fighter, as I was about 17 years old, and I therefore dare to put a number of questions before you, a number of recent thoughts and suggestions .... "
Next Yakir lists his thoughts on the necessary structure of the Red Army, from the composition of the training divisions. As far as these considerations are correct, let the professional military judge. But what made him write a letter? The desire to bring knowledge and experience to help strengthen the defense? Weak hope of justification? We will not know the answer.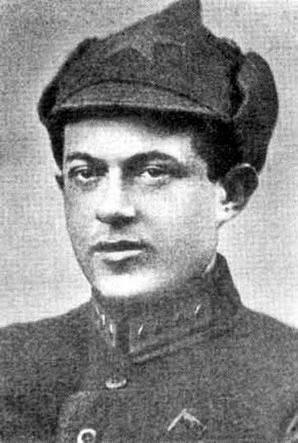 Photo 8 - I.E. Yakir.
The letter ended with the phrase: "Continuation, apparently, will not follow." Bitter phrase, in essence, my friends. And so it happened ... 12 June he was shot along with seven more of his comrades, including Mikhail Tukhachevsky and Jerome Uborevich.
And here is the latest example of creativity and inspiration. All of us love ... presents! And can it not be a source of inspiration to make others happy? Anyone can make a gift with his own hands due to his talent - even if you take tickets to the theater (yes, you should have an "inspiration" for this, too!), Even prepare a tasty lunch. And if you know how to write or embroider oil paintings ... You can even receive orders for gifts from other people, and then turn on your imagination!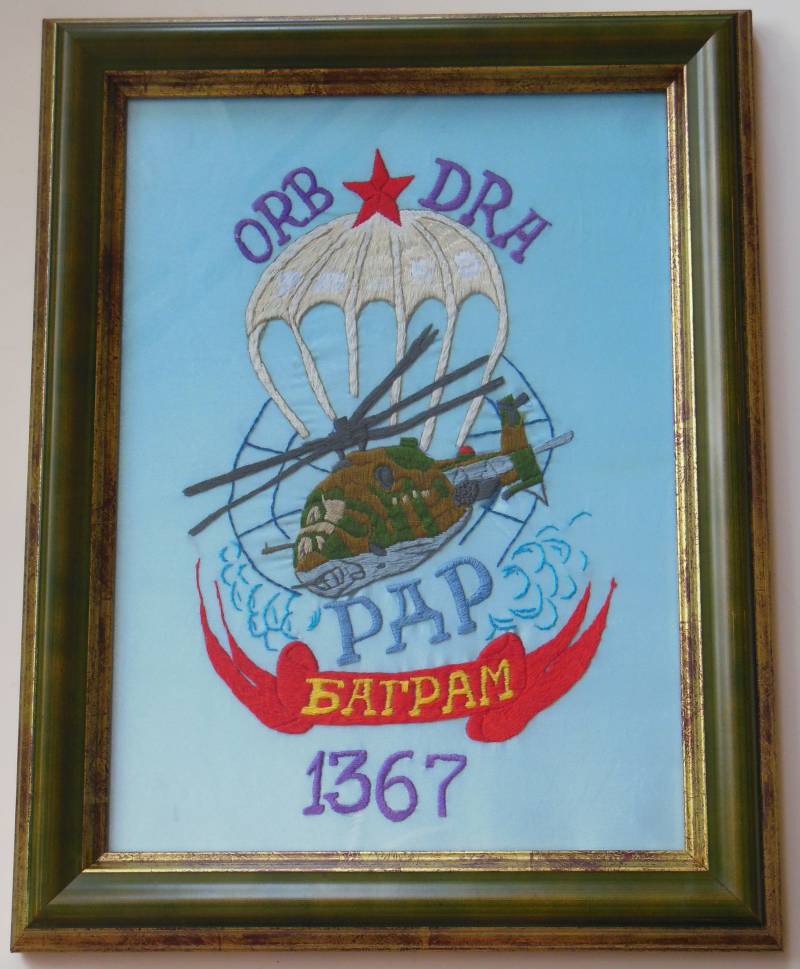 Photo 9 - picture-embroidery
Such a picture as a present was embroidered by my friend Katya as a gift. Everyone is happy! An experienced, well-deserved person can easily hang it on the wall, admire it, show it to friends. Katia, thank you for the material!
In general, life, my friends - a difficult thing. And if circumstances have drastically changed your destiny, and you feel that the sphere of activity in which you find yourself is exactly what you need, what your soul wants, if you feel your calling to this - develop your talents, do not stop at what has been achieved. And watch your inspiration. There were thoughts, feelings, aspirations - execute. Write at least for the future.
And remember, sometimes in order to get a charge of emotions for subsequent inspiration, a person needs quite a bit. For example, when someone whom you, in general, are not particularly well and know, wished you good health. Or when the answer comes to the SMS, about which you have forgotten completely already. Human feelings and emotions - pain, joy, just a good state of mind - this is the stimulus of creativity. The amazing is often near, and it happens when you do not expect it at all!
P.S. The author expresses his heartfelt thanks to the participants of the "Military Review" site forum for kind emotions, as well as gratitude to "His Majesty the Muse, who, although not often, but visits him"!