The US Air Force on Thursday moved another long-range US Air Force supersonic bomber, the B-1B Lancer, to Forward Base Fairford in the UK. As a result, four such bombers were already located at the base. This information is obtained from monitoring data from Western
aviation
resources.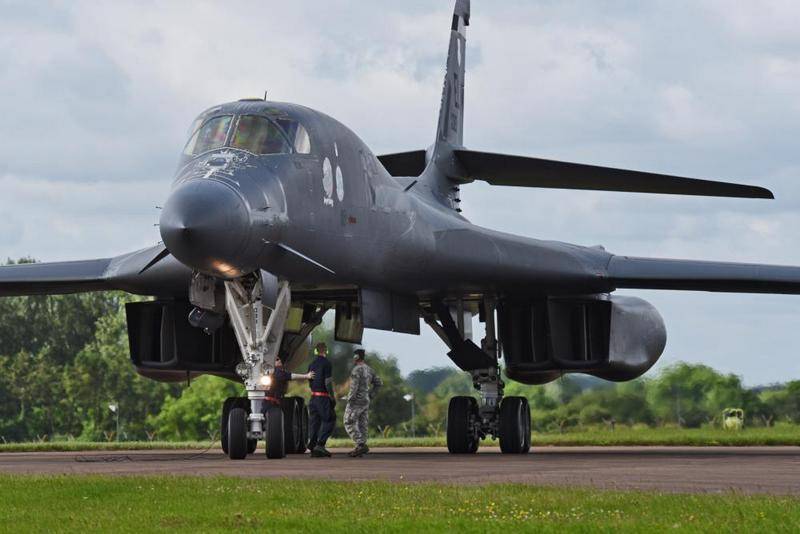 Earlier, three long-range heavy bomber with variable sweep of B-1V Lancer flew from the US Air Force Dyce airbase in the state of Texas to Fanford airbase in England, and that from June 1 make regular flights along the western borders of Russia in the Baltic region in order to work out the strikes against ground targets in the Kaliningrad region.
It was also previously reported that the British Fairford airbase in the county of Gloucestershire is designed to house B-1B, B-52 bombers, as well as strategic U-2 high-altitude reconnaissance aircraft.
The B-1 "Lancer" heavy bomber (Eng. Rockwell International B-1 Lancer - Ulan) is a multi-mode bomber created as a replacement for the Boeing B-52 under the AMSA program with 1965, and the world's first combat aircraft in design which were widely implemented elements of technology "stealth". Is in service with the US Air Force 27 July 1985 year. At the beginning of the 1990-x began the re-equipment of aircraft B-1 to equip them with conventional weapons. In the final version of the bomber (B-1B) the concept of low-altitude air defense breakthrough was implemented by flying at ultra-low altitudes with rounding of the terrain.
Maximum flight speed at high altitude 1 330 km / h (M = 1,25); speed when overcoming air defense in flight at an altitude of 60 m - 965 km / h; practical ceiling 15 240 m; ferrying range at high altitude 12 000 km; - practical flight range with a normal combat load at high altitude: without an additional fuel tank 9 600 km, with an additional fuel tank 10 400 km; practical flight range with maximum combat load 8700 km.
Maximum calculated take-off 216 365, - the maximum actually achieved take-off 213 192; empty 82 840; maximum fuel capacity in the internal 88 450 tanks (B-1A - 86 000); maximum allowable when flying at low altitude 191 420; 38 000 maximum combat load, - normal 10 900 combat load.