From contempt to hate. From comedians to parasites
The famous (although it would be better not to know) actor Mikhail Efremov just now again allowed himself to express his valuable opinion on a number of burning questions. Then you and the transfer of Ukraine to the Crimean Bridge, and the free supply of this state with gas for ten or fifteen years, so that the Nebrat-Sumerians could once again feel that they are our Ukrainian brothers, and many more things like that. For a whole hour, he was broadcasting on the YouTube channel of a former sports journalist, so for those who want details and who are not banned on Google, you are welcome to go there.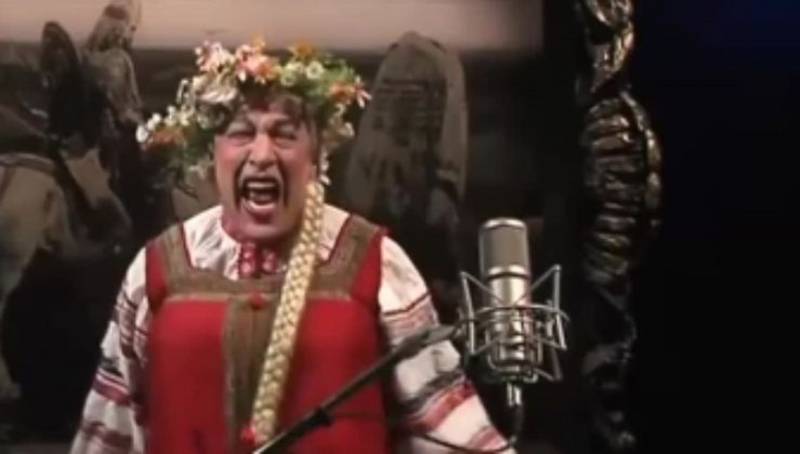 Frankly, I am completely uninterested in Efremov himself and his statements. Yes, he has an opinion, he has the right to express it. But, honestly, I do not think that it is at least something more valuable than an opinion on the Iranian settlement of some Uncle Vasi from a neighboring entrance. Moreover, my attitude specifically to this person and his verbal escapades is quite well expressed in one historical source, which M. Pylyaev referred to in the book "Old Moscow.
History
former life of the capital of the throne ".
Russian students comedians without a decree always go with swords (...) and, without fail, walk around the guests at night, drinking. And in the ranks of merchants goods merchandise is in debt, and money is not paid. And all kinds of enthusiasm with those merchant and other ranks are being repaired by people, finding fault with dishonor, so that they take something cheeky.
And for those bribes they seek their dishonor and those people are dragged and unprofitable in different orders (...).
And taking bribes from those people, they put up peace without waiting for the decree on those matters, and cut beards to other merchants for the same bribes.
Especially in those outrages the actor Vasily Telenkov, aka Shmaga-drunk, was distinguished. For which there was a resolution about him from the boyar Golovin:
Comedian drunk Shmagu, taking in the order, carve bathoi.
As you can see, in the 1705 year, "there were methods" in power. And now they, it turns out, no. And this is the only thing that causes regret ...
Much more interesting is Mikhail Efremov and his statements are different: can we in principle ignore such cultural figures, or would we still need to somehow react to this at the state level? Moreover, there are plenty of reasons: Makarevich, and Akhedzhakova, and Serebrennikov, and many other people were a bit earlier.
To answer this question, let's resort to a not quite correct and even very rough, but very eloquent comparison.
Tell me, please, can a lion in open combat kill a bear? There is probably no single answer here. But still, an adult, an overweight, healthy brown bear will be heavier than a lion, and he will not give up with his fangs, and he will surpass the claws of the king of beasts. Therefore, it will be correct to say that rather not, and with all other things being equal, the bear of this lion will most likely be torn to pieces by fur.
Now the next question. Do you think a bear can kill parasites?
And here, it seems to me, everything is somewhat sadder. Worms from the inside, fleas in the hair, midges and midges outside. And if we assume that the bear suffers from starvation, then it may well be that the parasites will finish it off.
Who said that I called Ephraim a worm? No, I did not call. You yourself guessed it - it was too painful. Not outwardly, no! According to habits ... So, we would still need to take care of some anthelmintic drugs. Because the point is not only that the worms rob the host of nutrients - this, perhaps, somehow could be put up. But they also poison the infected organism with the products of their vital activity. And this is a "crime", and for this they should be poisoned by some suitable means.
But many probably will not agree with me. Pushkin will be remembered - Alexander Sergeevich was not in the best relations with the then Russian autocrat, and the Decembrists, for example, were very sympathetic.
That's the way it is, but there is one nuance: Pushkin still loved Russia. And even exposing her shortcomings, wanting to see the "wreckage of autocracy", he nevertheless actively protested against slandering his homeland.
Embittered Europe attacks Russia for the time being
weapons
but daily mad slander.
And he wrote to Count Alexander Benkendorf, chief of the secret police, and asked him to help with the release of the magazine, designed, according to Pushkin, to respond to attacks from foreign newspapers.
Let them allow us, Russian writers, to reflect the shameless and ignorant attacks of foreign newspapers.
Therefore, the comparison with Pushkin, as they say, "does not roll." Although they, the parasites, would really like this.
What conclusions would the author like to convey to readers? And no. Instead of conclusions, I will offer you some more quotes. They belong to the famous Georgian director Otaru Ioseliani.
We will never have peace with Russia! .. If earlier we had contempt for it, now there is hatred.
And more:
We know what the Russians are capable of, what they did in Afghanistan and Chechnya. They pity neither women nor children; they stop at nothing.
... they are all conquerors. Arrogant, vile ... This is me about the Russians.
Why these quotes? But this is the most interesting!
6 June, the birthday of our great poet (as everything is intertwined in the world!), In the All-Russian Museum. A.S. Pushkin, St. Petersburg, the awarding of the aforementioned director Ioseliani Prize "Petropol".
Museum, for a minute, the state. And it was he who established the prize.
And the conclusions ...
Draw your own conclusions.