President Putin: We have Vanguard, while others do not have it ...
Question to the President from Karachay-Cherkessia:
When will the Russian limited contingent be fully withdrawn from Syria?
President Putin:
The use of our contingent in combat conditions is a unique experience. We know that this application is connected with losses, we will not forget about these losses, we will not leave the family members of those who did not return from the Syrian land. There, in Syria, accumulated thousands of militants from Russia, CIS countries. It is better to destroy them there than to face them
weapons
in hand here.
According to the president, today, under the control of official Damascus, more than 90% of the territory of Syria.
Putin:
We have there is not just a military contingent. We have two bases: the sea Tartus, Hmeimim airbase. They will stay there as long as it is beneficial for Russia and in fulfillment of international obligations. But I do not use the term "bases", we do not build long-term facilities there and, if necessary, we can withdraw the contingent without material damage.
Question from one of the leading broadcast:
What lessons of the Syrian campaign would you say are the most important?
Vladimir Putin:
The use of armed forces in combat conditions and the use of new weapons. No exercises with this are compared. Syria is not a testing ground for a new weapon. But we use it there. It is important to look at how this modern weaponry works in reality. When we started using this rocket weapon, entire teams of specialists left for Syria. Our military leaders, and we had a significant number of officers and generals there, began to understand what a modern conflict is, how to ensure communication, interaction in the course of operations, and intelligence records.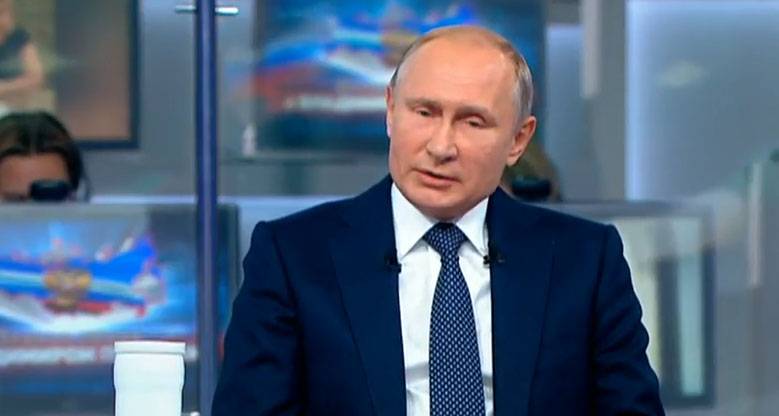 Lead broadcast:
Are there new weapons in our troops? Many doubt ...
Vladimir Putin:
Back in 2004, I talked about the fact that we started developing such systems as our reciprocal step for the US withdrawal from the ABM Treaty. And now we have such a system. This is Avangard. This absolute weapon is not a ballistic one. Speed ​​over 20 M. I do not think that any of the countries will have such weapons in the near future. Although then someday appears, of course. But it does not bother us, since we already have it. The system "Dagger" is already in service in the South Military District. Combat laser also put into service. We can show those who doubt. In 2020, we plan to put into service the "Sarmat".
President, completing the answer to the question:
We have a global-range missile and an underwater unmanned aerial vehicle on small nuclear propulsion systems. The main development phase is complete. Some more things need to be done within the framework of the planned procedures. I have no doubt that they will be put into service with the Armed Forces of the Russian Federation as scheduled. Well, and those who doubt it, they doubted X-NUMX about Avangard
The president also read out the question of what awards have Sergei Shoigu and about when state-owned companies will stop financing Echo of Moscow.