Belarusian military demonstrated a "flying grenade launcher"
The Belarusian TV channel VoenTV showed the exercises of special units of the Armed Forces of the Republic of Belarus, during which a new and unusual
weapon
- UAV with anti-tank grenade launcher.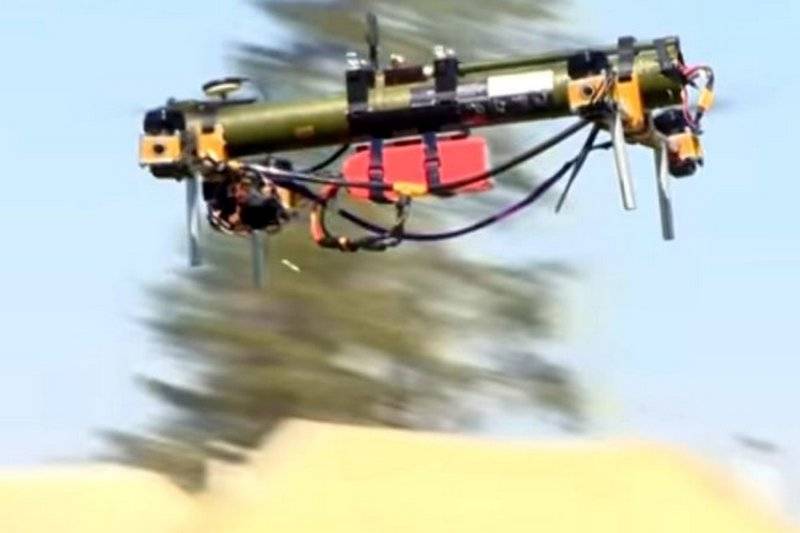 As reported on the channel, the exercise took place at the Losvido training ground in the Vitebsk region, where samples of the latest equipment and weapons, including the above-mentioned drone, were also demonstrated. The characteristics of the new UAV are not disclosed.
The UAV shown was created according to a quadrocopter scheme, the name of the anti-tank missile launcher was not disclosed, but judging by the appearance, the installation resembles the RPG-26 Aglen developed by the USSR one-time anti-tank grenade launcher designed to destroy
tanks
and other armored vehicles, as well as enemy infantry, which were seated in light fortifications.
Watch from 6 minutes
The use of RPG-26 on a UAV is quite possible, since he has practically no recoil when fired. The grenade is fired from the barrel with a special powder charge, which is completely burned. After the departure of the grenade at its end, stabilizers are revealed, which balance it in flight.
TTX RPG-26:
Caliber, mm 72,5
Length, mm 770
Weight, kg 2,9
Grenade mass, kg 1,8
The initial speed of the grenade, m / s 144
Grenade flight time, s:
at a distance of 50 m 0,35
at a distance of 100 m 0,72
at a distance of 250 m 1,89
Aiming range, m 250
Range of a direct shot at a target with a height of 2 m, m 170
Warhead cumulative
Armor penetration, mm 440