Ukraine closes part of the Azov Sea near Mariupol
The Ukrainian Navy closed down three sections of the Azov Sea near Mariupol for the entire summer period until September 1. According to the command of the Ukrainian Navy, in the area will be held combat training of the armed forces of Ukraine.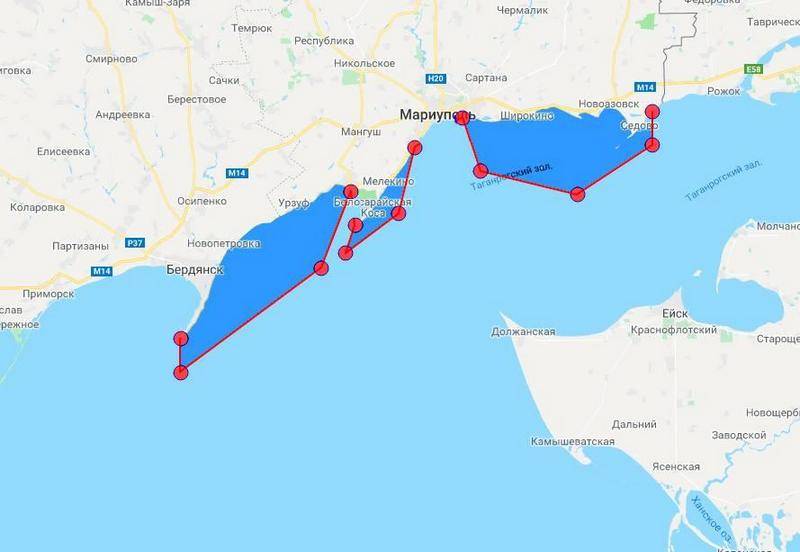 According to the head of the press center of the Naval Forces of the Armed Forces of Ukraine, Oleg Chalik, the water area near Mariupol (near Shirokino, in the area of ​​Melekino and Belosarayskaya Spit), as well as the area east of Berdyansk for conducting the exercises of the Armed Forces of Ukraine will be closed. At the same time, he explained that it is not forbidden to swim and fish in closed areas, just before military exercises, all redundant ones will be removed from there, and special services will check that no one is left there.
The Ukrainian Navy issued coastal warnings about the closure of the Sea of ​​Azov from 1 June 2018 of the year to 1 of September 2018 of the year (№178, 179 ЗРС and АС of the Navy of Belosaray Bay, №180 of the Taganrog Bay). ZRS and AU - anti-aircraft missile and artillery firing
Former Deputy Minister of Defense of Ukraine Kabanenko said that Kiev should prepare for the worst scenarios in the Sea of ​​Azov after the aggravation of the situation.
Recall that in the area of ​​the Azov Sea to the existing ships of the Russian Navy relocated Russian artillery boats, as well as ships of the border service of the FSB of the Russian Federation. In addition, intensive patrols were introduced in the area to prevent possible provocations of Ukrainian border guards with Russian fishing vessels.
The exercises of the Russian Navy ships in the Sea of ​​Azov in Ukraine were called a hybrid threat of invasion from the sea and called for preparations to repel the massive offensive of the "aggressor" from the sea.
facebook.com/Andrii Klymenko