A conference of Syrian tribes from Raqqa, Aleppo and Hasaki was held in the city of Deir Hafir. Additional units of the Syrian army arrived at Deir ez-Zor. Reports about it
FAN
with reference to local sources.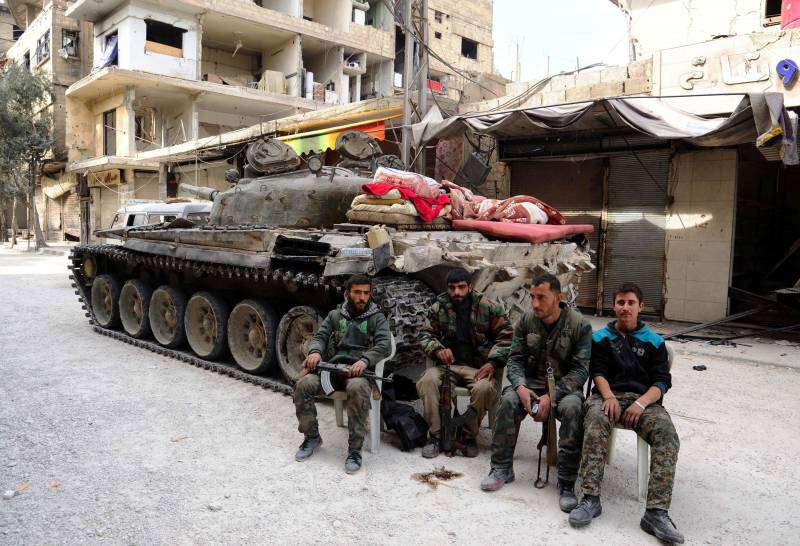 During the day, armed clashes continued between the Syrian army and the armed opposition units in the north of Latakia province. Skirmishes recorded near the village of Al-Kabin. CAA support provided VKS Russia.
In the village of Deir-Khafir in the east of the province of Aleppo, a conference was held with the participation of Syrian tribes, troops of which are based in Aleppo, Raqqah and Hasak. Including was considered the issue of countering the US units and the "Democratic Forces" (SDF), which occupied part of the territory of the country. However, not all of the declared representatives of the tribes managed to arrive Aleppo - some of them were detained by Kurdish radicals. There were also armed clashes in the region on the line of demarcation of the forces of the "free army" (FSA) and Kurdish groups. Reported 10 destruction of SSA militants.
On the eve of the Syrian Foreign Minister Walid Al-Muallem made a statement that the US military must leave the southern parts of the ATS, because they have no legal basis to be there. Recall that the US military is based on the At-Tanf base, where they train the radicals of the armed opposition. In addition, experts are confident that there are militants of the IG at the site (the group is banned in the Russian Federation). So, according to sources, it was the radicals stationed in the area that attacked the Syrian convoy in May Deir ez-Zor.
The underground groups of the IG launched a new attack on the positions of government forces in Deir ez-Zor province, but were defeated and fled. To carry out a large-scale operation to clean up the area from "sleeping cells", additional units of the Syrian army and Shiite militia arrived in the province, and will soon begin investigating the Badiya ash-Sham area.
In the south-west of Dar'a province clashes between terrorists of IS-controlled formations and militants of the Syrian Free Army (FSA) resumed. It was reported about fierce battles in the cities of Gillen, Adwan and Tal Astara, as a result of which the "free army" suffered losses.