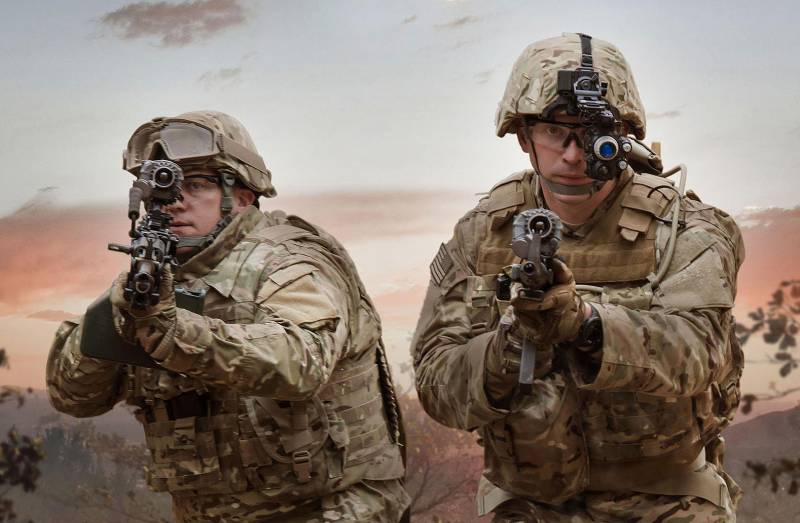 BAE Systems has developed the Enhanced Night Vision Goggle III and the family armory Family of Weapon Sights-Individual (ENVG III / FWS-I) scopes, which combine two night vision technologies that allow the soldier to quickly locate a target without having to raise the weapon to eye level
According to industry experts, night vision technologies, both image enhancement and thermal imaging, are ready to develop in the coming years in a number of areas, ranging from resolution to connection to a single network. However, this development should be balanced with obtaining the smallest weight and size and energy-consuming characteristics.
Night vision systems are available in various forms, from glasses to weapons sights. However, in this area there is significant progress, as the world's leading manufacturers seek to respond to user needs.
Changes and combinations
Christian Johnson, director of business development at Harris Corporation, paid particular attention to the growing demand for dual-eyed night vision goggles (ONV). "They are relatively new. For the last six months, the American army has put serious pressure on manufacturers to be ready to massively supply two-eyed devices, the ground forces have to move from a monocular to a binocular. "
Lightweight Night Vision Binocular (F5032) binoculars, released by Harris at the end of 2016, are lighter than all previous models. It significantly reduces eye fatigue in long-term tasks due to lenses with adjustable diopters, that is, the system can quickly adjust to the vision of its operator.
Harris is also watching the shift in market dynamics, where systems with a white phosphor are gaining in popularity. Initially, the release of such systems was determined by the need for special forces, but has now become a general trend. The company does not have a particular point of view on the advantages of white versus green phosphor and vice versa, although it produces systems with white phosphor in increasing quantities. However, green phosphor today is very widespread.
The company's documents explain that "white phosphor gives a black and white image that may seem more familiar to the eye. In some situations, users declare a better contrast between objects, along with a higher resolution picture on the screen.
о
more distances.
"On the other hand, the green phosphor uses with the benefit of wavelengths that optimize the brain's perception of contrast and scene details. Green falls exactly in the middle of the color spectrum of the eye, allowing users to better define and interpret the situation at night. "
Johnson explained that Harris focuses primarily on image brightness enhancement (UY) technology, although it uses a combination technology of i-Aware TM-NVG Fusion binoculars (F6045) in the line of imaging with UY and thermal imaging (TPV) through optical overlay. "We have improved situational awareness, because the operator can look directly into both channels. For example, with the combination of images you can see through the fog and other obstacles, which OY does not allow to do. But with UY, you can see through the glass that thermal imaging technology cannot. Therefore, their combination increases the operator's situational awareness of what is happening around him. "
As a result, F6045 binoculars increase combat effectiveness in night and day missions, as well as provide real-time video transmission for tactical intelligence. These binoculars allow the user to connect with various elements of battle formation, up to the company headquarters.
According to FLIR Surveillance's Andrew Aries representative, thermal imaging has grown rapidly over the past few years with an emphasis on higher resolution and smaller pixel size in HD formats, while maintaining almost the same physical dimensions as standard-resolution sensors. The latter have also benefited from this process, since the smaller pixel sizes make it possible to reduce the size and the final cost of the systems. The result is well noticeable in modern infrared sensors of near, medium and long range.
FLIR manufactures a range of overlapping sights, including the ThermoSight T75 advanced thermal imaging sight, the High-Performance Sniper Sight HISS-XLR sniper sight and the Advanced Dual-Band Night Sight night sight ADUNS-S.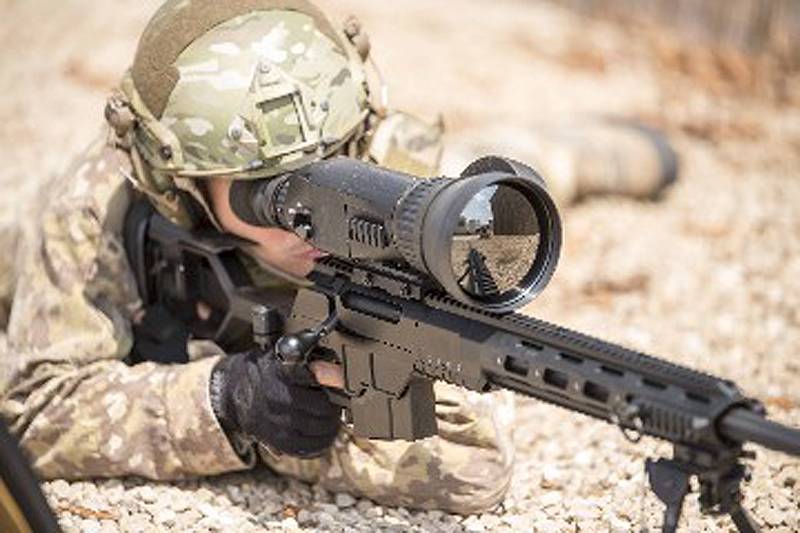 Meprolight's NOA family of uncooled thermal imaging gun sights has gained popularity in the long-range sniper rifle market
On purpose
The company BAE Systems is one of the leading players in the field of visualization systems, in particular thanks to its work with the American army. Dave Harrold, head of the direction of the sensory and sighting systems in the company, called the rapid target acquisition (RTA) technology development work as one of the priority areas. The idea is based on a wireless video interface between the glasses and a gun sight, when a high-resolution image can be transmitted to night-vision goggles and viewed on a high-definition display in real time. This eliminates the dependence of the operator on the backlight laser, which can give it to the enemy.
"The development of RTA wireless technology allows users to quickly detect and seize targets from any location without bringing a weapon to their eyes, which increases the safety of the soldier and at the same time its effectiveness when working on the target," said Harrold.
RTA is used in the program for improved night vision goggles and the ENVG III / FVTS-I family of weapons sights (Enhanced Night Vision Goggle III), in which BAE cooperates with the US Army. In these systems, the UY and TPV technologies are combined: the first provides control of the situation, and the second improves the accuracy of aiming. The Family of Weapon Sights-Crew Served (FWS-CS) family of weapons sights offers machine-gunners the possibility of hitting targets at long distances.
According to a Thales representative, night vision opportunities have increased and "are no longer limited to a few happy countries." He focused on a number of new trends, for example, on the improvement of uncooled IR systems, which are already delivering high-resolution images. He is confident that in a few years Thales "will offer a line of current long-range target detection devices, but with all the advantages of uncooled devices: fast start times, quiet operation, reduced cost, high reliability."
The Israeli company Meprolight produces a line of night-vision devices of various types - OY, TPV and digital. Product Manager Avi Katz said that the uncooled gun sights of the NOA family have gained popularity in the market for long-range sniper rifles. However, systems with RS are cheaper and are used more often when working on targets at medium distances compared to thermal imagers.
"As soon as you take the path of increasing the cost, the military begins to use products depending on their specific needs. In my opinion, brightness enhancers are used more often than thermal imagers for the most part because of the cost. "
In January, at the Shot Show 2018 in Las Vegas, Meprolight unveiled the NYX-200. In this multispectral weapon sight, an uncooled thermal imaging camera and a digital day / night camera are combined, which increases the level of control of the situation through the use of RTA technology under any levels or lighting conditions.
"The requirements of the modern battlefield force soldiers to wear a large number of systems, sensors and equipment," said a spokesman for Meprolight. - The weight of this equipment and the need to work with a mass of devices reduce combat effectiveness and may adversely affect the level of soldier safety. To solve these problems and improve the quality of work of a modern soldier, we developed the NYX-200 scope. "
Power balance
Cost and weight and size and energy-consuming characteristics (MHEC) should be aligned with the combat requirements for soldier systems, where the key requirements are weight and battery life.
Harrold said that soldiers are overwhelmed by the fact that they have to carry a lot of batteries to power their devices. They need light, small, high-quality weapon sights, which maximize their mobility on the ground. Company BAE minimizes the size and weight by using 12 micron technology. "This allows for a lighter and more compact system. Our systems also consume less energy compared to traditional refrigerated systems, which ultimately reduces the wearable weight, since fewer batteries are now required. "
However, Harris believes that it will be difficult to manufacture a system substantially lighter than its F5032 binocular device (weighs less than 500 grams) without compromising the structural integrity of the system. "To a certain extent, we found a middle ground, if you take the path of relief, you will lose the strength of the system," said Johnson. "Our products are undergoing an extended test program approved by the US Army. Our glasses and tubes must pass very hard tests. If we start to ease them, they will begin to break. "
The power consumption of the base systems with YL is relatively low. Monocular Harris AN / PVS-14, for example, can run on a single AA battery for more than 24 hours.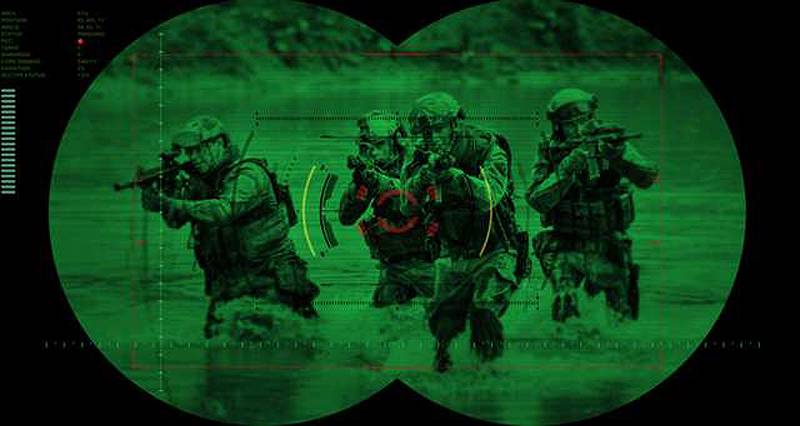 Manufacturers predict, at least, 10-20 years of demand for systems with enhanced image brightness, which can offer a number of advantages compared with thermal imaging technology
However, Johnson explained that the state of affairs is changing with the development of technology. "You encounter increased power consumption in systems with merging images when you add a thermal imaging camera, when you add augmented reality. All these technologies consume energy and thus transfer the problem to the user. " Harris is working to increase the duration of the helmet systems.
"Size, mass and energy are always a problem, we are constantly working in this direction," continued Johnson. "But, in my opinion, we will not see glasses significantly lighter than those we are working on now, which is less than 500 grams."
He stressed that the optimization of the IPHE should not be at the expense of high performance - the mantra that FLIR Surveillance has laid at the heart of its projects. He added that developments aimed at increasing resolution, reducing pixel size and extending the range of operating temperatures help to maintain this balance and increase the service life of systems. Progress here is mainly due to the use of multi-element photo-receivers operating in the mid-wave and long-wave IR regions of the spectrum.
In the Italian defense company Leonardo, they believe that, despite the advantages of using new materials or new types of batteries, there are certain limits to the improvement of the IPEC, especially when implementing new customer requests for network connectivity.
Fully Electron-Optical
Image enhancement tubes or image converters are a key component of night vision devices. These systems have developed in recent years in several directions, according to Photonis.
According to Mark Denes, a representative of this company, the IPEG is a key factor. The emphasis on mass is particularly relevant today, given the increased demand for binoculars, which by their nature are heavier than monoculars. "The IPHE is very important, because every gram falls on the shoulders of the operator," said Denes.
Photonis manufactures optoelectronic transducers with a diameter of 16 mm, which results in a weight reduction of up to 40% compared to 18 mm tubes and allows manufacturers of final products to reduce the weight of their systems. The company also reduced the power consumption of its handsets and improved the auto-gating function, which made it possible to increase the battery life.
Photonis manufactures various image intensifiers, including XD-4 and XR5 tubes, as well as the 4G tube, which was shown at Eurosatory 2014. The company claims that the standard setting the performance requirements for the 4G tube allowed for increased detection ranges. Photonis has won several large projects for its 4G technology, because it worked closely with the community of special operations forces and other military operators to increase the capabilities of this device, including faster auto-gating and longer recognition and identification detection distances.
These tubes are supplied to manufacturers for integration into optical sights, monoculars, binoculars and other systems with enhanced image brightness. The company is currently working to further enhance the performance of the 4G handsets, as well as developing digital night vision sensors, which it integrates into systems with overlapping images and sights, land and sea platforms.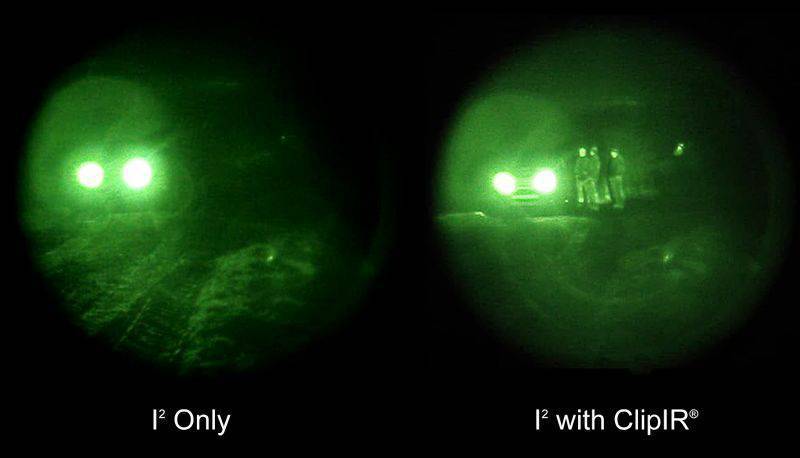 The advantages of combining the brightness enhancement channel and the infrared channel are clearly shown in the figure. On the left, only brightness enhancement, on the right, an image with much greater detail due to the thermal imaging module
Both are good
According to Denes, thermal imaging systems are becoming more popular with the UY technology, since with the growth of production volumes their cost will significantly decrease. Both technologies have different tasks and different advantages, their capabilities depend on the terrain, weather and other factors. TPV was popular in detection tasks - and to some extent recognition, but systems with Ouya "are still in demand because of better identification and situational awareness."
"Ideally, soldiers need both technologies of night visibility," admitted Denes. "They should rather be viewed as extensions of each other, and not as a substitution of one for another."
A merger can provide "the best of both worlds." The high performance image intensifier still provides a better image than their digital counterparts, "but it's like comparing a round with a soft one."
"Digital systems are becoming popular on land and air platforms," added Denes, "because the IPHE is not as serious a problem here as in the case of dismounted personnel." He expects that the soldiers will continue to use the UY technology because of its capabilities, low mass and relative cheapness.
According to Denes, the markets for digital systems and EOC are simply different. Photonis and its military customers believe that the image intensifier will "be at least 10 more years old, as a result of scientific research a lot of improvements will be implemented in a number of areas, from sensitivity to combining with a thermal imaging image."
Manufacturers have noted a growing demand for binoculars, in contrast to monocular configurations, but these devices must also "pull up" their MGHEs to the required level.
Looking for a connection
According to Leonardo, the need for constant communication on the battlefield determines the availability of components that provide network-centric capabilities. For the future, the company expects widespread use in the optical components of Wi-Fi, Bluetooth and GPS technologies, which more closely integrate them into the operational management chain.
This company's Linx reconnaissance and targeting handheld device is based on a cooled matrix and is designed for all-weather surveillance and detection. The device belongs to network-centric systems, allowing the user to exchange images and data through a network.
At FLIR, interoperability, defined by customer demand, is a key characteristic of military applications. "Low-power, low-power, low-power communication chips are now integrated into the soldier's systems," a spokesman explained. "Two-way communication provides support to remote users and increases situational awareness, including information from neighboring intelligence assets."
According to Johnson, the systems are getting smarter. For example, augmented reality is integrated into displays, adding another layer of information for the soldier, while the technology is becoming increasingly networked. "Night vision systems are one of the parts of the soldier's network environment, sharing what they see to form a common operational picture that is given to the entire unit or transferred to a higher level."
A Thales representative also noted the growing level of digitization of systems, opening the door for augmented reality. The company's offerings on the market include the BONIE-DI / IRR I2 night vision device, a smart network system that combines two types of images. The system allows users to visualize specific data in augmented reality, such as GPS, which increases levels of control and interaction.
Serious attention was paid to the potential of fully digital night vision devices, although, according to Johnson, the technology "has not been fully developed yet. It seems to me that for the time being it is not worth waiting for her to fully return. Harris does a lot of research in this area. We need a real technological breakthrough before we get a digital sensor worn on our heads. In the next 15-20 years, analog optical converters will dominate the market for night vision systems until something breakthrough comes to replace them. "
Johnson confirmed, however, that it is possible to embed some kind of digital elements in analog systems. "In our soldier system, F6045, we took an analog system and connected it to the network, thereby introducing digital capabilities, but we are still using analogue tubes, because at the moment there is nothing better. This is a proven and reliable technology that is not yet going to take positions. "
Mr Katz agreed that digital night-vision technology is at the very beginning, but believes that it will gain rapid development in the coming years.
Harrold also predicts that, ultimately, systems with VY will become obsolete and will be completely replaced by digital systems, which will be able to update themselves through their algorithms. He added that the industry is likely to "move towards fully integrated systems with wireless power, which combine portable power sources, gun sights and night visions and which can work without rest during the day and night."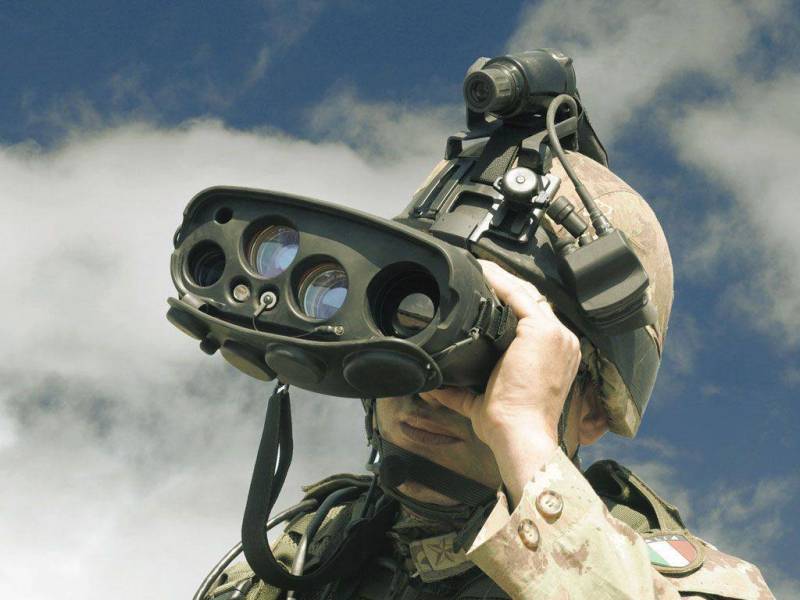 Leonardo offers a Linx handheld surveillance and targeting device based on a cooled matrix. All-weather, network-centric device allows the user to exchange data and images over the network.
Forward movement
Having a clear understanding of other market segments, Katz believes that "there will be a revolution in the resolution of thermal imaging systems."
FLIR, in turn, expects to see a stronger focus on image processing and power management in order to reduce dependence on optics with longer focal lengths for longer distances and increase the likelihood of target identification. They believe that "image processing with low power consumption, improving picture quality in real time, allows you to increase the level of trust in identifying an object and detecting a threat."
In recent years, standard histogram alignment, digital underlining of parts and electronic stabilization have appeared in standard systems. "This process will continue as the processing algorithms evolve, with the result that the burden on the user will decrease, and the process of target recognition and identification will accelerate."
The use of high-resolution microdisplays in combination with smaller pixel sensors, low-power image processing and wireless communications enhances the MEGH and contributes to the development of intelligence, observation and targeting capabilities.
Harrold said that in the coming years, augmented reality "will become the most important technology for these systems, it will be integrated into future sights and glasses." In a night vision device, working as a soldier's main display, augmented reality will provide it with important information and thereby increase its combat effectiveness.
This will provide a number of benefits. The general operational picture with augmented reality will allow users to increase the level of ownership of the situation. This information could help with a number of tasks, such as accessing video from
drone
,
story
the use of explosive devices in the area, the identification of the allies and their forces, a three-dimensional map of the terrain and the like, and also provide an interface for the joint conduct of combat manned and uninhabited platforms.
On the materials of the sites:
www.policemag.com
www.recoilweb.com
www.harris.com
www.baesystems.com
www.thalesgroup.com/
www.flir.com
www.leonardocompany.com
www.meprolight.com
www.photonis.com
spec-naz.org
pinterest.com
www.shutterstock.com