BDK "Kaliningrad" went on sea trials
Baltiysk Shipyard No. 33 completed the scheduled repair of the Kaliningrad large landing ship (BDK), which began in 2016. Currently, BDK has entered the Baltic Sea
fleet
for sea trials, the ZVO press service for the Baltic Fleet reported.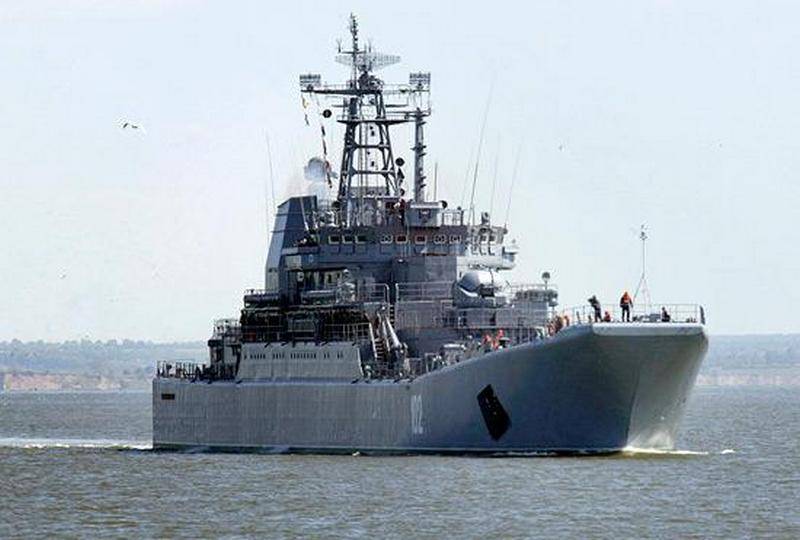 According to the military department, the technical readiness of all systems was restored on the ship. Electronic and navigation equipment has undergone modernization, and also replaced outdated equipment.
After completing the entire post-repair test phase, the ship will return to the base of the Baltic Fleet, where it will begin performing tasks for its main purpose.
The large landing ship Kaliningrad is the seventh in a series of 13 ships of the 775 / II project, which is the second series of ships of the 775 project, which were built at the shipyard "Stochni Pochnochni na Bokheterev Westerplyati", Gdansk, Poland.
The ship is designed for landing amphibious assault on an unequipped coast and the transfer of troops and cargo by sea. Able to transport various types of armored vehicles, including
Tanks
.
December 09 1984 under the name "BDK-58" became part of the Baltic Fleet. 30 April 1999 was renamed Kaliningrad after the city of Kaliningrad. Since 1990, it has a tail number 102. Currently it belongs to the 71 Brigade of amphibious assault ships of the Baltic Fleet of the Russian Navy. From January to September, 2014 was part of the permanent composition of the Mediterranean squadron of the Russian Navy.
Key Features: Displacement 4080 tons. 112,5 meter length, 15 meter width, 3,7 meter draft. The speed of 18 knots. 6000 navigation range for miles at 12 nodes. Crew 77 people, including 7 officers.
Power installation: 2 diesel, 2 propeller, power 19200 hp
Capacity: Onboard can be located up to 500 tons of equipment and cargo and 225 paratroopers.
Armament: 2 x 2 - 57-mm AK-725, 32 Attack the Needle 2x30 122 mm PU NURS.