In the Rada: Fake with Babchenko buried Poroshenko rating
In Ukraine, they continue commenting on the SBU operation on the fake assassination of Arkady Babchenko, declared "anti-Kremlin journalist". Recall that a few days ago in Kiev, a provocation was arranged with the alleged murder of Babchenko, after which the official authorities of Ukraine immediately accused Russia of "committing a crime". If one part of the Ukrainian political community is confident that the SBU "has done a brilliant operation," then the other part has the opposite opinion.
On the 112 Ukraine TV channel, Mikhail Dobkin, representing the Opposition Bloc, said that everything demonstrated by the May XUUMX SBU is a shame for the whole of Ukraine.
Dobkin:
For which they (the special services) to praise. In fact, they have dishonored our country. A lot of people outside Ukraine commented on this situation, gave their assessments. Willingly, they became complicit in this cheap performance.
According to Dobkin, the SBU operation, apparently, was designed to somehow raise the political rating of Poroshenko, but in fact, "they buried him."
Against this background, Babchenko himself on Facebook continues to make pathetic attempts to justify the fake action, the main character of which he became. At the same time, Babchenko, who clearly suffers from mental problems, does not cease to shower with obscene language those who directly tell him about the incompetent staging and the complete lack of evidence of accusations against Russia.
From the interrogation of the "murder organizer":
Six months ago, I was approached by my old friend, a former citizen of Ukraine, who lives in Moscow. He works in the personal fund of Putin and organizes unrest in Ukraine, is responsible for the attacks in the next presidential election. His name is Vyacheslav Pivovarnik. This is not a fairy tale or mysticism, everything is confirmed!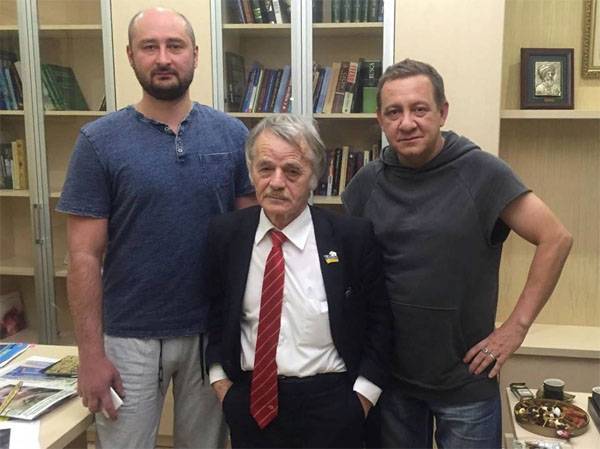 Further, the arrested Herman said that he was a member of the Ukrainian counterintelligence.
After this, Babchenko writes:
Russian trace like?
Well, here you are. In both hands.
Comment on Babchenko's Facebook Facebook Subscriber (by Sergey Burkovsky):
Just now I gathered three of my old acquaintances, the leaders of the secret funds of Putin, his right and left hands, the killers Vyacheslav Breweries, Stanislav Samogon and Izyaslav the Winery, in conversation with whom many treacherous Putin traces were revealed. But since neither Kolbasnik, nor Vinaigrette, nor Yachchinnik came to the meeting, and Putin Putin's loyal agent Marazmatnik watched the meeting through the window, I had to trust Ketchupovsky and hide on the plate of Salatnik-Kapustnyansky, an agent of the SBU, who resurrected me in the morning by the public