Lebanon received the second batch of US Super Tucano UBS
At the Hamat airbase near Beirut 4 turboprop training and combat aircraft (light attack aircraft) EMB-314 (A-29В) Super Tucano, reports
bmpd
.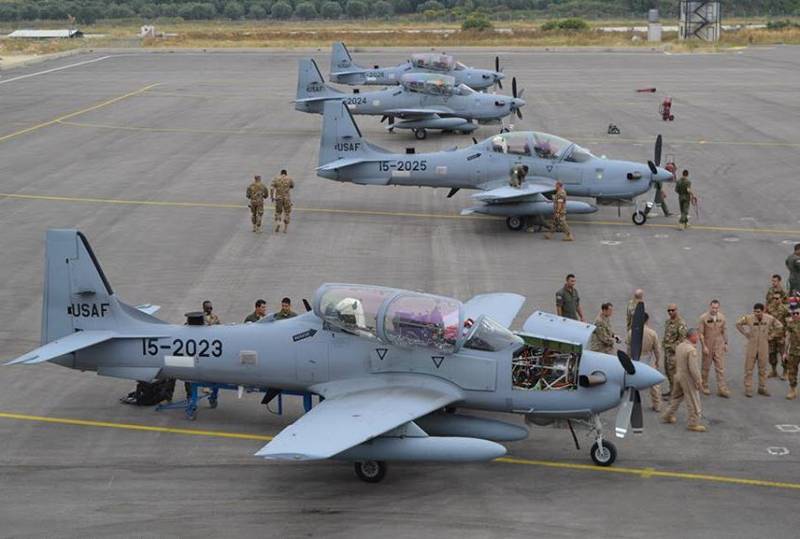 Four combat training aircraft (light attack aircraft) Embraer EMB-314 (A-29В) Super Tucano, obtained by Lebanon from the USA. Machines have kept the airborne numbers of the US Air Force and will be replaced by Lebanese later.
The first two UBS arrived at the base in October last year. Thus, the Lebanese Air Force received all six aircraft ordered in the United States.
Machines made an independent flight from continental America with intermediate landings in Iceland, Britain, France and Cyprus.
The resulting Super Tucano became part of the 7 Squadron, forming the basis of the combat potential of the Lebanese Air Force.
The resource recalls that the contract for the delivery of six EMB-314 (A-29) Super Tucano and two thousand missiles (70 mm) with a semi-active laser guidance system was concluded in the 2015 year. The total cost of the transaction was about $ 462 million. The United States took the financing as part of military aid.
Planes for Lebanon were assembled from vehicle sets in the state of Florida in a joint venture formed by the American company Sierra Nevada and the Brazilian Embraer.
In the same way with the assembly in Florida, the United States delivers Super Tucano aircraft to Afghanistan. A total of 26 vehicles will be delivered to the Afghan Air Force.
In addition, it is planned to send 12 aircraft to Nigeria.