Bulgarian Prime Minister: Russia does not hold evil for our disruption of South Stream
Bulgarian Prime Minister Boyko Borisov, following the country's president Rumen Radev, visited Russia, during a joint press conference with Vladimir Putin, made a remarkable statement on the South Stream gas pipeline. Recall that earlier official Sofia, stating that it supports anti-Russian sanctions, refused to participate in the project, which would ultimately lead gas from the Russian Federation directly to Bulgaria.
Now Boyko Borisov, who himself took a direct part in closing the South Stream project for Bulgaria, is asking Moscow to apologize for breaking the contract.
According to the Bulgarian prime minister, he is grateful to Russia for the fact that it "does not hold evil."
Borisov:
The eldest always forgives.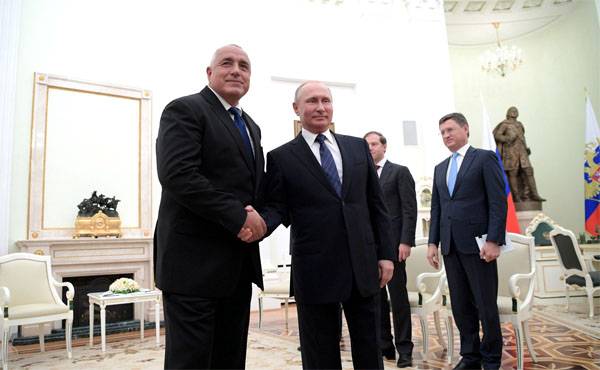 Vladimir Putin responded with irony as follows:
I am embarrassed to talk about who is the elder, who is the younger, because the elder is always encouraged to pay.
At the same time, the Russian president noted that after the Bulgarian refusal, Russia had entered into a negotiation process with Ankara. According to Vladimir Putin, Russia had to enter from the other side.
RIA News
quotes the Russian president:
The loss of Gazprom due to the refusal to sell the gas pipeline directly from Russia to Bulgaria amounted to about 800 million euros.
According to Putin, Moscow regrets that Sofia herself went down this path. At the same time, the Russian leader added that the Turkish Stream gas pipeline could go through Bulgaria with one branch.
Recall that a few days ago, Bulgarian President Rumen Radev said that Sofia is interested in "direct" gas supplies from Russia.
And the train has already left ...
http://www.globallookpress.com