Bang-bang and by. Arkady Babchenko's fake kill
So, Arkady Babchenko is alive and completely (physically, with the mental - everything is more complicated here) is healthy. The main question: what was the purpose of this provocation of the Security Service of Ukraine? At first glance, everything was done perfectly - with one sole purpose: to set a "caught criminal" in front of the camera and declare with his lips that he was "Putin's agent hired to crack down on an opposition Russian journalist". Further, this video is distributed from The Hague to the UN in order to convince the international community that Russia is a "criminal country".
However, even with a very superficial analysis, it can be stated that the world has not come across such clumsy work as the work of the SBU with Babchenko for a very long time.
Assume that the SBU will present the public with an "arrow" who admits that he was going to kill Babchenko, "being recruited by Kremlin agents."
In this case, what does this photo mean, which the editorial board of VO initially decided not to publish for ethical reasons, considering that the photo is a bloody corpse. Now it turns out that this is a props from a series of tough American jokes.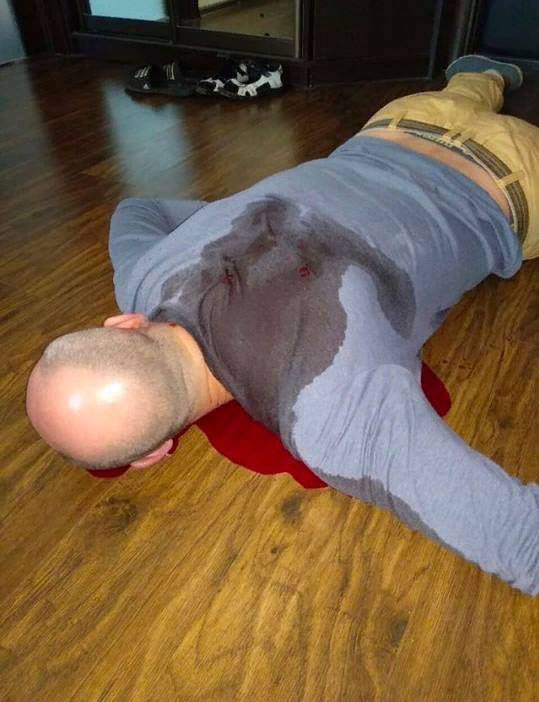 If the "criminal" shot Babchenko, then what and with what specifically did he shoot? After all, Babchenko remained alive after three shots. If he fired martial shots, how after a few hours did Babchenko, who received three bullet wounds of his upper back (obviously his lungs, perhaps his heart, were hurt), began giving interviews and asking his wife for forgiveness for this performance? Then, where did this scarlet tomato blood come from, if the "criminal" really shot in the back, but Arkady Babchenko didn't inflict any damage on these shots ... If the photo is also fake, and in Babchenko the killer really tried to kill, then what guarantees does Mr. Babchenko gave the SBU, that he did not "cut down" his one bullet in the head. Hence, the guarantees were, and from the "killer".
Now we recall the testimony of Babchenko's neighbors: no one heard any shots. At first they suggested that the killer could use a silencer. But after
news
that the police officers came to Babchenko's house on the day of his death and forced the CCTV cameras to "work correctly", it is possible to come to an unequivocal conclusion: there was no attempt at first, just as there was no criminal. And therefore, any person whom the SBU as a "shooter" presents is the same actor from this play of the theater of the absurd, played by the SBU, like the "honest journalist" Babchenko himself.
By the way, it was announced that the "criminal" was going to kill thirty people in Ukraine. Apparently, just as he "killed" Babchenko.
And the main "joke": Babchenko said he knew nothing about the staging. Wow, went for some bread.